Great Wall Hiking and Camping Experience
2-in-1 Package for Beginners
The First Flat Rate Great Wall Hiking and Camping Adventure
$252
original price
$222
promotional angel price
(save $30)
WHAT'S INCLUDED IN PRICE
* Full scale day hike of 3.5 hours on the Great Wall with a group
* The privilege of camping on the Great Wall and exclusive access to the camping watch tower
* Private camping with camping gears such as tents & bags provided
* Entry fees to the Great Wall
* Lunch, dinner and breakfast

EXTENDED HIKE
* If you wish to hike at Gubeikou for 2 hours before you go back to Beijing, please add $39.
*If you wish to hike from Gubiekou to Jinshanling for 4.5 hours, add $99.
Guaranteed no detours to
shops or markets, etc.

Want to see more of the legendary Great Wall in all its beauty and splendor? Visit our Instagram page for a preview of what could be in store for you!
TRAVEL INSURANCE
If you currently don't have travel insurance then you will be required to purchase our PICC (People's Insurance Company of China) travel and accidental insurance.
The fee will be $

9

.99 per person, and will cover the duration of your hiking/camping/trekking in order to ensure that you are comprehensively protected if injured.

For more information about our travel insurance policy please see our insurance page.



QUALITY VEHICLES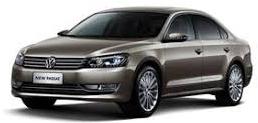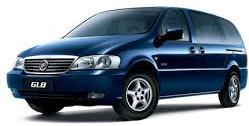 YOUR SAFETY IS OUR
TOP PRIORITY!

At the Great Wall Adventure Club, we only use quality vehicles such as VW Passat and Buick Minivan for your safety and comfortable trip!
Affordable Group Hiking and Private Camping on the Great Wall of China


Route 2GC1: Flat-rate Group Hiking to Jinshanling and West Simatai with Private Camping at Gubeikou Great Wall



The outdoorsman: Stay overnight on the Great Wall of China
"When people come to the Great Wall of China, they want to explore the history and see why it was built. A day trip to the tourist sites won't achieve that, but a sleepover on one of the world's most storied ruins certainly will. The Great Wall Adventure Club organizes trips to sleep in a watchtower where soldiers were formerly garrisoned. When night falls, the only thing above is the stars, while the incredible land of the surrounding hills is absolutely silent ... (June 11, 2012)"
Guaranteed camping in an ancient watch tower with tents!
Highlights:
* If you are looking for breathtaking views with a relatively more affordable walk, then this hike will be right up your alley!
* Catch stunning views and meet NO crowds on great rolling terrain.
* 3-3.5 hours of walking on the Great Wall with a distance of roughly 6 kms.
* Walk from the restored part to the original wide side.
* If you are looking for unforgettable camping experience at the Great Wall, then this program will be right up your alley!
* Flat rate program in English
* Group size varies from 5 people to 25 people depending on the signups of each day
* Lunch, dinner and breakfast are included
* AVALAIBLE EVERY DAY

Day 1: Hike the Mag

nificent Jinshanling and West Simatai Great Wall



Between 6:30 am and 7:30 am, you will be picked up from your hotel by your English-speaking guide and driver if you are staying in a hotel within the 2nd Ring Road. Otherwise, you will meet us in the Chaoyangmen Subway Station to board the bus for today's tour. If you are in a hurry and can't have a breakfast, we have bread and bottled water for you on the bus.

From Chaoyangmen, we will make the approximate 2.5 hour drive to the Great Wall at Jinshanling. A day earlier, you'll hear from your tour guide about the estimated pickup time from your hotel's phone or your personal Chinese mobile phone. Please have a big breakfast and bring some snack with you for this long day.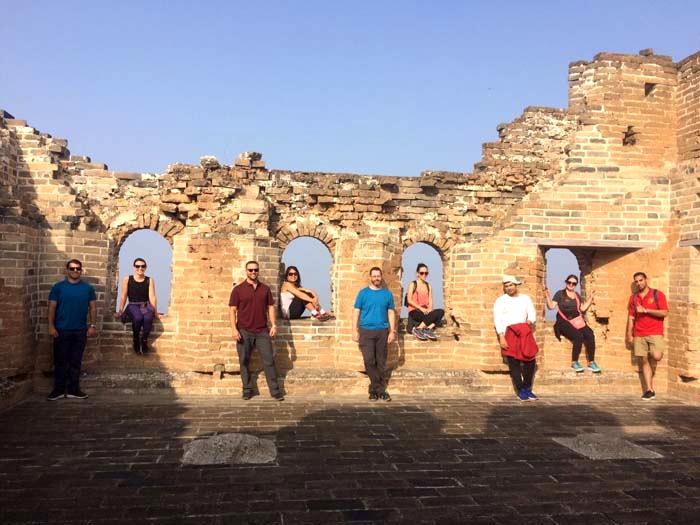 The Great Wall at Jinshanling is one of the best preserved parts of the Great Wall with many original features. It got its name because it was built on the Greater and Lesser Jinshan ('Gold Mountain') Ranges. A tablet with the Chinese inscription for Jinshanling Great Wall was set into this section. The Jinshanling Great Wall has not been repaired since 1570. It is a remote and relatively isolated section of the Great Wall. As there are relatively few tourists at Jinshanling Great Wall, it is a good place to explore on foot. The Jinshanling Great Wall was initially built from 1368 to 1389 in the Ming Dynasty (1368-1644), and in 1567 and 1570 rebuilding of the Wall was mainly directed by General Qi Jiguang (1528-1588). Poems and tablet writings can be found on the Jinshanling Great Wall left from the time when Qi Jiguang directed the rebuilding of this section of the Great Wall.

This section of the Great Wall is renowned as the "Paradise of Photographers." The majority of China's published pictures or paintings are based on the magnificent appearance and exhilarating scenery. Use your cameras to take the beauty home!

Gradually, you will walk to the west side of Simatai where the Wall is separated into eastern and western halves by a valley, with a rainbow-like chain bridge over the valley. That is why this part of the Wall is also called "The Second Valley" by the local villagers who enjoy the reputation for being polite and helpful to the tourists.

The hills in the west are sloping gently, with 20 watchtowers remaining in good shape. The Simatai section of the Great Wall is one of the few sections to retain the original appearance of the Great Wall. Incorporating a variety of characteristics of other sections of the Great Wall, Simatai also displays some unique features of its own. It is often described with the following five words: perilous, dense, diverse, artful, and peculiar.

Upon reaching the gate of "the Second Valley" (east gate of Jinshanling), you have officially completed today's hiking. We will treat you a gourmet lunch in a local restaurant. Soon, our local support staff will meet you in the restaurant and transfer you to Gubeikou where you will relax and have a chance to watch the beautiful sunset. Toward evening, we will treat you a country-style dinner in our camping base, a family-owned hostel. After dinner, our friendly support employee will set the camp for you to sleep on the Great Wall.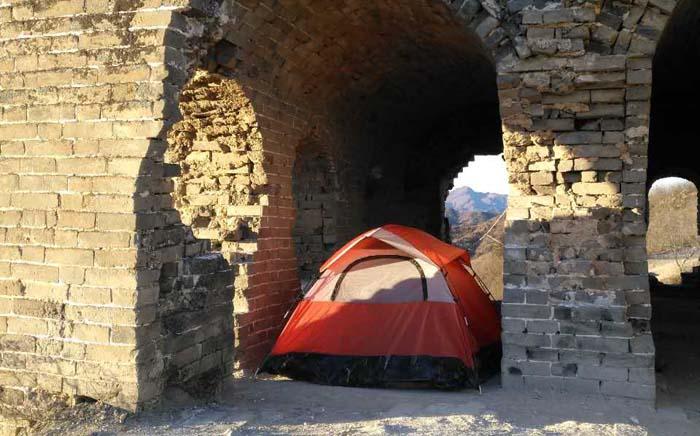 Day 2:

Watching the Beautiful Sunrise



Waking up at about 5 am in the summer or 6:30 am in the winter, you will meet the magnificent sunrise from the Great Wall. Take a lot of pictures and videos!
After your continental breakfast, our local support staff will send you to the bus terminal at Gubei Watertown. You will take an express line to Beijing for two and twenty minutes. The bus will take you to Dongzhimen Station, a large transport complex where you can find the connecting subway or bus to go to your hotel or other destination.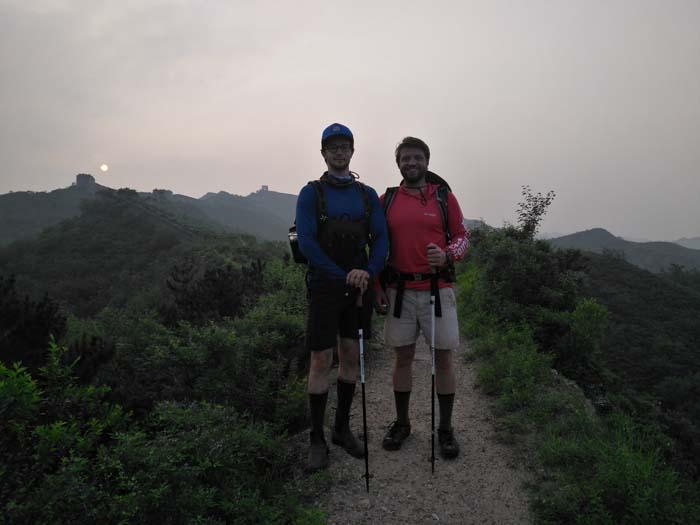 Extended Hike from Gubeikou to Jinshanling on Day 2

Add USD39 to walk 2 hours at Gubeikou
Add USD99 to walk 4.5 hours to Jinshanling
Don't' want to go back to Beijing so soon?
You can walk an additional 2 hours at Gubeikou where you have just camped and leave at 10 am for Beijing.
You will walk with a local guide who has assisted you with the camping last night. The fee is
$39. Or, you can walk from Gubeikou to Jinshanling for 4.5 hours and take the bus back to Beijing at noon. The fee is $99.
Gubeikou Great Wall occupies a strategically important location, which is difficult to access. Situated between
Shanhaiguan Pass
and
Juyongguan Pass
, and about 62 miles to Beijing, it is the bastion protecting the northern gateway to the capital. There are 14 beacon towers, 143 watchtowers, 16 strategic pass, three citadels and many other military constructions. Many of them are famous cultural relics, such as the Big Flower Beacon Tower of the Northern Qi Dynasty, Fairy Tower, General Tower, and the dominant Wangjing Tower.
In 1933, when Japanese forces invaded China, the Chinese army at Gubeikou fought hard to resist the enemy. it marked the beginning of China's eight-year-long war to fight against Japanese invasion in the World World II.
Much of the hiking that we will do on Jinshanling today is different from what you have had yesterday, as much of the wall here is little restored and the surface smooth. Jinshanling has five main passes and 67 watchtowers. Every 100 meters (328 feet), there is an enemy tower each of which is about ten meters (33 feet) high. Featuring various structures and having various functions, those watchtowers are either one tiered or two-tiered. Among them, the most celebrated are the Big and Small Jinshan Watchtowers. The Wangjinglou Tower, the General Tower, the Black Tower and the Taochun Tower are also must-sees on the Jinshanling Great Wall. Each tower has its legend. Legend has it that the stone bars used to build the Wangjinglou Tower were carried to the mountaintop by Er Lang Shen, the nephew of the Jade Emperor. The general tower was named to commemorate Wu Guihua, a heroine who sacrificed herself to resist northern invader's invasion in the Ming Dynasty. The Black Tower and the Taochun Tower were christened to commemorate two girls, Heigu and Taochun, who made great contributions to the construction of the Great Wall.
When completing the above 2-day hiking and camping, you have finished one of our most popular program
2AB
at a lower cost.
Stuff to bring on your trip:

* Tough hiking boots, sunscreen and sunglasses, and water
* Backpack, and snacks or energy/protein supplements you want to have before lunch
* Extra cash for drive/guide tips along with money for either cable car or toboggan ride
* Don't forget your camera!

We have up to 8 different routes for overnight hiking and camping on the Great Wall!



Read complete itinerary of Route 2X: Forbidden City + Sleep in the Watchtower (Camp!)




Read complete itinerary of Route 2AA: Gubeikou-Jinshanling-Jiankou-Mutianyu hike (Camp!)






Read complete itinerary of Route 2AB: Gubeikou-Jinshanling-Second Valley Hike & Camp (Camp!)





Read complete itinerary of Route 2B: Huanghuacheng-Jiankou-Mutianyu hike






Read complete itinerary of Route 2C: Chengde-Panjakou Reservoir-Xifengkou hike.



Read complete itinerary of Route 2D: Panjiakou Reservoir-Xifengkou hike.


Read complete itinerary of Route 2E: East Qing Tomb-Huangyaguan hike.



Read complete itinerary of Route 2F:
Laolongtou-Shanhaiguan-Sandaoguan-Jiaoshan-Jiumenkou-Huangtuying hike



QUICK LINKS TO:



1-day hike |

2-day hike |

3-day hike |

4-day hike |

5-day hike |

7-day hike |

9-day hike |

12-day hike |

Bus Tours