Two-day Hiking on the
Great Wall
PRICE TABLE
(Per Person)
| | |
| --- | --- |
| # of Head | USD |
| 1 | 689 |
| 2-3 | 499 |
| 4-5 | 469 |
| 6-9 | 419 |
| 10+ | 349 |

WHAT'S INCLUDED IN PRICE
* Personal transfers from and to hotel
* Entry fees to the Wall and Old Dragon's Head
* Two lunches, one dinner and one breakfast
* Quality vehicle, professional driver and English-speaking tour guide
* Free membership card
* A credit of RMB50 when you reserve the next tour with us

There are no unscheduled or
mandatory shopping stops.

Want to see more of the legendary Great Wall in all its beauty and splendor? Visit our Instagram page for a preview of what could be in store for you!

TRAVEL INSURANCE
If you currently don't have travel insurance then you will be required to purchase our PICC (People's Insurance Company of China) travel and accidental insurance.
The fee will be $9.99 per person, and will cover the duration of your hiking/camping/trekking in order to ensure that you are comprehensively protected if injured.

For more information about our travel insurance policy please see our insurance page.




QUALITY VEHICLES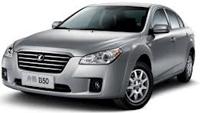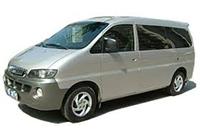 Old Dragon's Head-Shanhaiguan-Sandaoguan-Jiaoshan
Two-Day Hike

Route 2F : Two-day Great Wall Hiking Tour on Great Wall from the Pacific Ocean
POPULARITY RANKING*: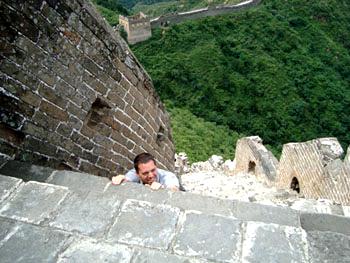 *Ranked by the quantity of signups of all 2-day hiking routes.
WELCOME TO THIS WEBPAGE!
Hello, and thank you for taking the time to visit our website! We know that making a choice about your China trip can be a very big decision, and that's why we want to make sure that you have as much information as possible at your disposal. No other tour operator will give you this much info, and we take it as a point of pride in making sure that our clients are the most informed before their departure. Unlike many Chinese sites, our pages are all in English, and if you find any issues or errors in anything you read, please do not hesitate to contact us. Once again, thank you for visiting Great Wall Adventure Club!
Highlights:
* You will visit sections of the Great Wall that are often missed by western tourists, so you will see why they are one of China's best kept secrets!
* Explore the Great Wall from its easternmost point and then continue westward back to Beijing
* Take part in an epic Great Wall odyssey that will show you more than just the usual stop at Badaling
Day-by-day Hiking Itinerary (B=breakfast, L=lunch, D=dinner)

Day 1: Beijing- Old Dragon's Head (Laolongtou)-Shanhaiguan-Jiaoshan
(L+D, 6km/3.5 miles, 4-5 hours)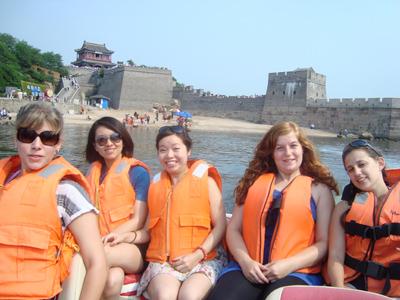 We will meet you at your hotel in the morning between 7:30-8am, and from there we will make the 4 hour drive to the Shanhaiguan Pass (The First Pass of Great Wall), which is in a town situated in the northeast of Qinhuangdao City, Hebei Province. It adjoins the Bohai Sea to the southeast and the Yanshan Mountain to the northwest. We will start our hike at Old Dragon's head, also known as Laolongtou. Laolongtou is the most eastern beginning of the Great Wall, which extends into the Bohai Sea. Standing here is almost like being on a peninsula as you can feel the overwhelming power of the rolling sea.

After marveling at the scenery here, we will make our way to the Shanhaiguan Pass Fortress, which is also known as "The First Pass under Heaven". The "First Pass under Heaven" is actually the east tower of the Shanhai Pass, called Zhendong Tower. It is 13.7 meters (44.95 feet) high with two floors. On the tower is a big board on which there are five huge Chinese characters 'tian xia di yi guan' (the 'First Pass under Heaven") inscribed by a calligrapher in the Ming Dynasty. Climbing up the Zhendong Tower, you will see that to one side of the tower is the rolling sea, while on the other lies the lofty Great Wall. Furthermore, the Jingbian Tower, Linlu Tower, Muying Tower and Weiyuantang Hall stand on the same axis with the Zhendong Tower. Depending on the complex geographic conditions, these five buildings provided a strong protective screen. We will then enter the Shanhaiguan Great Wall Museum, where we will learn about the history and military strategy of this section of wall, as well as displaying military relics.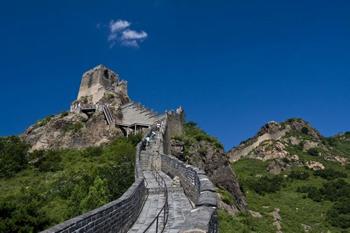 Located at about 3km/2 miles from Shanhaiguan is the Jiaoshan Great Wall, and this will be our next stop. Like Jinshanling, the wall here is divided into restored and unrestored sections. We will start today from the restored section and pick off tomorrow on the unrestored section. The repaired section of Jiaoshan Great Wall starts from no.10 watchtower and ends at the No.3 watchtower. The gate of the wall is an imitation of the architectural style of the Ming Dynasty. Its appearance is very much like the Chinese character "\q". Measuring about 1.5 km (0.9 miles), the whole journey is a 40-minute walk, the external side of the wall is precipitous, while the internal side is low and convenient for climbing.

For the night we will stay at the Jinshan Hotel by the First Pass and have a tasty dinner of Northern Chinese cuisine to get you started for tomorrow's hike.




Day 2: Jiaoshan-Dongjiakou (B+L, 10km/6 miles, 5 hours)

After waking up and having breakfast, we will pick up where we left of yesterday on our hike. Unlike the newly restored wall, Jiaoshan ancient wall provides you a sense of historical vicissitude. Walking on the dilapidated wall is a great challenge. The wall appears more and more crumbled and deformed as you forge ahead. In some sections, the wall is only built on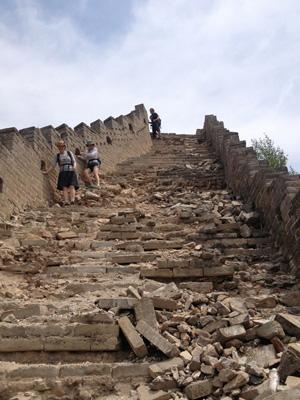 one side, with the other side being the deep cliffs. In some sections, the mountain ridge is functioned as the wall, which is called by experts "mountain-supported wall". Watch your steps when you enter this zone. After a one-hour's difficult climb, you will arrive at Dapingding Peak, the main peak of Jiaoshan Mountain. You will get a panoramic view of the Changshou (Longevity) Mountain Scenic Area. To the south, you can see the full shot of Jiaoshan Great Wall and Shanhaiguan City, if weather permits, Laolongtou Great Wall and Bohai Sea can also be vividly recognized afar.

After our hike through Jianshan we'll meet up with our van and make the quick drive to the Great Wall at Dongjiakou, which is where we will resume our trek. The Dongjiakou (sometimes called Jizhen) Great Wall was initially built in 1381 AD, In 1571AD, Qijiguang, a famous general in the Ming Dynasty transformed it into a first-class border wall. With a length of 8.9 kilometers, this portion of the Great Wall winds its way up and down the Stone Step Mountain, the Damao Mountain, and (finally) the Rock Mountain. It has 2 strategic passes, 31 Watchtowers, 14 Beacon Towers, and three Fortresses: the Pochengzi Fortress, the Dongjiakou Fortress, and Damao Fortress. (Today, only the ruins of the Damao Fortress can be found, south of Dongjiakou village). Although the Dongjiakou Great Wall of the Ming Dynasty is more than 620 years old, it has remained one of the best-preserved sections of the Great Wall of the Ming Dynasty.

At Dongjiakou you will be privileged to see a rare sight - the Cihou Tower. Cihou is a solid command post with no roof, giving the defenders a 360-degree-view of the whole area. This 4-sided structure has 24 observation holes (6 on each side). This structure can not be found anywhere else. It is interesting to notice that there are quite a few watchtowers named after the surnames of various historical commanders: the Sun's Watchtower, the Gen's Watchtower, the Wang's Watchtower, etc. And one will find the Sun, Gen, Wang are the three most-common surnames of the villagers. We will hike through Dongjiakou for about 2-3 hours.

We will have a lunch and then drive back to your hotel in Beijing.



Stuff to bring on your trip:

* Tough hiking boots, sunscreen and sunglasses, and water
* Backpack, and snacks or energy/protein supplements you want to have before lunch
* Extra cash for drive/guide tips along with money for either cable car or toboggan ride
* Don't forget your camera!


We have up to 9 different routes for overnight hiking and camping on the Great Wall!



Read complete itinerary of Route 2X: Forbidden City + Sleep in the Watchtower (Camp!)




Read complete itinerary of Route 2AA: Gubeikou-Jinshanling-Jiankou-Mutianyu hike (Camp!)






Read complete itinerary of Route 2AB: Gubeikou-Jinshanling-Second Valley Hike & Camp (Camp!)





Read complete itinerary of Route 2B: Huanghuacheng-Jiankou-Mutianyu hike






Read complete itinerary of Route 2C: Chengde-Panjakou Reservoir-Xifengkou hike.



Read complete itinerary of Route 2D: Panjiakou Reservoir-Xifengkou hike.


Read complete itinerary of Route 2E: East Qing Tomb-Huangyaguan hike.



Read complete itinerary of Route 2F: Laolongtou-Shanhaiguan-Sandaoguan-Jiaoshan-Jiumenkou-Huangtuying hike



QUICK LINKS TO:



1-day hike |

2-day hike |

3-day hike |

4-day hike |

5-day hike |

7-day hike |

9-day hike |

12-day hike |

Bus Tours