Great Wall & China Adventure At Ease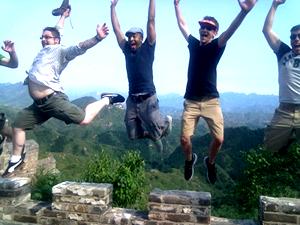 DETAILS OF COVERAGE
(in Chinese CNY/USD)
Accidental Death and Disability: 250,000 CNY (USD36,765)

Death of Disease: 100,000 CNY (USD14,706)

Emergency Medical from Accident: 40,000 CNY (USD5,882)

Emergency Medical from Disease: 30,000 CNY (USD4,411)

Return Transportation of Dead Body: 15,000 CNY (USD2,205)

Baggage Loss: 2,000 CNY (USD2,941)

Liability: 20,000 CNY
(USD

22,941

)
*1 USD = 6.8 CNY
Smart tour with smart agent.TM
Travel Safely and Securely Throughout China with PICC's 14-day China Accidental Travel Insurance for Only $9.99
-
With

bonus baggage loss/stolen protection


Why use PICC's Accident Insurance?



Please be advised that you are required to have travel insurance. If you don't already have your own policy then you can purchase our PICC (People's Insurance Company of China) travel and accidental insurance package. The fee will be $9.99 per person, and will cover the duration of your hiking/camping/trekking in order to ensure that you are comprehensively protected if injured. For those who do not want to buy our insurance we'll ask that you claim responsibility for any accident you may have. If an accident does happen and you are not carrying travel insurance we will not refund the tour fee. The reason we require travel and accidental insurance is that hiking on the unrestored Great Wall is a bigger risk than it would be if you were just sightseeing in a city or going to one of the restored sections of the Great Wall. PICC is China's largest insurer and is used by almost all travel agencies in China.
Fee and Bonus
The fee for accident insurance is as low as US$9.99 per person, and will cover the entire period (or up to 14 days) of your visit. The purpose of the US$9.99 insurance fee is to ensure that your travels throughout China are as safe as humanly possible. In addition, if you luggage is lost (or stolen) on a flight within China, you can be reimbursed for your lost or stolen luggage for up to 2000 CNY ($335) from a flight within China.
If you need to be i

nsured for up to 20 days, the fee is US$13.99.
For
a maximum of 30 days, the fee is US$15.99.
The Insurer

PICC is China's largest casualty and accident insurer and is used by most travel agencies in China. PICC is also used by all of our on-duty travel guides. Because of its dedication to excellent service, PICC was an official partner of 2008 Beijing Olympic Games.
Over 5,500 clients of ours have bought this insurance from 2008.
How to Buy
Simply provide the name(s) that appear(s) on your passport, passport number and birth date (MM/DD/YY) to Great Wall Adventure Club's Concierge Team and we'll add the US$9.99 fee to your total. Please make sure that your children are also protected.
The policy will be automatically activated one day before the start date of your China sightseeing trip.
How to Claim
Please contact the Great Wall Adventure Club if there is an emergency and be sure to keep all the receipts you've accrued during your stay in China. You can bring them to us in person, or you can mail them to us if you are no longer in Beijing. PICC will review the documents and pay you back through Great Wall Adventure Club. We'll then either wire it to you (to any country), send it through Paypal (to any country) or simply send you a company check (for US and Canada only).