Camping on the Great Wall,
Hiking the Great Wall along the Lakes



Route 2AD: Overnight Camping & Hiking Tour to Great Wall from the famous battlefield Gubeikou to Jinshanling, and along the lakeside Great Wall at Huanghuacheng
POPULARITY RANKING*:




*Ranked by the quantity of signups of all 2-day hiking routes.
The difference between the impossible and the possible lies in a man's determination. -Tommy Lasorda

See this

thrilling

route on the map
.



The outdoorsman: Stay overnight on the Great Wall of China
"When people come to the Great Wall of China, they want to explore the history and see why it was built. A day trip to the tourist sites won't achieve that, but a sleepover on one of the world's most storied ruins certainly will. The Great Wall Adventure Club organizes trips to sleep in a watchtower where soldiers were formerly garrisoned. When night falls, the only thing above is the stars, while the incredible land of the surrounding hills is absolutely silent ... " (June 11, 2012)
| | |
| --- | --- |
| | This program features sleeping on the Great Wall. |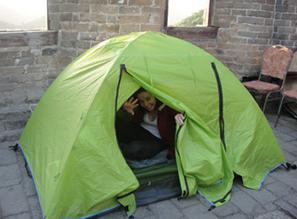 Guaranteed camping inside the watch tower!
A few agents claim they can do so but that's not true. What they usually mean is that they may take you to the foot of the Great Wall to camp on the ground or to sleep at a guesthouse. Not us. For each participant (even children), we must pay a hefty relic preserving fee to the Great Wall administration office. This fee allows for you to camp on the Great Wall, hence why the price for this program is higher than most. Great Wall Adventure Club (GWAC) is the only company approved by the Great Wall Administration Office to offer camping for international guests. This is what sets us apart from other operators.

Please keep in mind that during some sensitive political events, camping may be temporarily suspended because of increased police security around Beijing. We will do our best to keep you up-to-date on any changes or notices regarding this. Thank you for your understanding!
HIGHTLIGHTS: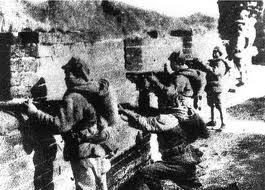 If you are looking for breathtaking views with a relatively peaceful walk, then the Gubeikou-Jinshanling Great Wall hike is perfect for you. You'll also get breathtaking views of the sunset from the vantage point of the Great Wall. This will without a doubt be one of the highlights of your entire China trip!


Huanghuacheng was built in Ming Dynasty with very sophisticated technology and thus the Wall was very solid and strong. In 1930's, Japanese invaders tried to break the Wall and they had to raze the Wall in order to enter Beijing. They finally made it and made partial of Huanghuacheng Great Wall felt down to water.

The Xishuiyu Great Wall is partially under the water. Therefore, both Huanghuacheng and Xishuiyu are unique in that the Great Wall is under a lake or reservoir. No other section of the Wall has this feature.

You'll have the option of sleeping overnight in one of the watchtowers of the Great Wall, which is sure to be an unforgettable experience! Watch the sunrise and sunset from the best seat in the house!

All necessary camping gears such as tents, pads & bags are provided. For those of you curious about Great Wall camping conditions, please be advised that camping on the Great Wall is very rugged and adventurous, and you should expect a relatively low comfort level from what you're normally used to. Following dinner, we'll walk about 20-30 minutes to the camping site in the Great Wall watchtower. It is there we will set up the tent, sleeping bags, etc. Please be aware that this experience is significantly different from staying in a hostel/farmotel/hotel. The camping settlement is very basic, although we are constantly striving to improve this experience. Due to the high and heavy volume of camping equipment (tents, pads, sleeping bags, etc.) in use during your Great Wall hiking tour, we kindly ask that you give your guide a helping hand in getting your equipment up to the watchtower where you'll spend the night. We thank you for your cooperation and understanding!

Departure:

Our Great Wall hiking is a private service. What this means is that you can hike on the Great Wall at any time at your convenience. If you would much

rather be part of a group for the experience for economic and social reasons

, we'll check to see if there are more signups for the same date as your own. We'll keep you updated whenever there are more. If you would like to keep your tour a private one, please let us know and we'll assign you a guide and driver.

Day-by-day Hiking Itinerary

(B = breakfast, L = lunch, D = dinner)