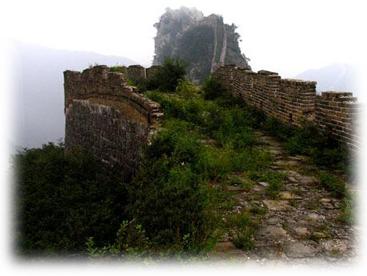 The Xishuiyu (which in English means "Western water resort") Great Wall is a popular tourist resort. It connects with Zhuangdaokou and Erdaoguan in the east and Longquanyu in the west. There are many hotels, farm houses, and restaurants here as well as activities like boat rides and scenic walkways.
But the main attraction for Great Wall enthusiasts is of course the Great Wall. There are many places where you can see the Great Wall here, and the views are impressive with high mountains and water all around. The Xishuiyu Great Wall combines spectacular views of the Great Wall, access to the real Wild Great Wall, and a beautiful scenic environment.
Xishuiyu is located at Xiaoxihu lake to the west of the Huanghuacheng Great Wall. You can follow the route from Huairou to Huanghuacheng and, instead of turning right (north) to Huanghuacheng, continue straight (west) and follow the signs to Xishuiyu.
Most of the Great Wall around Xishuiyu is in reasonably good, deteriorated but not collapsed condition. None of the Great Wall here has been restored so it retains its authentic condition. As you follow the Wall to the west, you will get views of the Xiaoxihu reservoir to your right. You will find several opportunities to get off the wall and walk down the reservoir, crossing through a large Ming dynasty chestnut field at the bottom. There is a path all the way around the reservoir so you can follow it in either direction. You can also follow a path to the west along the valley and stream all the way to Longquanyu.
Let's take a tour to Xishuiyu Great Wall!

1-day hiking from Xishuiyu to Huanghuacheng

2-day overnight scenic hike

BACK TO Great Wall Hiking and Tours