Introduction to Huangshan and Huangshan City

Huangshan City is a region with a long history and splendid culture. Shexian and Yixian Counties were established more than 2,000 years ago. In the Jin Dynasty (265-420) Huangshan City was called Xin'an Shire. Until the Song Dynasty (960-1279) when the name was changed to Huizhou, the city was famed for Hui businessmen, Hui carvings, Xin'an school of painting, Xin'an medicine, Hui architecture, Hui cuisine, and Hui opera (one of the tonalities of Beijing Opera). Also notable are the scenic spots of Yellow Mountain (Mt. Huangshan) - a key point of interest in ancient China, the Tangyue Memorial Archway, the Tunxi Ancient Street and the ancient villages of Yixian County . Historians at home and abroad regard Huangshan City as a natural history and culture museum of China.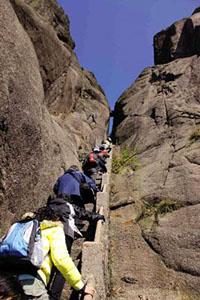 Since Huangshan City is a tourist city with a pleasant climate, travel plans need not be interrupted by weather. So the sights of Huangshan City, such as Tunxi Ancient Street, Xidi, and Hongcun Ancient Villages, Tangyue Archways, Flower Mountain and Enigma Caves can be visited throughout the year as can Yellow Mountain with each season offering different appealing features.

Tunxi Ancient Street, HuangshanHuangshan City transportation is efficient. Upgraded airline, railway, highway and the city transportation expedite tour travel. Also available are various grades of hotels, restaurants, and recreation and shopping centers in Huangshan City. Be sure to try Hui dishes, snacks and local products and especially the memorable Mt. Huangshan tea.

Yellow Mountain (Huangshan mountain)

Of all the notable mountains in China, Yellow Mountain (Mt. Huangshan), to be found in the south of Anhui province, is probably the most famous. Originally known as Mt. Yishan it was renamed Mt. Huangshan in 747 AD in recognition of the legendary Huang Di, who was the reputed ancestor of the Chinese people and who made magic pills for immortality here.

Wu yue is the collective name given to China's most important mountains, namely Mt. Taishan in Shandong Province, Mt. Huashan in Shaanxi Province, Mt. Hengshan in Shanxi Province, Mt. Songshan in Henan Province and Mt. Hengshan in Hunan Province. It is said that you won't want to visit any other mountains after seeing wu yue but you won't wish to see even wu yue after returning from Yellow Mountain. This saying may give you some idea of the beauty and uniqueness of Yellow Mountain. Together with the Yellow River, the Yangtze River and the Great Wall, Yellow Mountain has become one of the great symbols of China.

Yellow Mountain can boast not only of its magnificence but also its abundant resources and great variety of zoological species, for which it has been listed as a World Natural and Cultural Heritage Site.

The best east-facing viewing areas are Dawn Pavilion, Refreshing Platform, Lion Peak, Rosy Clouds Peak, Bright Peak Summit, Jade Screen Peak, Lotus Blossom Peak and Heavenly Capital Peak; best times to view a sunrise:

Spring ---- 05:30-06:00
Summer ---- 04:40-05:10
Fall ---- 04:50-05:20
Winter ---- 05:30-06:00

Best times and viewing areas from which to see sunglow on Yellow Mountain:

Before and after sunrise is the best time to see sunglow. As with viewing the sunrise, you should be in position early.

Best times and viewing areas from which to see seas of clouds on Yellow Mountain:

From September to May is the best season for cloud viewing, especially on a clear day after rainy or snowy weather. Seas of clouds are infrequent in summer. To best experience the beauty of seas clouds, tourists should change their viewing locations points according to the height of clouds.
Huangshan City Tourist Attractions:
Tunxi Ancient street Xidi and Hongcun Ancient Villages Shexian County Ancestral Temples
Ancient Residential Houses Mt. Jiuhua Tangyue Memorial Archways Town of Arches