Cheap China Domestic Airfare & International Flight Tickets Reservation Service
Guaranteed Lowest Fare Convenient Advanced Booking E-Ticket to Board with Passport Low Booking Fee
Now we also book China train tickets!
"Very easy, very polite, smooth operation and competitive price. What more can I say?"
- P.G., Australia

Daily Limited Free Upgrades from Economy Class to First Class*

Going to Los Angeles? Sydney? London? We are booking international flights now!
Great Wall Adventure Club can find you the best fares or even special fares or promotions such as free upgrade from economy class, etc. The Club also can offer you a comprehensive package that includes your China domestic flights, hotels and tours for more savings! Please visit our China City Tours or China Package Tours pages to discover how we can plan for you altogether.

*We will try our best to get free upgrade for you. A handling fee of RMB70 or $10 will apply. So, good luck to you!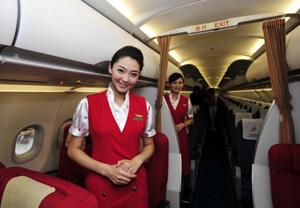 When traveling by plane within China, do not use Expedia, Travelocity, or Orbitz to buy your plane tickets. Why? Because these and other foreign travel companies are much more expensive than having us book them for you. This story proves it. As he concludes, it is best to find a friend when it comes to booking your plane tickets in China. Well, with Great Wall Adventure club we're your best friend when it comes to all your China travel needs! In fact, we are guaranteed to get you the lowest price possible on your airfare.

We have a great relationship with the leading China hotel and airfare networks. We can send you anywhere in China on the best airlines at extremely competitive prices. With Great Wall Adventure Club you can spend your money in China on more desirable things, instead of blowing much of your travel budget on airfare. In addition, we can also help you get the best deals on hotels or tours, so its like killing two birds with one stone. And of course, our airfare search is completely free and a low and flat booking fee of only $15 will not be charged until you purchase!
China Airfare-booking Tips
1. Chinese domestic tickets do not require 14-21 days advanced registration in order to obtain a lower price. Prices are determined by a real-time system that updates the ticket prices based on availability. In many cases tickets are sold at a significant discount, even if the flight is the on the next day. This is totally different from the Western (or American) system. However, as is the case with most things, the price is usually better the earlier you book your tickets.
2. Everyday, there are chances that you can get a first-class or business-class seat at the price of an economy. These are sales tickets that are very limited, so we encourage you to book as soon as you see them.

3. Flying between Chinese cities sometimes are cheaper than flying between American (or European) cities. It is not uncommon to see a $60 airfare for a one-way ticket from Beijing to Shanghai.

4. One-way tickets are very cheap, and a round-trip ticket is not cheaper than two one-way tickets. Therefore, you don't have to worry about paying a higher price if you don't buy round-trip. It is very convenient to go two one-ways separately, and it is usually how passengers in China prefer to travel.

5. If traveling to Hong Kong, it is often cheaper to fly to Shenzhen, a major Chinese city just outside the borders of Hong Kong. Because Hong Kong is considered an international destination, it is significantly less expensive to fly to Shenzhen, considered a domestic flight. It is very easy to get transportation to and from Hong Kong, as buses and shuttles leave all the time for around $10.

More Tips to Buy China Flight Tickets
Our Sample Lowest Fares* (January 22, 2017) in USD
| | | | | | | | | |
| --- | --- | --- | --- | --- | --- | --- | --- | --- |
| Departure City | Arrival City | Fare | Departure City | Arrival City | Fare | Departure City | Arrival City | Fare |
| Beijing | Shanghai | $89 | Beijing | Xian | $78 | Shanghai | Guilin | $98 |
| Shanghai | Beijing | $54 | Shanghai | Chongqing | $106 | Shenzhen | Xiamen | $74 |
*The prices listed are for one-way only. Each ticket price will add a Chinese fuel tax and airport construction fee, which can range from RMB150-RMB250 (USD20-40) depending on the flight distance.
*If you are flying from Hong Kong to other Chinese cities or fly to Hong Kong from China inner cities such as Beijing or Shanghai, you should seriously consider fly from or to Shenzhen to get qualified "domestic flights" and save much!
Reservation
This service will help you book your Chinese demotic tickets that can connect your flight if you need to transfer from Beijing, Shanghai or Guangzhou to other cities in China. Thus you'll be able to plan your trip well ahead of time. Also, you'll take the advantage of getting lower prices for most of the time. e-Ticketing will be the only way to handle your booking. You'll simply get your boarding pass with your passport from the airline's counter at the airport. So please remember to bring your passport!
Low Booking Fee
For each airline ticket successfully booked, we'll charge a small fee to cover our time and labor. Below is the fee structure:
$9.99 for each one-way ticket on domestic economy, $12.99 for domestic business or first-class;
$14.99 for each round-trip ticket on domestic economy, $19.99 for domestic business or first-class;
$29.99 for each international economy; $49.99 for each international business or first-class.
Fees will be waived if you also book a hotel with us.
Sorry, we do not book train tickets unless you reserve a tour package with us.
Airport Fee and Tax
We will give you the total price when you book with us, but when you are comparing with other prices, please keep in mind that the airport fee and possibly other taxes and fees will be added on to the original price. It is, depending on where you are going and coming from, generally around 100 to 200 RMB, or 20-30 USD.
We know that as you prepare for your China trip, you have a lot on your mind and a lot to do. That's why we want to make paying for your China flights and tour program as simple, safe and quick as possible. Our payment page is easy to navigate and read, and is designed based on the country where you live, as well as your preferred method of payment. You can pay via direct deposit, credit/debit card, or, depending on the country in which you live, by wire transfer or PayPal. If you have any further questions, please contact one of our customer service specialists, who will reply to you within 24 hours.
Booking Process
There are 3 steps to complete the ticket-booking process. Please read through.
1: Request a low fare --> 2. Wait for our response -->
3. Purchase ticket

--> 3. Receive e-ticket

Step 1 Request Fare

Submit a request form below to have us check the cheapest fare for you or the best fare that goes with your itinerary. Please provide detailed information. Please note: this form is made for serious inquires, not for rate shopping.


Step 2 Consult with Our Travel Specialist

Our representative will call you or email within one business day to ask for more information regarding your ticket. Please let us know your preferred means of contact. If you receive an email from us, please respond as soon as you can to catch the lowest fare we have found for you. In many cases, we'd love to hold the low fare or a free upgrade to first class for you, it is very important that you will quickly send us your full names and passport numbers to occupy the spaces.

Step 3 Purchase Tickets and Booking Fee.

Fares are not guaranteed until purchased. Tickets are nonrefundable. Passenger name or passport number changes are not allowed. Please verify your name and passport number when purchasing. Booking fee will be added.

Step 4 Receive Tickets.

We'll email you the E-ticket information and you can claim a boarding pass with your passport at Chinese Airlines counters in the airport. Then you can just fly. Chinese airlines only issue e-tickets.

We also search for the best deals for your hotels in 220 cities in China.