Request A Tour
or
ask a question
Name
(MUST)
:
Email:
Phone:
Time to Visit:
Your residence now:
Tour Code:
Questions:
*When you are making this tour;
*Are you touring by yourself or with friends or family?
*What type of hotels do you expect;
*Do you speak any Chinese?
For assistance, you can also send email to
greatwall@greatwalladventure.com
Kunming of Yunan Tour Package
| | |
| --- | --- |
| Tour Code & Duration | Activities Involved |

Kunming

Kunming, capital of Yunnan Province, with a history of more than 2400 years, owes its importance to the fact that it was the gateway to the celebrated Silk Road that facilitated trade with Tibet, Sichuan, Myanmar and India. Today the city is the political, economical and cultural center of Yunnan and the provincial center for transport, science and technology and consequently has become the most popular center for tourism in Southwest China.

Kunming enjoys a pleasant climate and does its best to live up to its title of 'the City of Eternal Spring'. Whenever you are planning to go, the temperature is always pleasant. With its convenient transport links in and out of the city, Kunming welcomes and sees off tens of thousands of tourists every day.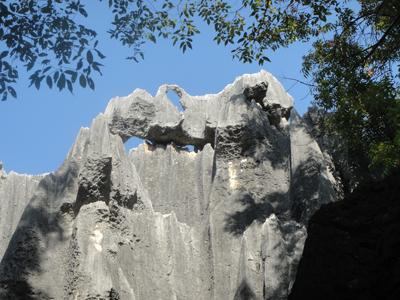 For first-time tourists Kunming city center is an attraction with its two squares and five interlaced roads - Jinma Biji Square, Dongfeng Square, Dongfeng Lu, Jinbi Lu, Zhengyi Lu, Renmin Lu and Qingnian Lu, among which Jinbi Square has the most eye-catching architecture. Qingnian Lu, Zhengyi Lu, and Renmin Lu are the main commercial areas in Kunming; the most popular pedestrian streets are Nanping Jie, Jingxing Huaniao Shichang, and Jinma Biji Fang.

Kunming is the focal point of Yunnan minority culture. Some 26 ethnic minorities such as Yi, Bai, Miao, Dai, Hani and more inhabit the region. Each group has its own featured festivals such as the Torch festival of Yi people, the Golden Temple Fair and so on. The hugely successful 1999 International Horticultural Exposition enhanced Kunming's influence in the world resulting in a snowball effect upon tourism as more and more foreigners come to discover this enchanting part of China.

Its alluring highland scenery, bewitching karst landform, varied and exotic habitats and customs and places of historical interest can be found at major scenic spots such as Dianchi Lake, Stone Forest , the Village of Ethnic Culture, Grand View Pavilion, etc.

Kunming has more than one hundred star rated hotels and a variety of a thousand or so guest houses. These provide tourists a wide choice of somewhere to relax after whole day's tour.

Kunming is also renowned for many delicious local dishes; the most famous ones are Across Bridge Rice Noodle and Xuanwei Ham. You can enjoy them both at local famous restaurants or the night market. In the night markets you will find many pubs, bars and cafes that serve good quality meals.

Lastly, do not forget to buy some locally produced souvenirs for your friends or family when you visit Kunming, such as ivory or woodcarvings, minority tie dyings. You will find a variety of stores to meet your specified requirements.
Yunnan Stone Forest:

The Stone Forest is in Lunan Yi Nationality Autonomous County, which is about 120 kilometers (75 miles) from Kunming and requires only a three-hour drive. It covers an area of 400 square kilometers (96,000 acres) and includes both large and small stone forests, as well as many other scenic spots. An old local saying says that 'If you have visited Kunming without seeing the Stone Forest, you have wasted your time.' Truly, the Stone Forest is one of the most important attractions of Yunnan.

Walking through the Stone Forest, visitors marvel at the natural stone masterpieces and are bewitched by the intricate formations. The magnificent, strange and steep landscape creates countless labyrinthine vistas, including:

Major Stone Forest, Minor Stone Forest and Naigu Stone Forest, all of which feature stones in various formations. Animals, plants, and even human figures can be found here. Some are elegant, some are rugged, and each is lifelike with its own distinguishing characteristics.

Subterranean Stone Forest in Zhiyun Cave, an underground stone forest distributed among several caves and occupying a total area of about three square kilometers (720 acres).
The stones are marvelous under the sunshine. Strange Wind Cave, composed of Penfeng Cave, Hongxi Spring and an underground river. From August to November, gales lasting two to three minutes sweep out of the cave every 30 minutes.

Long Lake is a karsts lake that is three kilometers (two miles) long but only 300 meters (zero point two miles) wide. The lake features underwater stalagmites and stalactites and a small island in the center of the water. The source of the Dadie Waterfall, Ba River, is a branch of Nanpan River. In the rainy season, up to 150 cubic meters (196 cubic yards) of water per square inch plummet down the 88 meter (288 feet) drop.

Geologists say the Stone Forest is a typical example of karsts topography. Approximately 270 million years ago - during the carboniferous period of the Paleozoic era - the region was a vast expanse of sea. Over time, the movements of the lithosphere gradually caused a retreat of the waters and the rise of the limestone landscape. Due to constant erosion by the elements, the area finally developed into the present-day Stone Forest.

Many beautiful legends originate in this magical place, passed along by the native people known as Sani, a branch of the Yi ethnic group. One particular story about the faithful love of Ashima, a beautiful, clever and warm-hearted Sani girl, is the most popular and has been told for thousands of years. The Sani people celebrate their national festival - the Torch Festival - every lunar year on June 24. They take part in traditional performances such as wrestling, bull fighting, pole-climbing, dragon-playing, lion dancing and the A-xi Moon Dance. During this time, the Stone Forest is alive with a particularly joyful, festive atmosphere, making the area even more attractive than usual. However, the Stone Forest - with its sculptures engraved by nature, herself - is always a true miracle for visitors to behold.

Kunming Tourist Attractions:

Dianchi Lake Golden Temple Western Hills Black Dragon Pool Bamei Village

Daguan Park Flowers and Birds Market Qiongzhu Temple Yuantong Temple