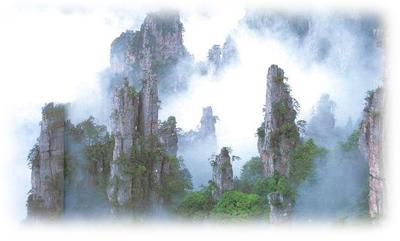 Zhangjiajie is situated in the northwest of Hunan province. The city stretches 167 km from east to west, and 96 km from north to south. Zhangjiajie city covers an area of 9,653 square kilometers, which accounts for 4.5 percent of Hunan province.
The landform is complex in Zhangjiajie, including mountains, hills, and plains. Mountainous area takes up 76 percent of the city. The most characteristic feature is the quartzes sandstone landform, which is a rare type in the world. The city is higher on the northwest, and tilts along Li River to the south. There are mountains over mountains in the city and many abrupt peaks and low lands. Zhangjiajie is a city under the direct administration of provincial government. Out of its total population of 1.62 million, almost 72% belong to ethnic minority groups, including Tujia, Bai and Miao nationalities. Zhangjiajie is a prefecture-level city consisting of Yongding and Wulingyuan Districts, Cili and Sangzhi Counties
Zhangjiajie is a rising tourist city famous for its unique natural scenery and abundant tourism resources. This site is dominated by more than 3,000 narrow sandstone pillars and peaks, many over 200m high. Between the peaks lie ravines and gorges with streams, pools and waterfalls, 40 caves, and two large natural bridges. It is also home to a number of endangered plant and animal species. Therefore, it was listed into the World Natural Heritage Catalogue by the UNESCO in 1992. What's more, Zhangjiajie was awarded the title of "World Geological Park" in 2004.
Zhangjiajie City features a variety of different terrains including: mountainous regions, upland areas, plains, and Karst rock areas. Among these, the mountains cover 76 percent of the total area. The world-famous natural heritage site 'Wulingyuan Scenic Area' is located on the base of these great mountains. Areas worth visiting include Zhangjiajie National Forest Park (known as China's first national forest park), Suoxiyu Natural Resource Reserve, and Tianzi Mountain Natural Resource Reserve. They enjoy the reputation of 'Original Picture on Mountain and River of China'. This wonderland is covered with dense forests and is considered Mother Nature's Oxygen Bar.
As the American Grand Canyon has a crystal walkway from which to view the ground below, now one of China's natural wonders has its own similar path. Tianmen (Heavenly Peace) Mountain, located in the Zhangjiajie National Park, Hunan, now has a crystal walkway that is situated 4,700ft above sea level. 3 ft wide and 2.5in thick, the 70ft, long bridge gives visitors a unique and thrilling take on a standard mountain hike. Tianmen Heaven is so named because of a huge natural cave that is situated halfway up the summit. With its highest peak at 5000ft above sea level, Tianmen Mountain is home to a wide range of rare plant species. Tianmen Mountain is one of the jewels of Zhangjiajie National Park, which is perhaps China's greatest source of natural beauty and wonder.
Zhangjiajie tourist attractions and maps:

Zhangjiajie-Wulingyuan-Scenic-Area

Zhangjiajie-Scenic-Spot

Zhangjiajie-Feng-Huang-Cheng (Phoenix Town)

Zhangjiajie-Tianzi-Mountain-Nature-Reserve