Xining, Qinghai City Tour Packages

| | |
| --- | --- |
| Tour Code & Duration | Activities Involved |
| | |
| --- | --- |
| BT0082 | Xining Airport Pick-up Service. $138/person |
| | |
| --- | --- |
| BT0081 | Xining Airport Drop-off Service.$138/person |
| | |
| --- | --- |
| BT0083 | Xining Train Station Pick-up Service. $77/person |
| | |
| --- | --- |
| BT0084 | Xining Train Station Drop-off Service.$77/person |
| | |
| --- | --- |
| Tour Code & Duration | Non-private Bus Tour Attractions |
BT0173 (One-day)
Sun-Moon Mountain, Qinghai Lake, Golden Silver Pasture & Birds Heaven Island One Day Tour.
$215/person

Qinghai is in the northeastern part of Qinghai-Tibet Plateau and its name comes from Qinghai Lake, the largest inland lake in China. The Yangtze, the Yellow and Lancang Rivers all have their origins there, so Qinghai is also known as the birthplace of rivers. Qinghai is over 9,842 feet above sea level. It is rich in tourist resources and possesses an ideal ecological environment. The people of the region have a unique religious culture and traditional folk customs, which also makes Qinghai a fascinating destination.

In the remote past, there was a branch line of the ancient Silk Road which stretched west from Lanzhou in Gansu to Qinghai.

Xining,

located on the northeastern part of Qinghai-Tibet Plateau, Xining is the provincial capital of Qinghai. It is the hub of Lanzhu-Qinghai and Qinghai-Tibet Railways, and sits astride the main route to the hinterland of Qinghai and Tibet. Xining is 7,463 feet above sea level and is a typical example of a plateau city.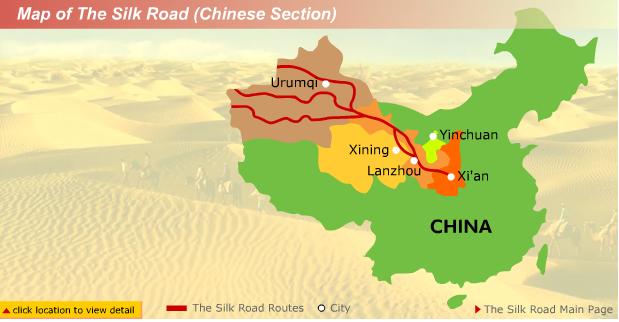 China's famous Silk Road