Kunming of Yunan Tour Package
Western Hills
In the western suburbs of Kunming lies Western Hills. They are also called 'Sleeping Buddha Hills'. For looked at from a distance, they have the appearance of a giant sleeping Buddha. They have also been given another name - 'Sleeping Beauty Hills' for the hills when viewed together look like a beautiful young lady laying beside Dianchi Lake with her face upward and her hair trailling into water. You can see the outline of her face, chest, and legs clearly.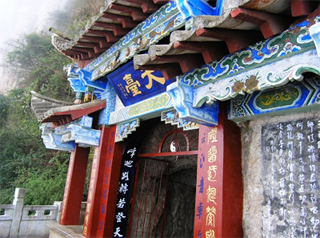 Western Hills boasts an excellent environment with flourishing flowers and dense forest, providing tourists an excellent environment to enjoy the tranquility and marvelous scenery. No wonder that the place has gained a reputation as 'having the most pleasant environment in the world'.

In Western Hills, there are wonderful scenic spots such as Huating Temple, Taihua Temple, Sanqing Pavilion, and Dragon Gate. Huating Temple is one of the largest Buddhist temples in Yunnan Province. It had been destroyed and rebuilt several times most recently in 1923. Daxiong Baodian Hall, Tianwang Hall and Kwan-yin Hall are some of the features in the temple. In the temple you can see three golden Buddha figures with kindly expressions, 500 life-like arhats which are vivid just like real people, and golden figures of Laughing Buddha. Besides, there are abundant colored clay figures depicting vividly various images of mythical animals.

Taihua Temple gained its name for it is located on Taihua Hill. Originally built in the Yuan Dynasty (1206 - 1368), the temple is the oldest one in Western Hills. Daxiong Baodian Hall, Piaomiao Pavilion, Sizhao Hall are in the temple. The temple is famous for the beautiful rare flowers on the grounds. It is also a good place to watch the grand spectacle of the rising sun.

Sanqing Pavilion is built on the cliff at Luohan Hill. Being over 300 meters (approximately 984 feet) above Dianchi Lake, the pavilion looks like a 'castle in the air'. This temple has a Taoist influence, and 'Sanqing' in Taoism refers to the loftiest stature. The pavilion is a good place where you can not only visit the temples, but also enjoy a panoramic view of Dianchi Lake. There is a saying - 'If you do not visit Western Hills, you haven't visited Kunming; if you do not come to Dragon Gate, you haven't been to Western Hills.' Being the outstanding scenic place in Western Hills, Dragon Gate is a big exquisite stone carved edifice. The stone paths, stone rooms, stone grottos, and stone Buddhist figures are all carved with excellent craftsmanship on a large natural rock. Like Sanqing Pavilion, Dragon Gate was also built on cliff. You can stand on the edge of the cliff holding the railing, looking downward to experience the steepness of the hill and enjoy the spectacle of Dianchi Lake.