Shanghai City Tours including Shanghai Expo Site Tour

Shanghai

Accommodation

and Tour Packages



Five Expo pavilions remain open for tourists and it does deserve a whole day tour of Shanghai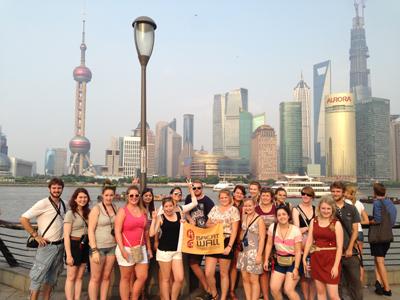 China wrapped up its record-breaking World Expo on Sunday with a lavish display of national pride, as organizers of the mammoth event pledged to continue pursuing more sustainable, balanced growth. The Great Wall Adventure Club now are offering post-Expo tour packages to those who have missed the Expo in Shanghai.
However, the good news is the Expo will not say goodbye to visitors, according to the China Pavilion Department of the Shanghai World Expo Bureau on March 21, 2011. According to sources, the China Pavilion will be closed temporarily for reorganization and could be jointly opened with the Saudi Arabia Pavilion. The pavilions of France, Italy, Russia, Spain and Saudi Arabia have been donated to the city and will soon reopen to the public with the Saudi Arabia Pavilion.

Qian Zhiguang, director of the China Pavilion Department of the Shanghai World Expo Bureau, said after the six-month extended exhibition of the China Pavilion, it will undergo maintenance but will not be closed to visitors for too long.

As the end of the six-month extended exhibition is more than two months away, the enthusiasm of visitors ran high in recent days. The daily number of visitors reached 40,000 from Monday to Friday and the figure increased to nearly 50,000 on weekends. The visitor flow at the China Pavilion is nearly saturated, and therefore, the pavilion authority proposed that visitors should reasonably arrange their travel itinerary.
Photo: Great Wall Adventure Club group visited Shanghai's famous attraction - The Bund during the 2010 Shanghai Expo.


Shanghai City Tour Packages

Our Shanghai World Expo Tours came recommended by The Wall Street Journal (3/18/2010) in the article about Shanghai World Expo ("Shanghai Aims to Attract the World "). "For those booking their own flights, a package from Great Wall Adventures includes hotels, airport transfers, Expo tickets, guide and private car and driver ..." The newspaper also interviewed the Great Wall Adventure Club as trusted source when it comes to expo news and information. Enjoy our Shanghai Only Expo tour or see the great ancient cities and gardens and water towns with our pre-programmed Shanghai World Expo Tour Packages!!

+

+

9 Hands-on World Expo Tour Packages
OPTION 1: Please continue to The Shanghai World Expo Tour Packages page to learn details and sign up.
OPTION 2: Go to our standard packages and customize your tour to make a one of a kind expo tour just for you, your family, and your loved ones!!


12 China Package Tours That Includes Shanghai World Expo
Thinking about Shanghai Expo + Beijing, Shanghai Expo + Xian + Beijing, Shanghai Expo + Yangtze River Cruise, or
Shanghai Expo + Guilin + Zhangjiajie Avatar Mountain? Please click to visit our "Expo + China package" page.
Please keep in mind that we can help you with your tours not only in Shanghai but also in Beijing and every other place in China. Unlike many small Chinese tour agencies, we have co-branches in all major cities and tourist resorts and thus we can handle your Expo tour better.
The Post Expo Tour
Plan your tour and sightseeing with Great Wall Adventure Club, the most experienced China tour agent who was heavily involved in the Beijing Olympics reception and hospitality service. The Great Wall Adventure Club is happy to book Shanghai hotels, find cheap international airfare to Shanghai and for China domestic flights, and prepare tours for our members. Our experience found our guests' earlier planning can help avoid problems with Chinese visa application, higher hotel price and airfare. So, plan now if you decide to go.
The Expo

of 2010
World Expositions are galleries of human inspirations and thoughts. Since 1851 when the Great Exhibition of Industries of All Nations was held in London, the World Expositions have attained increasing prominence as grand events for economic, scientific, technological and cultural exchanges, serving as an important platform for displaying historical experience, exchanging innovative ideas, demonstrating esprit de corps and looking to the future.
With a long civilization, China favors international exchange and loves world peace. China owes its successful bid for the World Exposition in 2010 to the international community's support for and confidence in its reform and opening-up. The Exposition will be the first registered World Exposition in a developing country, which gives expression to the expectations the world's people place on China's future development.
What fast-paced, sophisticated Shanghai lacks in history and grandeur is more than made up for by surging skyscrapers, a constellation of dining, drinking and dancing spots and its thrilling energy. Shanghai is the cool, confident face of modern China. Take taxis between sights and social bookings or save money on the subway. Must visit stops include the waterfront Bund, with colonial buildings ranging from Neoclassical to Art Deco, and prime people-watching spot, People's Square.
So what will Expo 2010 Shanghai, China deliver to the world? There is no doubt the Chinese people will present to the world a successful, splendid and unforgettable exposition. Expo 2010 Shanghai China will be a great event to explore the full potential of urban life in the 21st century and a significant period in urban evolution. Fifty-five percent of the world population is expected to live in cities by the year 2010. The prospect of future urban life, a subject of global interest, concerns all nations, developed or less developed, and their people. Being the first World Exposition on the theme of city, Exposition 2010 will attract governments and people from across the world, focusing on the theme "Better City, Better Life." For its 184 days, participants will display urban civilization to the full extent, exchange their experiences of urban development, disseminate advanced notions on cities and explore new approaches to human habitat, lifestyle and working conditions in the new century. They will learn how to create an eco-friendly society and maintain the sustainable development of human beings.
Expo 2010 Shanghai China will focus on innovation and interaction. Innovation is the soul, while cultural interaction is an important mission of the World Expositions. In the new era, Expo 2010 Shanghai China will contribute to human-centered development, scientific and technological innovation, cultural diversity and win-win cooperation for a better future, thus composing a melody with the key notes of highlighting innovation and interaction in the new century.
Expo 2010 Shanghai China will also be a grand international gathering. On the one hand, we shall endeavor to attract about 200 nations and international organizations to take part in the exhibition as well as 70 million visitors from home and abroad, ensuring the widest possible participation in the history of the World Expositions. On the other hand, we will put Expo 2010 Shanghai China in a global perspective and do our best to encourage the participation and gain the understanding and support of various countries and peoples, in order to turn Expo 2010 Shanghai, China into a happy reunion of people from all over the world.
In addition, Expo 2010 Shanghai China will offer a wonderful opportunity for cross-culture dialogues. Before the conclusion of the Exposition, a "Shanghai Declaration" will be issued. This declaration, hopefully a milestone in the history of the World Expositions, will epitomize the insights to be offered by the participants and embody people's ideas for future cooperation and development and extensive common aspirations, thereby leaving a rich spiritual legacy of urban development to people throughout the world.