Ask A Quick
Question from Here
Name
(MUST)
:
Email:
Phone:
Time to Visit:
Your residence now:
Tour Code:
Questions:
For assistance, you can also send email to chinatour@greatwalladventure.com
Shanghai City Tour Packages
Shanghai City Sightseeing and Tours to Suzhou and Hangzhou
The following seven Shanghai tour packages are ready for your sightseeing in Shanghai. All packages include hotels, airport transfers, an English-speaking guide and a private vehicle and a driver.

Back in 2010, we brought the successful Shanghai tours with World Expo to hundreds of international visitors to Shanghai, and our Shanghai World Expo Tours were recommended by The Wall Street Journal in the article about Shanghai World Expo ("Shanghai Aims to Attract the World," March 18, 2010).

9

Optimized

Tours Packages Starting from Shanghai

Shanghai Only
EXSH1
2 days, 2 nights

Expo Site

China Pavilion

, Yuy

u

an Garden/Financial Center

Birds

view, Old Butcher, Creative Garden Tianzifang.

EXSH2
2 days, 2 nights

Expo Site China Pavilion, Yuy

u

an Garden/Financial Center

Birds

view, Hengshen Bar Street & French Concession, Xintiandi.

EXSH3
3 days, 3 nights

Expo Site

China Pavilion

, Yuy

u

an Garden/Financial Center

Birds

view, Shanghai Urban Planning Hall, Shanghai Museum, the Bund, Nanjing

Road, Pujiang River Cruise, Acrobatic Show.


EXSH4
5 days, 4 nights


Expo Site

China Pavilion

, Zhujiajiao Water town, Financial Center Birdsview, the Bund, Nanjing Road, Xintiandi, Jade Buddha Temple, Yuyuan Garden, and Shanghai Museum

Shanghai and Surrounding Cities (Suzhou and Hangzhou)


Both Suzhou and Hangzhou are beautiful cities within two hours

of driving distance

. Zhujiajiao and Zhouzhuang are two famous watertown in eastern China. With any of the following packages, you have the chance to tour three major cities and one of the famous watertown of China for one trip!


EXCOMB1
7 days, 7 nights
Expo Site

China Pavilion

, Yuy

u

an Garden, the Bund, Financial Center

Birds

view, Xintiandi, Suzhou and Hangzhou

EXCOMB2


8

days, 7 nights
Expo Site

China Pavilion

, Yuy

u

an Garden, the Bund, Financial Center

Birds

view, Xintiandi, Zhujiajiao Old Town of Shanghai, Suzhou and Hangzhou

EXCOMB3


8

days, 7 nights
Expo Site

China Pavilioin

, Yuy

u

an Garden, the Bund, Financial Center

Birds

view, Xintiandi, Zhouzhuang WaterTown, Suzhou and Hangzhou


EXSZBJ


10 days

Shanghai and Expo

China Pavilion

, Suzhou, Beijing Impressions

BJXASH


8

days

Beijing, Xi'an, Shanghai and Expo

China Pavilion



More Impression Packages
Shanghai + Yangtze River, Tibet, Huangshan, Guilin, Jiuzhaigou, Zhangjiajie, etc.
See the complete list of China packages.

To

order any of these packages, please use the form below. If you need to customize your tour based on the above pre-cooked programs, please write your plan in the form as well. We'll design for you. You can also email us at

tour@greatwalladventure.com .
About Shanghai
Shanghai, the host city of 2010 World Expo, also named "Hu" or "Shen" in short, is situated in the middle of China's east coastline. It occupies a total area of 6,341sq.km. (of which Pudong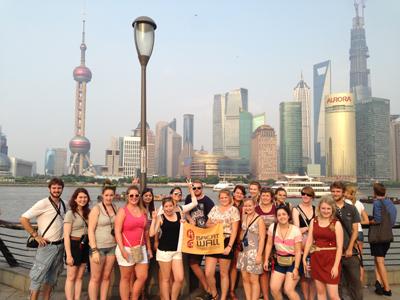 new Area occupies 523sq.km.), with a total resident population of 16,000,000. It has a pleasant climate, with four distinct seasons. The average temperature is around 18C and the annual precipitation is 1,240mm.

Shanghai, an open city on the coast and a famous historical and cultural city, is a gate to the Yangtze River delta. It is a municipality under the direct jurisdiction of the Central Government, the largest economic and trade center, a comprehensive industrial base and the leading port in China.

Shanghai is well known in the world not only for its prosperous cosmopolitan feature but also for its rich humanistic resources. In recent years, a number of modem buildings have been added to the city, such as the Oriental Pearl TV Tower, Shanghai Museum, Shanghai Library, Shanghai Stadium, Shanghai Grand Theatre, Shanghai Circus City, Shanghai City-Planning Exhibition Hall and Jin Mao Tower, Shanghai Science & Technology Museum. They have become new scenic sights in Shanghai. Colorful festivities, like Shanghai Tourism Festival and Shanghai China International Art Festival, have attracted an increasing number of tourists from home and overseas.

Shanghai is an ideal "paradise for shoppers". There are commercial streets and shopping areas like the famous Nanjing Road Pedestrian Mall, Huaihai Road, Sichuan Bei Road, Yuyuan Commercial and Tourist Area, the Ever Bright Commercial City, Xujiahui Commercial City and Zhangyang Road Commercial City in Pudong. There, shops stand rows upon rows with large collections of beautiful commodities, meeting the needs of tourists of different levels. Shanghai is also the paradise for gourmets. There are over a thousand restaurants serving the 16 different styles of food in China, such as the Beijing, Sichuan, Guangdong, Yangzhou, Fujian, etc. There are Western restaurants serving French, Russian, Italian, English, German, Japanese and Indian food and also Muslim and vegetarian food. In Shanghai, one can have a taste of all the delicacies in the world.
Shanghai is well developed in communications by land, water and air. There are over 40 Chinese and foreign air companies opening about 300 air routes dispatching from Shanghai. Shanghai Railway Station dispatches everyday 80 pairs of trains back and forth from Shanghai. There are the Shanghai-Nanjing, Shanghai-Hangzhou-Ningbo Freeways. The Pudong International Airport has opened for traffic. Its annual passenger transport volume will be 20,000,000 person/times. Plus that of the Hongqiao International Airport, it will be 30,000,000 person/times. Subways No.1 and 2 and the light-rail first phase project are in operation. Together with the 10 special tour bus lines connecting Shanghai with neighboring tourist areas, they will render faster service and more convenience in urban communications to tourists. Recently, the magnetic buoyant train has been opened to the public. It offers travelers a zero height of flight at 430 km/hr.

On December 3, 2002, Shanghai succeeded in winning the bid for the sponsorship of World Expo 2010. The world has given China a share of luck and Shanghai will add more splendor to the world Shanghai is ushering in excellent opportunities for development. People of Shanghai warmly welcome visitors from home and overseas, not just for the World Exposition, but for their proud city.