Huangshan Mountain Tour
-- Tour to Town of Arch
Shexian County, situated at the foot of Mt. Huangshan, is reputed as 'the Town of Arches'. More than 250 arches constructed in the Ming (1368-1644) and Qing (1644-1911) dynasties are scattered around the county. Over 80 of these arches are in good condition. Two representatives are the Xuguo Stone Arch and Tangyue Memorial Archways. In November 1996, Tangyue Memorial Archways was listed as a key national culture protection unit.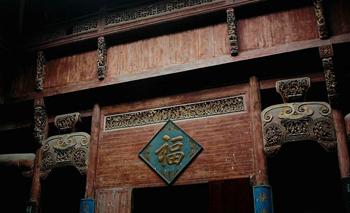 Archway is known as 'Paifang' or 'Pailou' in Chinese. Paifang was a unique architectural form in ancient China. The building materials vary from wood to stone to glazed tile. It was usually erected at the entrance of a village, street or tomb. These grand and magnificent archways demonstrated the unique talents and distinguished skills possessed by ancient architects and construction workers.

In Chinese feudal society, Paifang had significant cultural connotations and its construction must be approved by an emperor. The purpose of Paifang was to honor individuals or groups who had made great contributions to or were viewed as role models by the states. The Tangyue Memorial Archways, with seven arches, was constructed to praise the Baos for their virtues and merits. The seven archways symbolized the virtues of the Baos: loyalty, filial piety, benevolence and charity.

The building of Paifang Group of Memorial Archway followed a rigid hierarchy in China's feudal society. The number of pillars that supported the eaves, the paintings and patterns engraved in the archways were closely associated with the status of the person(s) honored. An exception was the Xuguo Stone Arch. This arch, located in Zhonghe Street at the entrance of Shexian County, was built in honor of Xuguo, a scholar who was a teacher of three heirs to the throne. According to folklore, Xuguo took advantage of the emperor's vague instructions about the project and constructed an eight-posted archway, in spite of the fact that only royal families were allowed to build eight-posted archways.

The paintings and patterns engraved in the archways have symbolic meaning. For example, archways with sculptures of a dragon or phoenix were closely linked to the royal families, since they signified the emperor and the queen respectively.

Paifang is a unique architectural form and a reflection of traditional Chinese culture. Shexian was blessed with many archways, hence 'the Town of Arches'.
Usually tourists to Huangshan will stop by Tangyue Memorial Archways for a side tour.