Huangshan Tour from Shanghai
Huangshan Tour from Shanghai
3 days 2 nights Tour
Highlights: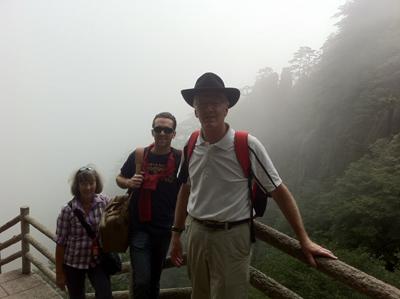 • Recently listed on UNESCO's World Cultural and Natural Heritage List, Huangshan Mountain is a testament to the beauty that only nature can create. It has served as the inspiration for artists, poets, dreamers, and romantics for thousands of years. See the intriguing pine formations and the seas and mists of clouds, while enjoying the sunrise and sunset from the mountain top of Huangshan.
• Hongcun Village is located near the southwestern slope of Huangshan Mountain. It is listed as one of China's top 10 charming villages and was added to UNESCO's World Cultural Heritage List in 2000. Morning mists, gray tiles, white walls, stone bridges, water lily ponds, and hills at the background, are all things you will see today at Hongcun.
B=breakfast L=lunch D=dinner DEPARTURE: Daily
TOUR ITINERARY

Tour code:


GWAC-HUANGSHAN2
DAY 01

Day 1 Arrive in Huangshan City (from Shanghai)

By either train or bus, you will arrive in the town of Tunxi, which is the central district surrounding Huangshan. You will be met by your English-speaking guide and driver, who will then take you to your hotel, the 3-Star Huaxi Hotel.


3 or 4 star for common; 5 star for deluxe
DAY 02
Day 2 Downtown - Mt. Huangshan (B, L, D)

After breakfast in the hotel, we will drive to Huangshan (Yellow Mountain). With a height of 1873 meters (6145 feet), it is the highest peak of the Mt. Huangshan Scenic Area. At present over 500 kinds of animals and 1500 kinds of plants live on the Huangshan Mountains. UNESCO listed Yellow Mountain as one of the World Natural Heritage sites in 1990.

Once we arrive, we will take the cable car from Yungu Station to the top of the mountain. After checking into your hotel and having lunch we'll get started with our sightseeing. While on Yellow Mountain, we will see some curious sights, such as the Strange Pines, which are seen in every corner of Yellow Mountain. You will be amazed by their vitality and strength. The uneven terrain prevents the pines from growing upright. Instead they become crooked and even downward. Another feature of Huangshan pines is that many trees grow branches on one side only. Some notable ones that we will see include the Guest-Greeting Pine (in front of the stone lion of the Jade Screen Pavilion in the Jade Screen Scenic Area), and the Guest-Goodbye Pine (to the right of the Jade Screen Pavilion.

We'll also visit Yellow Mountain's numerous peaks, such as Brush Pen and Begin-to-Believe Peak. In the evening you will have the pleasure of enjoying the spectacular sunset from the Cloud Dispelling Pavilion. We'll stay overnight on the summit at the Panyunlou Hotel (3-stars)

3 or 4 star for common; 5 star for deluxe
DAY 03

Day 3 Huangshan - Hongcun - Tunxi -Departure (B, L, D)

Huangshan is famed for its sunrises. Weather permitting, we should be able to gaze upon a breathtaking sight this morning as the golden light of the sun pierces the mists. The mountain peaks rise above the clouds, and the light of sunrise illuminates a frothy, ever-changing sea of white clouds below. We can watch this spectacle from a viewing terrace, which is a short distance from our hotel. After sunrise, we bid farewell to Huangshan and descend the mountain by its Western Route (Xi Xian), a steeper and longer hike (9 miles) best done as a descent.

This route offers some of the most spectacular vistas of the mountain. Starting from our hotel, we'll climb a trail for about an hour to Guangming Ding (Bright Summit Peak), the second highest peak in the range, and then continue 2.5 hours to Huangshan's highest summit, Lianhua Feng (Lotus Flower Peak) which is situated at 6,115 feet. Another half hour of hiking brings us to Yingke Song (Welcoming Guests Pine), where a dramatically shaped pine - thought to be over 1,000 years old - extends a long branch as if greeting passers-by. We'll take the Jade Screen Cable Car near Jade Screen Peak to descend the mountain from its western steps.

After our visit to Huangshan we'll drive for about an hour in order to visit Hongcun, a UNESCO world cultural heritage site. Hongcun is the main village where the Wang families live together. The Wang clan is a respectable family in the Central Plains of China. Because it moved to the south at the end of the Han dynasty, the descendants of the Wang clan spread to every parts of the south of the lower reaches of the Changjiang River. Encircled by green hills, two streams flow through the village from north and east converging at Huiyuan Bridge. The village has two main streets and about 99 lanes. All the streets and lanes are paved with cobbles or black stones. The residences, lanes and streets combine well with the hills and streams. Lying about 10 kilometers (6 miles) northeast of Yixian County, Hongcun Village enjoys the reputation of 'a village in the beautiful Chinese picture' because of its location at high altitude and being shrouded by clouds and mist. It has about 137 Ming and Qing style residences.

Following dinner you will be taken to either the Tunxi airport to fly back to Shanghai, ending your tour with us.

3 or 4 star for common; 5 star for deluxe
Tour Inclusions:

1. Hotels with daily western breakfasts;
2. Meals in accordance with that listed on the itinerary.
3. professional local guide & driver;
4. Private air-conditioned car or van for transportation;
5. Admission of the first gate.
6. Two bottles of mineral water per day.
Tour exclusions:

1. Tip of the guide
2. Personal costs