Huangshan Mountain Tour
-- Tour to Ancestral Temples
The Ancestral Temple is the holy hall where ancestors of a clansman are sacrificed and also a sacred palace where living people can communicate with their ancestors spiritually. In the past, people of the same clan usually lived together by surrounding their ancestral temple. It is compared to a delicate artwork and also a precious cultural relic from which we can see the history and development of a family.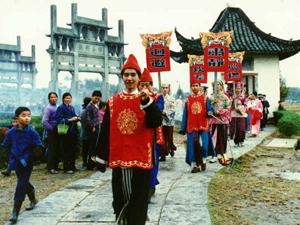 In the past, the Ancestral Temple is the gathering place where clansmen discussed their important family issues. Its wide space allowed family members to hold weddings, funerals and other significant ceremonies. Ancestral Temple serves as a tie to connect every member of a clan to develop cohesion among themselves. Regulations were formulated and written into stemmas or carved on stones standing in the temple. Anyone whose behavior violated these regulations would be punished in the ancestral temple and in front of the clans.

The Ancestral Temple, together with memorial arches and ancient residential houses are called 'Three Wonders of Ancient Architecture in Huizhou'. Decorations and carvings in these temples are various and exquisite, reflecting the wonderful artwork in the earlier times. Among the countless ancestral temples in Huizhou, the Ancestral Temple of Wu's is regarded as the greatest.

Located in the center of Beian Village in Shexian County, it was rebuilt in 1826, famous for its large scale and fine wooden carvings, with its back to the north and the front faces the south. Entering the gate, you may be captured by the fragrance of woods. The two most unique wooden carvings are amazing. One described the impressive natural beauty of the West Lake in Hangzhou. Another depicted one hundred deer with different postures in woods. The delicate lines and lively gestures highly reflect the workmen's professional craftsmanship.
Usually tourists to Huangshan will stop by Ancestral Temple for a side tour.