Photographer's Dream Places!


Overnight hiking to the most beautiful sections of the Great Wall of China
TWO WAYS TO SERVE YOU
1. Self-guided with our private transfer and the help from our local support staff at the Great Wall. Usually, it means some saving and freedom of departure date. Great for those who book this tour for economic reason or want more privacy. Please fill out the form below to request for a quote.
2. VIP English private or semi-private tour.

PRICES for VIP TOUR
# of Head
USD


each person

1
639
2
379
3
349
4-5
329
6-9
309
10+
299
WHAT'S INCLUDED IN PRICE
* Personal transfers from and to hotel
* Two lunches, one dinner and one breakfast
* Accommodation in a village at the foot of Great Wall with hot water
* Quality vehicle, professional driver and English-speaking tour guide
* Free membership card
* A credit of RMB50 when you reserve the next tour with us

Optional camping in watchtower at Jiankou
Camping overnight on the Great Wall is now an option! Spend the night under the stars on the Great Wall for an additional fee of
359 RMB/person (USD $59/person).
Guaranteed no detours to
stores or markets, etc.

Want to see more of the legendary Great Wall in all its beauty and splendor? Visit our Instagram page for a preview of what could be in store for you!
TRAVEL INSURANCE
If you currently don't have travel insurance then you will be required to purchase our PICC (People's Insurance Company of China) travel and accidental insurance.
The fee will be $9 per person, and will cover the duration of your hiking/camping/trekking in order to ensure that you are comprehensively protected if injured.

For more information about our travel insurance policy please see our insurance page.



QUALITY VEHICLES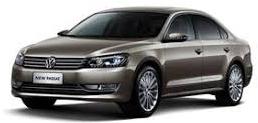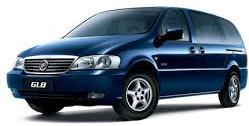 YOUR SAFETY IS OUR
TOP PRIORITY!

At the Great Wall Adventure Club, we only use quality vehicles such as VW Passat and Buick Minivan for your safety and comfortable trip!
Lakeside Great Wall
Huanghuacheng-Xishuiyu & Jiankou-Mutianyu


Route 2B: Two-day Great Wall hiking from Huanghua Cheng Lakeside Great Wall to Xishuiyu, and from Jiankou to Mutianyu, the four most photogenic portions of the Great Wall of China!
POPULARITY RANKING*:





*Ranked by the quantity of signups of all 2-day hiking routes.

See this thrilling route on the map .
Highlights:

1. To see the underwater section of the Great Wall and the stunning watchtower named "Eagle on the Peak"!
2. To view the gorgeous sea of rolling yellow wildflowers during the springtime, and to taste the delicious parmesan fruit during the fall months.
3. Overnight lodging in a local family (private toilet & A/C included). Optional camping in a peak watchtower at Jiankou is available.
4. Walk at Mutianyu, where you can try the only sliding track (toboggan in German) to slide down from the Wall to ground.
5. Visit the most photogenic portions of the Great Wall with accesses to the best vistas of the Great Wall of China!
As our lowest priced two-day Great Wall hike, Huanghuacheng-Xishuiyu and Jiankou-Mutianyu offers what is perhaps the best scenery that any Great Wall hike can hope to show. Dramatic ruins, grand watchtowers, the wall snaking over mountains and valleys, this two-day Great Wall extravaganza offers everything that aspiring travel photographers and adventurers hope for when they first set out on the Great Wall.

With green mountains and clear water around, Huanghuacheng and Xishuiyu have the natural and man-made landscape harmoniously coexisted, which are distinct from all others. The Great Wall in these sections retains the original features without any restoration. If you're hobby is photography, than there is perhaps no two section of the Great Wall that are as photogenic as these two. A trip to Huanghuacheng-Xishuiyu is guaranteed to give you some of the best photos from your travels.

Jiankou section built in the Ming Dynasty is one of the most famous wild walls constructed on the ridge of the dangerous peaks and broken cliffs, and is famous for its majesty and danger. It was one of the most favorite parts of the great wall hiking for hikers around the world. Probably the most beautifully rugged section of the Great Wall, Jiankou leads you seamlessly into Mutianyu, which has become the new love of more and more visitors from home and abroad.Never as crowed as Badaling but with the same splendor and elegance, this section is well preserved and much gentler than other parts of wall, so it is good for the old and the young. With greenery covering up to 90% of the mountain, Mutianyu gives visitors different views in different seasons. Multicolored foliage in the autumn, heavenly snow in the winter, Mutianyu has been captured on film numerous times, and if you are a reader of National Geographic or any other travel literature, chances are you have seen a pictorial of Mutianyu.

Day-by-day Hiking Itinerary
(B = breakfast, L = lunch, D = dinner)
Day 1: Beijing-Huanhuacheng-Xishuiyu (L+D, 4.5 hrs of hiking)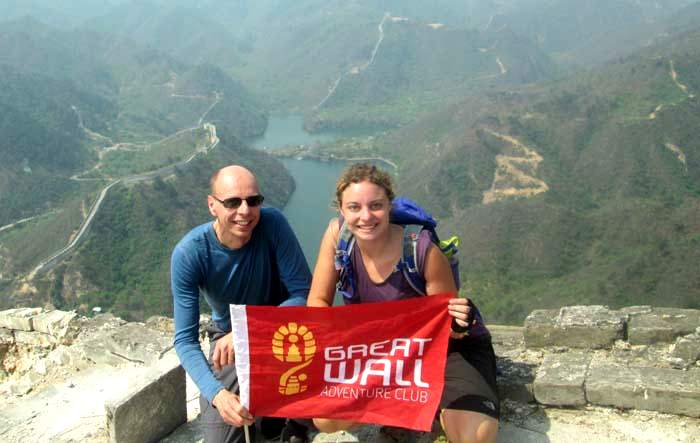 Your guide will meet you at your hotel around 9:30 am and take you by private car or minivan to the Huanghuacheng section of the Great Wall. Today we will be hiking about 6km/3.5 miles. When you reach the middle of the wall you will be able to witness the lush yellow flowers blooming (during the late spring and early summer) in the surrounding countryside.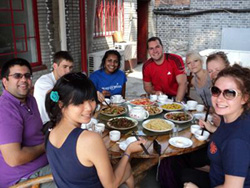 On this section of the wall you will pass by many forts, beacon-towers and guard towers, including Yaoziyu Fort, which is the best preserved. Today's hike, while not very long, is quite unusual; part of the wall is underwater! The name of this body of water is called Jintag lake, and the water is cold and clear, being fed by numerous springs.

After the hike we will drive by private van to a local farmer's house called "Missing-you Restaurant and Inn" for dinner. This is also where you are going to overnight. It is one of the Great Wall farmotels approved by the Great Wall Adventure Club. After a long day at the wall, you will be sure to enjoy a soothing night with the farmer and his family, and maybe you will even make a few new friends! The house is located at the foot of the mountain at Jiankou Great Wall, and after the meal, you can walk around and look out the Great Wall in the yard.

You'll sleep overnight in this inn.



Optional Camping on the Great Wall Tonight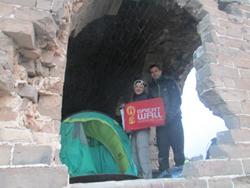 Spend the night under the stars on the Great Wall for an Optional Camping on the Great Wall additional fee of USD59/person

You have the unique opportunity to camp in a watchtower at Jiankou tonight! You'll be able to spend the night on the Great Wall under the glow of the stars. Our local supplier, who owns a local restaurant and inn, will carry the tent and sleeping pads for you and place them in the watchtower. This will takes about 40 minutes, as he has to reach the Great Wall by climbing a mountain path from his restaurant at the foot of the mountain. He will also cook for you a BBQ dinner, which will include Chinese wheat buns or pancakes, kebabs (beef, pork or chicken), vegetables, photo chips, and fruits, along with two bottles of local beers, spirits and other colas. While he is setting up your camping equipment and making your meals, please make sure to let him know your gratitude for all of his hard and dedicated work!



Day 2: Jiankou-Mutianyu-Beijing (B+L, 4 hrs of hiking)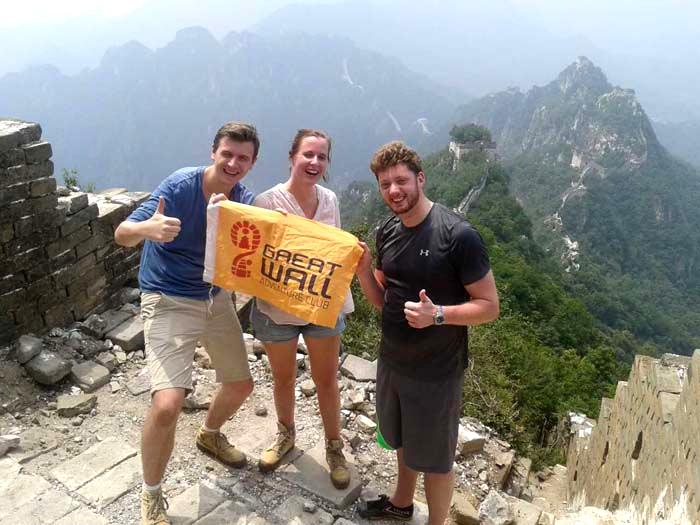 The day begins at 8:00 a.m. After breakfast we will drive by private car or minivan to the
Jiankou
section of the Great Wall and start hiking to Mutianyu.
The hiking today will cover about 10km/6miles. The Jiankou section is known for its ruggedness and wild beauty, and you will be in awe of the marvelous views it affords. Be sure to see the watchtower known as "Eagle on the peak", this tower is extremely high and forms the highest reaching point of the Jiankou section. This is the pinnacle of exotic Great Wall scenery.
From Jiankou you will cross over onto
Mutianyu
, a section of the wall that has been largely restored. Although it has gotten a face-lift, it avoids the army of tourists that plague Badaling.
Mutianyu offers some breathtaking views of the valley and wall below, and if you look to your right you'll see a large sign engraved in the side of the mountain encouraging you to "Cherish Chairman Mao". Mutianyu is often visited by leaders of foreign countries.
You can hike down to the parking lot or take a toboggan (highly recommended, and lots of fun! extra fee.) down to meet our driver. We will then have a lunch at a local restaurant. After that, we'll drive back to Beijing and drop you off at your hotel.
Back home, you'll then need to upload all the fantastic pictures you recorded on your Great Wall trek!

Mutianyu Toboggan (German technology) - U.S. First Lady visited Mutianyu in April, 2014


Optional Toboggan Run at Mutianyu (extra)

You'll surely be intrigued about taking the toboggan down from Great Wall to the entrance gate down the hill. You can ride as fast or as slow as you want. However, it is also a driving test. One person to a toboggan, you have a little handle with which you press down to go faster and pull up to stop. But if you are not intentionally pushing it, it will slow down anyway. "It is funny when we Westerners are on there, because we like to go a bit quicker than the Chinese (read a lot quicker) and you hear the shrill voices of locals shouting "brake! brake! Slow down!" It is hilarious. Go on it even if it is just to hear that." --

taylorstonebridge

on LonelyPlanet

People at age 70 have managed the riding successfully. Can you?
Included:

*Entrance fees
*Round-trip transportation
*Overnight lodging in a local farmer's house or a hotel
*Meals (2 lunches, one dinner and one breakfast)
*Expert English-speaking tour guide
*Great Wall Adventure Club membership card
We have up to 13 different routes for overnight hiking and camping on the Great Wall!



Read complete itinerary of Route 2X: Forbidden City + Sleep in the Watchtower (Camp!)




Read complete itinerary of Route 2AA: Gubeikou-Jinshanling-Jiankou-Mutianyu hike (Camp!)






Read complete itinerary of Route 2AB: Gubeikou-Jinshanling-Second Valley Hike & Camp (Camp!)





Read complete itinerary of Route 2B: Huanghuacheng-Jiankou-Mutianyu hike






Read complete itinerary of Route 2C: Chengde-Panjakou Reservoir-Xifengkou hike.



Read complete itinerary of Route 2D: Panjiakou Reservoir-Xifengkou hike.


Read complete itinerary of Route 2E: East Qing Tomb-Huangyaguan hike.



Read complete itinerary of Route 2F: Laolongtou-Shanhaiguan-Sandaoguan-Jiaoshan-Jiumenkou-Huangtuying hike



QUICK LINKS TO:



1-day hike |

2-day hike |

3-day hike |

4-day hike |

5-day hike |

7-day hike |

9-day hike |

12-day hike |

Bus Tours