Sleep in the Watch Tower
at Jiankou, Great Wall
TWO WAYS TO SERVE YOU
1. Self-guided with our private transfer and the help from our local support staff at the Great Wall. Usually, it means some saving and freedom of departure date. Great for those who book this tour for economic reason or want more privacy. Please fill out the form below to request for a quote.
2. VIP English private or semi-private tour.

PRICES for VIP TOUR
Group
Size

1

659

2

419

3

379

4-5

359

6-9

329

10+

309
WHAT'S INCLUDED IN PRICE
* Personal transfers from and to hotel/airport/train station
* Entry fees to Forbidden City and Great Wall
* Two lunches, one dinner and one breakfast (delivered to your watchtower)
* The privilege of camping on the Great Wall and exclusive access to the camping watch tower
* All necessary camping gears such as tents & bags
* Quality vehicle, professional driver and English-speaking tour guide
* Free membership card
* A credit of RMB50 when you reserve the next tour with us
Guaranteed no detours to
shops or markets, etc.

Want to see more of the legendary Great Wall in all its beauty and splendor? Visit our
Instagram
page for a preview of what could be in store for you!
TRAVEL INSURANCE
If you currently don't have travel insurance then you will be required to purchase our PICC (People's Insurance Company of China) travel and accidental insurance.
The fee will be $7.99 per person, and will cover the duration of your hiking/camping/trekking in order to ensure that you are comprehensively protected if injured.

For more information about our travel insurance policy please see our insurance page.




QUALITY VEHICLES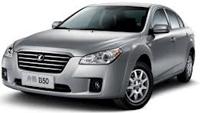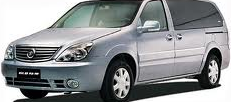 From Forbidden City to Jiankou and Mutianyu with Camping on the Great Wall of China


Route 2X2: Explore the imperial grandeur and wonder of the Great Wall - Sleep in the watch tower at Jiankou, Great Wall and hike to Mutianyu
POPULARITY RANKING*:




*Ranked by the quantity of signups of all 2-day hiking routes.



The outdoorsman: Stay overnight on the Great Wall of China
"When people come to the Great Wall of China, they want to explore the history and see why it was built. A day trip to the tourist sites won't achieve that, but a sleepover on one of the world's most storied ruins certainly will. The Great Wall Adventure Club organizes trips to sleep in a watchtower where soldiers were formerly garrisoned. When night falls, the only thing above is the stars, while the incredible land of the surrounding hills is absolutely silent ... (June 11, 2012)"
Guaranteed camping on the watch tower! A few agents claim they can do so but that's not true. What they usually mean is that they may take you to the foot of the Great Wall to camp on the ground or to sleep at a guesthouse. Not us. For each participant (even children), we must pay a hefty relic preserving fee to the Great Wall administration office. This fee allows for you to camp on the Great Wall, hence why the price for this program is higher than most. Great Wall Adventure Club (GWAC) is the only company approved by the Great Wall Administration Office to offer camping for international guests. This is what sets us apart from other operators.

Please keep in mind that during some sensitive political events, camping may be temporarily suspended because of increased police security around Beijing. We will do our best to keep you up-to-date on any changes or notices regarding this. Thank you for your understanding!
Highlights: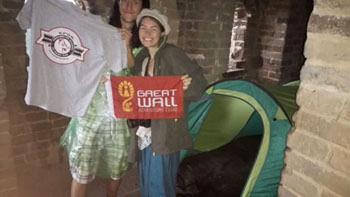 You'll have the option of sleeping overnight in one of the watchtowers of the Great Wall, which is sure to be an unforgettable experience! Watch the sunrise and sunset from the best seat in the house!

Jiankou section built in the Ming Dynasty is one of the most famous wild walls constructed on the ridge of the dangerous peaks and broken cliffs, and is famous for its majesty and danger. It was one of the most favorite parts of the great wall hiking for hikers around the world. Probably the most beautifully rugged section of the Great Wall, Jiankou leads you seamlessly into Mutianyu, which has become the new love of more and more visitors from home and abroad.

This tour also includes a trip to either the Forbidden City or the Summer Palace (your choice), two iconic palaces teeming with culture, history and intrigue.



All necessary camping gears such as tents, pads & bags are provided. For those of you curious about Great Wall camping conditions, please be advised that camping on the Great Wall is very rugged and adventurous, and you should expect a relatively low comfort level from what you're normally used to. The camping settlement is very basic, although we are constantly striving to improve this experience.

Departure:

Our Great Wall hiking is a private service. What this means is that you can hike on the Great Wall at any time at your convenience. If you would much

rather be part of a group for the experience for economic and social reasons

, we'll check to see if there are more signups for the same date as your own. We'll keep you updated whenever there are more. If you would like to keep your tour a private one, please let us know and we'll assign you a guide and driver.

Day-by-day Hiking Itinerary

(B-breakfast, L=lunch, D=dinner)
Day 1: Beijing to Jiankou, Great Wall hike (L, D)
At about 8:00am your driver and English-speaking guide will pick you up from your Beijing hotel. From there, you will have the choice of visiting either the Forbidden City or the Summer Palace.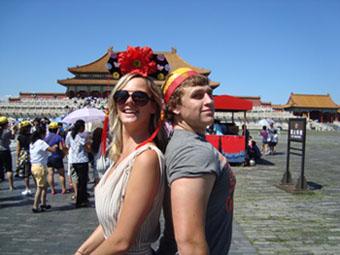 The Forbidden City, situated in the very heart of Beijing, was home to 24 emperors of the Ming (1368–1644) and Qing (1644–1911) Dynasties. The construction of the grand palace started in the fourth year of Emperor Yongle of the Ming Dynasty (1406), and ended in 1420. In ancient times, the emperor was said to be a son of Heaven, and therefore Heaven's supreme power was bestowed upon him. The emperors' residence on earth was built as a replica of the Purple Palace where God was thought to live in Heaven. To represent the supreme power of the emperor given from God, and the place where he lived being the center of the world, all the gates, palace and other structures of the Forbidden City were arranged about the north-south central axis of old Beijing. For security the Forbidden City is enclosed by a 10-meter-high defensive wall, which has a circumference of 3, 430 meters. At each corner of the Forbidden City, there stands a magnificent watchtower, which was heavily guarded in the past. Around the city there is a moat as the first line of defense. See our Forbidden City Map. The Forbidden City covers an area of about 72 hectares (178 acres) with a total floor space of approximately 150,000 square meters (1,600,000 square feet). It consists of 90 palaces and courtyards, 980 buildings and 8,704 rooms.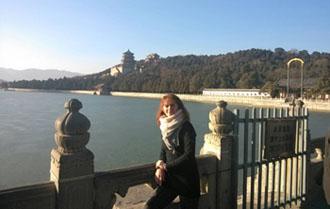 The Summer Palace(Chinese Pinyin: Yí Hé Yuán), northwest of Beijing, is said to be the best preserved imperial garden in the world, and the largest of its kind still in existence in China. It is only a short drive (15 km) from central Beijing but seems like another world. The Summer Palace was initially built in 1750 by Emperor Qianglong. The architectural style of Summer Palace is to make others believe it is inartificial. It covers an area of 70 thousand square meters and holds over 3000 houses. In 1860 and 1900 it was destroyed by invaders and in 1912 it was rebuilt by the Government of Qing Dynasty. In 1924, it began to be open to tourists. The Summer Palace is one of the loveliest spots in Beijing. Not all the buildings are open to the public, but many are, and the others continue to enhance the park with their design and decoration, nestled into the landscape. The arched bridges, pretty promenades, decorated corridors, and 'breezeways' (a hallway that allows the passage of a breeze between structures) lead visitors through ever-changing views and scenery.
Following your visit to either the Forbidden City or the Summer Palace, we will then make the approximately ninety minute drive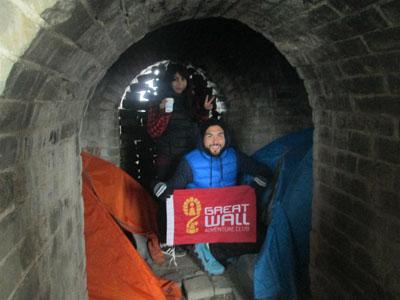 to the Jiankou Great Wall. Jiankou (Arrow Nock) Great Wall has perhaps the most frequent appearance on picture books and post cards of the Great Wall. As one of the most dangerous sections of the Great Wall, Jiankou Great Wall is also a photographic hotspot. It is higher and steeper than Mutianyu Great Wall, more winding and varied than the Simatai Great Wall. Jiankou Great Wall is considered to be a "wild" section of the Great Wall, due to its disrepair and its location along a mountain ridge with steep cliffs on each side, which makes it only recommended for experienced hikers.
After a few hours hike, we will stop to set up camp at Zhengbeilou, a famous watchtower at Jiankou, Great Wall. At a height 991 meters, Zhengbeilou is a spectacular sight and is the most photographed spot of Jiankou. The opportunity you have to spend the night here is truly a once-in-a-lifetime experience that you will never forget. From here you'll be offered breathtaking views of the sunset and sunrise over the Great Wall.
Day 2: Great Wall hike from Jiankou to Mutianyu, and return to Beijing (B, L)
Following an early-morning start where you'll watch the sunrise and have a hearty breakfast, we'll continue our hike along the Jiankou Great Wall. After a few hours of trekking we'll eventually pass over into the Mutianyu Great Wall.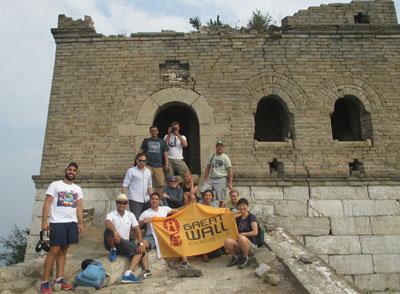 The Mutianyu section of the Great Wall is a masterpiece of restoration, with 22 original style watchtowers. Mutianyu [moo-tyen-yoo], meaning 'Admire Fields Valley', is the longest fully-restored Great Wall section open to tourists. Construction began on this section of the Great Wall in the Northern Qi Dynasty (550-577). During the reign of Emperor Hongwu (1368-1398), General Xu Da rebuilt the Great Wall on its original foundation. Mutianyu Pass was fortified in 1404 (the 2nd year of Emperor Yongle's reign) with a rare triangular formation of three interlinked watchtowers. Construction was finished on the wall at Mutainyu, as it now stands, when General Qi Jiguang was transferred the area to command the garrison in 1568 (the 2nd year of Emperor Longqing's reign).
In the early afternoon, we'll begin descending the Great Wall, and you'll have the option of either walking, taking a cable car or even a toboggan! Following lunch at a nearby restaurant, you'll be driven back to Beijing, where you should arrive at your hotel at approximately 3:00pm.
Included:

*Private vehicle, driver and English-speaking guide;
* All entrance fees;
* All meals (including food for vegetarians) and water;
* Camping equipment such as sleeping bags and tents;
* Free Great Wall Adventure Club membership.

We have up to 9 different routes for overnight hiking and camping on the Great Wall!



Read complete itinerary of Route 2X: Forbidden City + Sleep in the Watchtower (Camp!)




Read complete itinerary of Route 2AA: Gubeikou-Jinshanling-Jiankou-Mutianyu hike (Camp!)






Read complete itinerary of Route 2AB: Gubeikou-Jinshanling-Second Valley Hike & Camp (Camp!)





Read complete itinerary of Route 2B: Huanghuacheng-Jiankou-Mutianyu hike






Read complete itinerary of Route 2C: Chengde-Panjakou Reservoir-Xifengkou hike.



Read complete itinerary of Route 2D: Panjiakou Reservoir-Xifengkou hike.


Read complete itinerary of Route 2E: East Qing Tomb-Huangyaguan hike.



Read complete itinerary of Route 2F: Laolongtou-Shanhaiguan-Sandaoguan-Jiaoshan-Jiumenkou-Huangtuying hike



QUICK LINKS TO:



1-day hike |

2-day hike |

3-day hike |

4-day hike |

5-day hike |

7-day hike |

9-day hike |

12-day hike |

Bus Tours