Lakeside Camping on the
Great Wall of China
TOUR PRICES

(per person)


| | |
| --- | --- |
| # of Head | USD |
| 1 | 559 |
| 2 | 384 |
| 3 | 338 |
| 4 | 303 |
| 5-8 | 298 |
| 9+ | quote |
WHAT'S INCLUDED IN PRICE
* Personal transfers from and to hotel
* 1 lunch, 1 dinner and 1 breakfast
* If rains, substitute accommodation in a village at the foot of Great Wall with hot water
* Quality vehicle, professional driver and English-speaking tour guide
* Entry tickets to the Great Wall
* Free membership card
* A credit of RMB50 when you reserve the next tour with us.

Guaranteed no detours to
stores or markets, etc.
Climbing Pole Rental:

$6/each/day; $10/pair/day
TRAVEL INSURANCE
If you currently don't have travel insurance then you will be required to purchase our PICC (People's Insurance Company of China) travel and accidental insurance.
The fee will be $5 per person, and will cover the duration of your hiking/camping/trekking in order to ensure that you are comprehensively protected if injured.

For more information about our travel insurance policy please see our insurance page.


QUALITY VEHICLES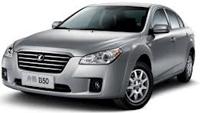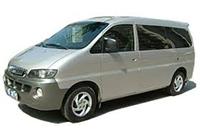 Huanghuacheng Lakeside Great Wall Camping and Hiking

Route 2AC: Self-Managed Great Wall Camping and Hiking at Huanghuacheng-Xishuiyu-Mutianyu
POPULARITY RANKING*:




*Ranked by the quantity of signups of all 2-day hiking routes.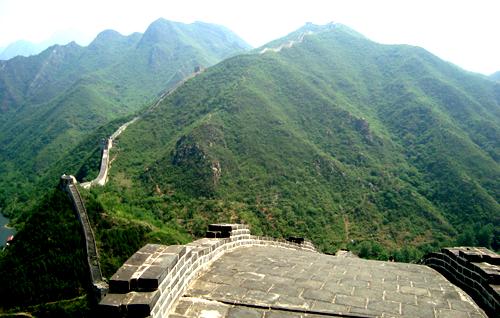 The outdoorsman:
Stay overnight on
the Great Wall of China

"When people come to the Great Wall of China, they want to explore the history and see why it was built. A day trip to the tourist sites won't achieve that, but a sleepover on one of the world's most storied ruins certainly will. The Great Wall Adventure Club organizes trips to sleep in a watchtower where soldiers were formerly garrisoned. When night falls, the only thing above is the stars, while the incredible land of the surrounding hills is absolutely silent ...
(June 11, 2012)"
Guaranteed camping on the watch tower!
A few agents claim they can do so but that's not true. What they usually mean is that they may take you to the foot of the Great Wall to camp on the ground or to sleep at a guesthouse. Not us. For each participant (even children), we must pay a hefty relic preserving fee to the Great Wall administration office. This fee allows for you to camp on the Great Wall, hence why the price for this program is higher than most. Great Wall Adventure Club (GWAC) is the only company approved by the Great Wall Administration Office to offer camping for international guests. This is what sets us apart from other operators.

Please keep in mind that during some sensitive political events, camping may be temporarily suspended because of increased police security around Beijing. We will do our best to keep you up-to-date on any changes or notices regarding this. Thank you for your understanding!
Highlights:

* Make the Great Wall your own personal hotel! Since you bring your own camping equipment on this tour, that means you get to save a ton of cash. However, your guide will be with you every step of the way on your own personal Great Wall adventure!

* Huanghuacheng is beautiful largely because of its view, owing to its prime vantage point of the nearby lake. For serious hikers, Huanghuacheng will really present you with a great challenge. Some of our hikers even have to bend down and creep on fours, because there is no wall on each side of the stairs.

* The Xishuiyu Great Wall is partially under the water. Therefore, both Huanghuacheng and Xishuiyu are unique in that the Great Wall is under a lake or reservoir. No other section of the Wall has this feature.

* Walk at Mutianyu, where you can try the only sliding track (toboggan in German) to slide down from the Wall to ground.


Detailed Itinerary
Day 1: Beijing-Huanhuacheng-Xishuiyu Hiking and Camping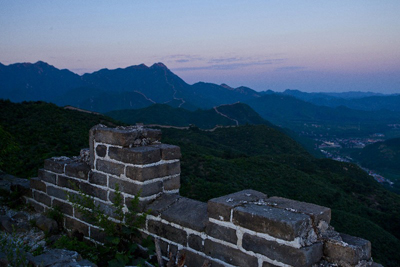 In the morning your guide will pick you up from your hotel, and will be driven directly to Huanghuacheng (or Huanghua Great Wall). After a short walk around the dam on the Huanghuacheng Reservoir, we will start our hike westward to Xishuiyu. The Huanghuacheng (Yellow Flower City) Great Wall is a beautiful tourist spot combining mountains, lakes and ancient Great Wall. It is the latest section to become popular with hikers. It provides a challenge for hikers because the paths are steep and out of repair. Huanghuacheng is divided by lakes and some parts are even immersed in the water, which is a very unique characteristic, distinguishing it from other sections of the Great Wall.
A general named Cai Kai, who led the construction of Huanghuacheng Great Wall, was beheaded after completion of his task, because the emperor mistakenly believed other ministers' lies that his job was sloppy. But when a survey report, stating that the walls were solid, steep and exemplified the finest workmanship, reached the emperor, the emperor realized that he had misjudged General Cai Kai. The emperor ordered a tomb and memorial stele to be erected in honor of the loyal general. He also had the characters 金汤 (Jin Tang), meaning firm and solid (literally 'metal soup'), inscribed on the face of a huge rock below the wall. So the Huanghuacheng section of the Great Wall is also called the Jintang Great Wall. There is a lake and a reservoir nearby. The crescent shaped reservoir is called Huanghuacheng Reservoir, while the name of the lake is Jintang Lake.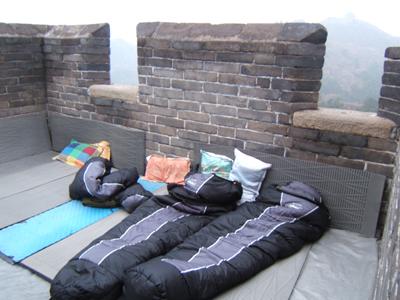 The Great Wall at Huanghuacheng is surrounded by mountains with verdant vegetation, lots of blossom and other seasonal beauty. During summer, the countryside around the Huanghuacheng Great Wall is swathed in yellow, as masses of wild flowers come into bloom. The highest point of the wall is a broken watchtower, and from there you will have a wide panoramic view of the whole valley. From this summit the Wall dives steeply downwards into the valley. The Gate is located at the bottom, an opening in the wall, which connects the Zhuangdaokou village on the inside, with the still-well-preserved Yaoziyu Castle, built in the Ming Dynasty, on the outside. Over the top of the passageway is another watchtower where we will rest a short while before continuing on.
From here we will continue to trek westward, climbing towards the broken wall to our destination, a peak overlooking Xiaoxihu Lake. It is here that we will stop for a filling and refreshing lunch that will replenish your energy.
Most of the Great Wall around Xishuiyu is in reasonably good,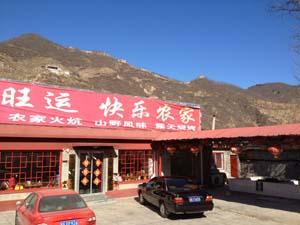 deteriorated but not collapsed condition. None of the Great Wall here has been restored so it retains its authentic condition. As we follow the Wall to the west here, you will get views of the Xiaoxihu reservoir to your right. You will find several opportunities to get off the wall and walk down the reservoir, crossing through a large Ming dynasty chestnut field at the bottom. There is a path all the way around the reservoir so you can follow it in either direction. From our vantage on the Wall, we will see a real treat, the broken Great Wall running underwater!

You will camp overnight once we have found a suitable watchtower to sleep in. As this is a self-managed program, you will be responsible for providing your own camping equipment (sleeping bags, pads, etc. while tent is not necessary). However, in the event of inclement weather, we will provide you with lodging at a nearby inn (Good Fortune Restaurant and Inn).

PHOTO (right): It is about 35 minutes to climb up to the Great Wall from this house sitting at the foot of the mountain.
Day 2: Huangcheng-Mutianyu Great Wall-Beijing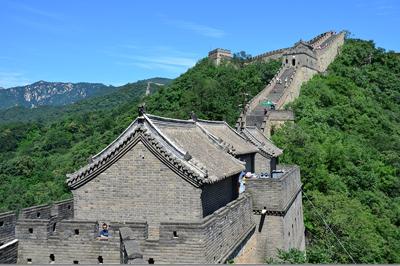 We hope you had a pleasant stay on the wall! After getting a chance to witness the sun rise over the Great Wall, we will come to pick you up and drive you to the Good Fortune Restaurant and Inn for a hearty breakfast. Following breakfast we'll make the 30-minute drive to the Great Wall at Mutianyu.

The Mutianyu section of the Great Wall is a masterpiece of restoration, with 22 original style watchtowers. Mutianyu [moo-tyen-yoo], meaning 'Admire Fields Valley', is the longest fully-restored Great Wall section open to tourists. The wall, built with slabs of granite, is 22 km (14 miles) long, seven or eight meters high and four or five meters wide, crenellated on both sides. With the greens of pines and cypresses covering ninety percent of the surrounding area, the scenery here is beautiful all the year round. The Mutianyu Section of the Great Wall has 1500 years of history (see below) and today's wall is a replica of the fortifications of 1568. Construction began on this section of the Great Wall in the Northern Qi Dynasty (550-577). During the reign of Emperor Hongwu (1368-1398), General Xu Da rebuilt the Great Wall on its original foundation. Mutianyu Pass was fortified in 1404 (the 2nd year of Emperor Yongle's reign) with a rare triangular formation of three interlinked watchtowers. Construction was finished on the wall at Mutainyu, as it now stands, when General Qi Jiguang was transferred the area to command the garrison in 1568 (the 2nd year of Emperor Longqing's reign).

At about noon we will make the drive back to Beijing, where you will be dropped off back at your hotel.





Mutianyu Toboggan (German technology)


Optional Toboggan Run at Mutianyu (extra)

You'll surely be intrigued about taking the toboggan down from Great Wall to the entrance gate down the hill. You can ride as fast or as slow as you want. However, it is also a driving test. One person to a toboggan, you have a little handle with which you press down to go faster and pull up to stop. But if you are not intentionally pushing it, it will slow down anyway. "It is funny when we Westerners are on there, because we like to go a bit quicker than the Chinese (read a lot quicker) and you hear the shrill voices of locals shouting "brake! brake! Slow down!" It is hilarious. Go on it even if it is just to hear that." --

taylorstonebridge

on LonelyPlanet

People at age 70 have managed the riding successfully. Can you?
Included:

*Entrance fees
*Round-trip transportation
*Overnight lodging in a local farmer's house or a hotel
*Meals (2 picnic lunches, one dinner and one breakfast)
*Expert English-speaking tour guide
*Great Wall Adventure Club membership card
We have up to 8 different routes for overnight hiking and camping on the Great Wall!



Read complete itinerary of Route 2X: Forbidden City + Sleep in the Watchtower (Camp!)




Read complete itinerary of Route 2AA: Gubeikou-Jinshanling-Jiankou-Mutianyu hike (Camp!)






Read complete itinerary of Route 2AB: Gubeikou-Jinshanling-Second Valley Hike & Camp (Camp!)





Read complete itinerary of Route 2B: Huanghuacheng-Jiankou-Mutianyu hike






Read complete itinerary of Route 2C: Chengde-Panjakou Reservoir-Xifengkou hike.



Read complete itinerary of Route 2D: Panjiakou Reservoir-Xifengkou hike.


Read complete itinerary of Route 2E: East Qing Tomb-Huangyaguan hike.



Read complete itinerary of Route 2F: Laolongtou-Shanhaiguan-Sandaoguan-Jiaoshan-Jiumenkou-Huangtuying hike



s
QUICK LINKS TO:



1-day hike |

2-day hike |

3-day hike |

4-day hike |

5-day hike |

7-day hike |

9-day hike |

12-day hike |

Bus Tours