The World's Famous
Great Wall Hiking
Programs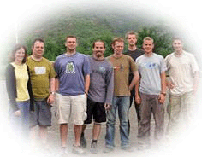 We hike 25 routes
365 days a year!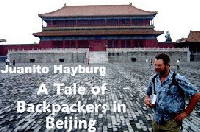 Great Wall Adventure in Juanito Hayburg's new book " Beijing Travel Guide for Backpackers"
It takes none other than a visit for one to realize just why it rightfully
has a place as one of the world's great wonders!

Friendly Warning
when you see other sites offering lower prices:
A few accidents in 2006 and 2007 which had killed several international tourists has forced the municipal government to order all travel agencies to obtain a legal license, a better vehicle, to use tolled highways, and to hire English-speaking tour guides to operate. What we have been doing is to comply with the government's safety codes and standards. However, there are still a number of small agents who are not certified or licensed. They use lower-quality vehicles to bring tourists to the Wall without a guide. They also drive on bumpy and highly-jammed two-lane country roads to avoid the highway toll. Furthermore, they may take you to unwanted shopping on the way there. Of course they are running their business at a lower cost. But to us, your safety is our No.1 concern! We have a 100% safety record since the first day we began to serve our guests. Travel with us, and your safety is absolutely guaranteed.
Famous Great Wall Hiking for Half-Day, One Day, Two Days and Three Days
ALL YOU CAN HIKE: Half-day, 1-day, 2-day, 3-day-hiking are all available year-round.
Breaking News:
From June 17, 2010, Simatai is partially closed for renovation by the government. However, Great Wall Adventure Club has managed to keep Simatai hike alive by developing new paths after recent inspections.
Challenging Grade:


This is the flagship tour for Great Wall adventurers! Our guides are fully licensed to provide stimulating and thoughtful tours for hikers to

the Great Wall, and are with you throughout your trip. This is a full-day tour because we depart at 8:00am and return sometime between 5-8pm. T

he Route is available all year long except for snowing days.



If you're looking for breathtaking views, a challenging but fun hike, and being up close and personal to two different kinds of Great Wall, then this is the hike for you. At the beginning of the hike you'll get restored wall and watchtowers, and as the hike progresses the wall will will gradually deteriorate into wild (but stunning) ruins. Our hikes have been recommended everywhere from NBC (which sent a camera crew on one of our hikes) and the Wall Street Journal to About.com.

Our price includes admission passes to all sections mentioned. The Great Wall Administration Bureau collects the admission passes. We have pre-purchased those passes for you.



Route 1X
:
Lianhuachi-Mutianyu
(special promo price)




Route 0A
: Mutianyu (half-day)





Route 1A
: RevisedSimatai-Jinshanling


Route 1A Alternative (1AA)
: Gubeikou-Jinshanling






Route 1B
: Jiankou-Mutianyu






Route 1S: Jiankou-Mutianyu Great Wall Sunset Tour





Route 1C
:
East Qing Tomb-Huangyaguan


Route 1D

:
Huanghuacheng-Xishuiyu




Route 1E

:
Great Wall Cultural Tour with Bullet Train



Read FAQs about this popular route to learn the difference between a private tour and a bus tour from Simatai to Jinshanling
(Route 1A Bus). For more information about Great Wall hiking bus tours, please check Program #8 on the bottom of this page.


Check testimonials from former hikers and view their photos.

[TOP]
Challenging Grade:



Want to be able to brag to your friends that you slept on the Great Wall? Now you can with our two fun and exciting Great Wall camping

routes! Stay overnight on the Wall from April through October except for snowing days.

Route A will take you from Gubeikou to Jinshanling and on to Simatai. This camping trip combines the classic Jinshanling-Simatai tour with the underrated Gubeikou, which was originally built to defend the key northern gateway to Beijing, and includes many distinctive watchtowers. Now due to Simatai's renovation project, your trip will move from Jinshanling to Jiankou and end with Mutianyu.

Route B will take you from Huanghuacheng to Jiankou, ending at Mutianyu. This is an amateur photographer's dream, as Huanghuacheng and Jiankou are full of sweeping panorama, dramatic peaks, and beautiful ruins. Mutianyu is a tastefully restored section that is increasing in popularity.

This Route is designed for those who love the outdoors and trying something new. The part of the wall we will trek is often empty, giving you the peace and serenity hard to find in Beijing. At night we will stay in a watchtower on the wall, or if the weather is too cold, we will room with a local family.

The 22km/13.5 miles will take us about 10-11 hours, and is not easy, as it includes climbing mountains, peaks, and Great Wall ruins. Please make sure your health condition is fit enough for this kind of hike.

If you are dreaming of enjoying a breath-taking sunrise and sunset on the top of the Great Wall, join us now!



Check out our new 2X program for keen Great Wall sleepers to take advantage of our promotional prices.

Route 2X

: The Imperial Treasures, Classic Great Wall Overnight Camping and Hiking (special promo price)



(Forbidden City + Olympic Green + Sleep in the Watch Tower, hike from Jinshanling to Gubeikou)

Route 2A
:
Gubeikou-Jinshanling-Simatai
(Changed to 2AA, 2AB)

Route 2AA
: Gubeikou-Jinshanling-Jiankou-Mutianyu (sleep on the Wall)






Route 2AB

: Gubeikou-Jinshanling-Second Valley (sleep on the Wall)





Route 2B
:
Huanghuacheng-Jiankou-Mutianyu






Route 2C
: Chengde-Panjiakou Reservoir-Xifengkou



Route 2D
:
Panjiakou Reservoir-Xifengkou


Route 2E
: East Qing Tomb-Huangyaguan



Route 2F
: Laolongtou-Shanhaiguan-Sandaoguan-Jiaoshan-Dongjiakou




Check testimonials from former hikers and view their photos.


[TOP]
Challenging Grade:



This tour allows for those who want to get an extended stay out of the hustle and bustle of Beijing. Along with visiting some of the more

unknown sections of the Great Wall, we will also go to Chengde, and imperial resort town of the last ruling dynasty of China, the Qing. It is included on the prestigious list of World Heritage Sites by UNESCO. We will visit the imperial garden of the Summer Resort, and the Potala Palace, which is a little piece of Tibet in northern China.

The next day will include a trip to the Panijakou Reservoir and the Xifengkou Great Wall. Xifengkou is one of the great novelties of the Great Wall, as some of it is underwater! This tour is not only for the serious hiker, as we will only hiker for about 5km/1.5 miles.

This tour also includes a trip to Qianhe Mountain, which is a vast assortment of dramatic peaks, breathtaking islands, and mystifying caves.

This is a brand new tour we will be offering, so be among the first to go along on this adventurous romp of the natural wonders of China!



Route 3A
: Gubeikou-Jinshangling-Simatai (replaced by Panlongshan)-Jiankou-Mutianyu


Route 3B
: Chengde-Panjiakou Reservoir-Xifengkou


Route 3C
: East Qing Tomb-Huangyaguan-Chengde


Route 3D
: Laolongtou-Shanhaiguan-Sandaoguan-Jiaoshan-Jiumenkou

Check testimonials from former hikers and view their photos.


[TOP]
Challenging Grade:

In addition to our hiking tours, we have also added bus tours to hike on Jinshanling, Simatai, Mutianyu, Juyongguan, and Badaling. This trip also includes another free tour to the Ming Tomb's Dingling Tomb (the only excavated tomb of the Ming Tombs), and the Ming

Tombs' Spirit Way (built to guard the tombs from evil spirits and guarded by stone animals and officials).

Our English-speaking guide and professional driver will accompany you to the Great Wall and bring you back round-trip. In order to make the cost as low as possible, we'll group you and other travelers together into a Toyota mini-van. As long as a team as a tour group is formed we'll depart daily. We will meet you and drop you off at wherever you are staying in Beijing.
The Great Wall Adventure Club also offers daily bus tours to the greatest attractions China has to offer. We offer exciting and informative tours to the Forbidden City, Temple of heaven, the Lhama Temple, the Summer Palace, the Ming Tombs, as well as some new sites, such as the Olympic Green.

Group size is kept to within 10 travelers in order to ensure comfort, and it also allows you to go at your own pace at the sites. Every morning, our English-speaking guide will pick you up from your hotel and will come back to drop you off late in the afternoon. You will receive a friendly call the night before to confirm with you the pickup time and place.

We also have unique bike tours of the old Imperial City and a rickshaw tour of the hutongs of old Beijing. By riding on your own on these two tours you will get a unique and personal lesson on the beauty and richness of Chinese culture.
Route 8A: Mutianyu

Read details of Beijing bus tours.
Route 8B: Juyongguan

Read details of Beijing bus tours.
Route 8C: Badaling

Read details of Beijing bus tours.
Route 1A Bus: Simatai to Jinshanling

Read details of Beijing bus tours.

Check testimonials from former hikers and view their photos.


[TOP]