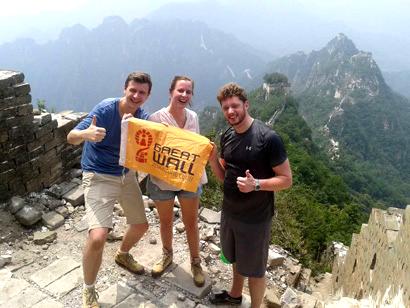 The day begins at 11:00 PM. We'll drive by private van to the Jiankou section of the Great Wall and start hiking to Mutianyu.

The Great Wall at Jiankou is located in the district of Huairou, about 80km/50miles northeast of Beijing. Your guide and driver will pick you up at your hotel and will drive you to a village called Xizaizhi at the bottom of Jiankou Great Wall. In order to hike on Jiankou, first we have to climb up a path for about 60 minutes to reach it. The Jiankou Great Wall was an important section of the wall in Ming Dynasty (1368 – 1644). Owing to the need for renovation, the wall is regarded as one of the most dangerous sections of the Ming's wall. For your safety, we are taking the path that is not dangerous but still breath-taking. Because of the time of day, the weather should be not overly hot (in fact, quite comfortable), so this hike shouldn't be too taxing on you.

Our hike will today will take about 3-3.5 hours and will cover 10km/6 miles. The Jiankou section is known for its ruggedness and wild beauty, and you will be in awe of the marvelous views it affords. As soon as we reach Jiankou we will see a deserted watchtower that gives you a panoramic view of the entire valley. This section of the wall is not well known by tourists, although if you see a picture of the Great Wall from exotic traveling magazines, chances are it is from Jiankou. In fact the cover of the latest edition of the Lonely Planet China Guidebook features a scene from Jiankou. This is the pinnacle of exotic Great Wall scenery.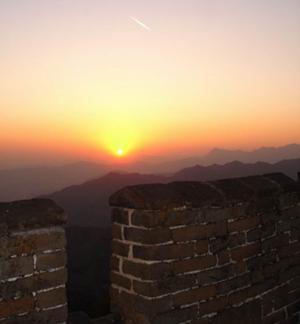 We'll start from Zhengbeilou, which is the most effective place to take images. This part of the wall is usually vacant, so you will certainly have some peace and also peacefulness on your walking today. Since we are here late in the mid-day, there possibly will not be any kind of one else out right here. An additional emphasize of Jiankou is the opponent monitoring tower known as "Ying Fei Dao Yang", so-called since this watchtower was erected on the greatest optimal in the location, as well as eagles and also hawks frequently perch on it. Although the majestic wall is slowly being dominated by little trees as well as brambles, the sight from the top is still stunning! Nevertheless, it is still pretty far from Zhengbeilou to be able to see "Ying Fei Dao Yang" plainly.

From Jiankou we will certainly cross over onto Mutianyu, an area of the wall that has actually been generally revived. Although it has gotten a makeover, it protects against the military of visitors that afflict Badaling. Mutianyu provides some awesome sights of the valley in addition to wall below, along with if you look for to your right you'll see a large indication engraved in the side of the hill urging you to "Treasure the coaches of Chairman Mao". Mutianyu has in fact furthermore come to be popular for seeing worldwide leaders and superstars. It is from Mutianyu that we'll wait to see the sundown drape over the Great Wall, as well as likewise this will unquestionably be just one of the highlights of your trip in China. We want you have your cams ready!
Cable car or toboggan at Mutianyu is not included due to their early closure of operation by 6 PM or earlier in winter.

Before we drive back to Beijing, we'll stop by a Chinese restaurant to treat you a lunch with traditional stir fries and rice. If you are vegetarian, there is no problem. We'll order special dishes for you.

We'll drop you at your hotel for the night. This trip can be taken at any point in the year but in winter, we'll start the tour earlier due to the early sunset at 5 PM.
Rough departure time from your hotel Beijing:

Summer: 11:30 am to 12:00 pm
Fall and Spring: 10:00 am to 10:30 am
Winter: 10 am.
While this hike will absolutely be a little bit much longer, it will surely be the highlight of your time in China. For those of you that feel the requirement to stretch their legs after being cooped in a work environment in Beijing (or any place you might be from), this is the perfect opportunity to get some workout and additionally experience, while likewise having loads of fun!

Since everyone among us has various abilities as well as additionally constraints when it concerns treking, our trained tour guides will certainly guarantee you acquire the most out of your Great Wall surface experience by accompanying you throughout the trip.

Please note while this walk is not incredibly hard, there are some aspects where the strolling gets a little challenging. The troubles mostly consist of slim and little activities, together with every now and then some really high climbing. For those of you who have actually knee or decreased leg issues, you might wish to think about the leisurely as well as likewise beginner pedestrian level. If you are under the age of 8 or over the age of 70, you need to likewise highly consider the leisurely as well as beginner walker degree.