TOUR 12A: Twelve-day Great Wall Trekking & Camping:

from Old Dragon's Head of Easternmost Seashore to the Forbidden City in Beijing
Free airport transfers!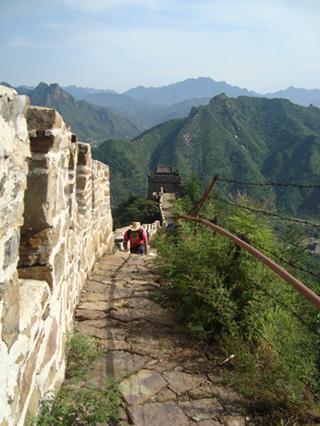 The Great Wall is the longest man-made structure in the world, stretching 8,851 km (5,500 miles) long. It is said to be one of the Seven Wonders of the World.
This is the longest and most comprehensive Great Wall tour that we offer, and you'll be hard pressed to find a better constructed one at any other travel agency. We've got you covered from the moment you arrive in Beijing, as pick-up and drop-off from the airport is included. Then, we'll set out on a nearly two-week odyssey that will take you from the Great Wall's eastern most point, making our way slowly east back towards Beijing.
In addition to the sections of the Great Wall you'll explore, you'll also be able to take in numerous villages in the Chinese countryside, giving you an authentic look into Chinese society. Besides the Great Wall you'll be taken to the East Qing Tombs, the final resting place for many emperors of China's last ruling dynasty, the Qing. You'll get to trek on the two most popular Great Wall hikes (Jinshanling-Simatai and Jiankou-Mutianyu), and when you get back to Beijing you'll get to pick any kind of city tour you like (Forbidden City, Summer Palace, Temple of Heaven, etc.)
Please be advised that this program should be taken by those in good physical condition, as there will be a great deal of physical activity required.

12-day Highlights:

Explore the best of the eastern Great Wall, from the sea all the way to Beijing


Gain a greater understanding of the Great Wall's strategic and military importance, as well as it's architecture


Visit sections not well known to western tourists


Free Airport pick-up and drop off service


Decent accommodation at Beijing City Court Hotel in Beijing's historic old Hutong area for three nights

Our Great Wall hiking is a private service. What this means is that you can hike on the Great Wall at any time at your convenience. If

you would much

rather be part of a group for the experience for economic and social reasons

, we'll check to see if there are more signups for the same date as your own. We'll keep you updated whenever there are more. If you would like to keep your tour a private one, please let us know and we'll assign you a guide and driver.






Day-by-day Great Wall Trekking Itinerary
Day 1: Arrive in Beijing



Our Great Wall Adventure representative will meet you at Beijing International Airport and drive you to your hotel we have booked for you in the heart of Beijing. Our guide will give you a briefing on the tour ahead, and the rest of the night is up to your discretion.


Day 2: Beijing-Old Dragon's Head-Shanhaiguan (L+D)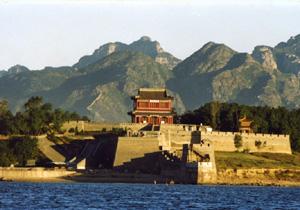 We will meet you at your hotel in the morning between 7:30-8am, and from there we will make the 4 hour drive to the Shanhaiguan Pass, which is in a town situated in the northeast of Qinhuangdao City, Hebei Province. It adjoins the Bohai Sea to the southeast and the Yanshan Mountain to the northwest. We will start our hike at Old Dragon's Head, also known as Laolongtou. Laolongtou is the most eastern beginning of the Great Wall, which extends into the Bohai Sea. Standing here is almost like being on a peninsula as you can feel the overwhelming power of the rolling sea.

After marveling at the scenery here, we'll have a lunch in a local Chinese restaurant. After that, we'll have a tour to the Great Wall Museum to learn about the history of the Great Wall. You'll also learn about the history and military strategy of this section of wall, as well as see military relics.

We will make our way to the Shanhaiguan Pass Fortress, which is also known as "The First Pass under Heaven." We will enter the Shanhaiguan Great Wall Museum, where we will learn about the history and military strategy of this section of wall, as well as displaying military relics.

For the night we will stay at the Jinshan Hotel next to the Shanhaiguan Pass and have a tasty dinner of Northern Chinese cuisine to get you started for tomorrow's hike. After dinner, you can have a free tour to the old town of Shanhaiguan. You can buy souvenirs or even watch a street concert of the local residents.


Day 3: Jiaoshan Great Wall (B+L+D, 12km/6miles, 6-7 hours)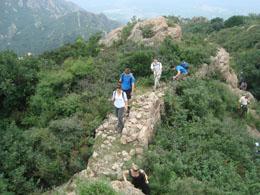 After getting up at 7:30 and eating breakfast, we will make a short drive to the foot of a mountain and hike Jiaoshan Section of the Great Wall. Three kilometers north of Shanhaiguan, the easternmost pass through the main section of the Great Wall, stands the 500- meter Jiaoshan Peak. Though relatively diminutive in size, this is the first actual mountain the Great Wall passes heading west, and so is known as "the first mountain of the Great Wall." Unlike the newly restored wall, Jiaoshan ancient wall provides you a sense of historical vicissitude. Walking on the dilapidated wall is a great challenge. The wall appears more and more crumbled and deformed as you forge ahead.

We'll overnight in a local hostel in Dongjiakou area, our next stop for continuous hiking.


Day 4: Dongjiakou Great Wall Village (B+L+D, 10km/6miles, 4-5 hours)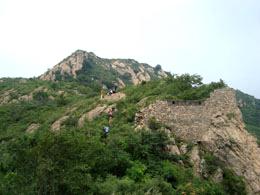 Our day will begin with breakfast with our local host family and then we'll start hiking in Dongjiakou.

Dongjiakou is a pass of the Great Wall constructed in Ming Dynasty (1368-1644) as well as an important fortress that guards the Shanhai Pass, which is hailed as "the first pass of the Great Wall" due to its strategic location in the ancient time.

Dongjiakou Great Wall is 8.9 km, with the complete wall stretching for over 3 km, a broken section of over 1.8 km and the other sections being natural steep mountains without wall. Apart from the castles, about 60% of constructions of Dongjiakou Great Wall including defense towers and beacon towers are still in intactness on the whole.

In the afternoon, we'll drive to Baiyangyu for overnight sleep.


Day 5: Baiyangyu Great Wall hike (B+L+D, 4 hours)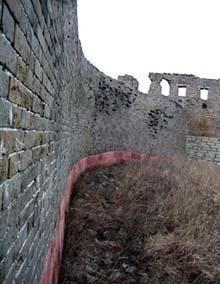 After breakfast, we will make our way west along the wall into Baiyangyu. Baiyangyu enjoys the unique reputation of marble Great Wall. "Baiyangyu" literally means "White Sheep Valley". A river called Baiyang River passes the valley from north to south. There used to be a grand water pass of the Great Wall bridging the valley which now still divides the Baiyangyu Great Wall into two sections – East and West.
Baiyangyu Great Wall has some unique features different from other sections of the Wall. Firstly, its water pass town had a double water wall – upper part and lower part, constituting a solid water town which was easy for self-defense and attacking invaders as well, part of the military defense system in Baiyangyu Great wall. Second, the east section of the Wall has a 1.5km unique marble wall, 10km high and 5m wide, rarely seen among other sections of the wall. Third, among other towers, Shenwei Tower (Powerful Tower) on the west section of Baiyangyu Great Wall is the most remarkable. Unlike other watch-towers sitting on the wall, it was constructed to the outer side of the wall. If you walk eastward from Baiyangyu Great Wall, you will reach Xuliukou Great Wall and on to Shanhaiguan Pass meeting the ocean; walking westward, you get to Badaling Great Wall around Beijing.
We'll drive to East Qing Tombs area to sleep overnight.
Day 6: East Qing Tombs-Huangyaguan (B+L+D, 3 hours)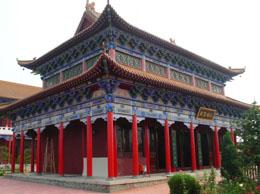 After waking up at 7:30, we will make the short trip to the East Qing Tombs. The Eastern Qing Tombs, which is among the finest, best-preserved and largest of the extant tomb complexes in China. Along the south side of Changrui Mountain, the tombs of five emperors, four empresses, five imperial concubines, and one princess are arrayed based on the traditional concept of placing the most senior and most distinguished in the center.

Of all the tombs, Xiaoling is the biggest and most elaborate, standing as the focal point of the entire structure. The grandeur of this tomb may be attributed to its having been the first sepulcher constructed for a member of the royal family of the Qing Dynasty, so the builders hoped to set the tone for a prosperous future. Crossing through the Great Red Gate, you can see buildings of different sizes, all with roofs of yellow glazed tile, connected by the brick paths or 'sacred ways' that converge in the area of Xiaoling.

An example of the most exquisite architecture of the Eastern Qing Tombs is Qingdongling, the tomb of Empress Dowager Cixi. Although she handled affairs of state for more than 45 years, she never ascended the throne. (The only female ruler in Chinese history was Empress Wu Zetian in the Tang Dynasty (618-907). Elaborate and highly refined decorations and carvings inside Qingdongling make it unique among the tombs of the Qing Dynasty. The main material used in the tomb, which took six years to build, was gold, the symbol of royal family.

Shortly after lunch we will drive to a small village, where we will start our afternoon hike on the Great Wall on
Huangyaguan. It is designed as a miniature of the entire Great Wall of China, thereby allowing you get an understanding of the entire wall in a fraction of the time. The entire section is built on an abrupt mountain ridge. Being endowed with both natural beauty and cultural interest, it has become famous as a natural beauty spot and a summer resort.

After about an hour's walk we will reach a peak overlooking the valley below. From the peak we can also see the Huangyaguan Fortress, which was restored in 1984. From this vantage point, we will be able to see its Baguan pattern, a specially designed labyrinth designed to confuse and entrap the enemy. We will then walk down to the fortress for a fascinating and informative visit inside.

For that evening we will stay in a traditional courtyard hotel built on the site of the fortress.


Day 7: Huangyaguan-Qianganjian Village (B+L+D, 8km/5 miles, 4-5 hours)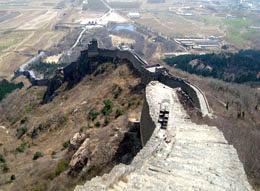 With breakfast in the hotel, we will then continue our hike on Huangyaguan,. We will soon reach the major scenic point of Huangyaguan, the "Heaven's Ladder". Ascend the steps of the "Heaven's Ladder" to gain a ridge-top above Huangyaguan. We will follow the trace of the Great Wall as it undulates across the mountains before gradually descending into a valley. From here, a vehicle will transport us north to the Simatai- Great Wall. We will spend the night in a simple, courtyard-style hotel near the Simatai village.


Day 8: Simatai-Jinshanling (B+L+D, 10km/6miles, 4-
5
hours)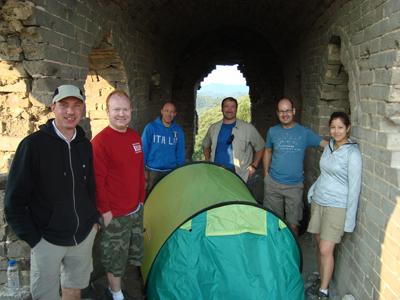 Our hike will start from Simatai, and we will make our way west along the wall into Jinshanling. This is the classic Great Wall hike that mostly wall enthusiasts have done. Unlike most hikers, we will take this popular route in the opposite direction. At first we will encounter deteriorated "Wild Wall" and the hiking will be a little steep. But as we make our way west the wall will gradually turn into a more restored state, and the hiking will get progressively easier. The hike today allows you to compare the differences between the two wall types, and this is both highly enjoyable and informative.

After reaching Jinshanling we will have a brief lunch. Tonight, we'll have the opportunity to camp on the Great Wall.


Day 9: Jinshanling-Gubeikou (B+L+D, 10km/6 miles, 4-5 hours)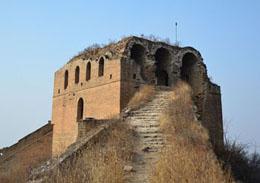 We will be continuing our hike westward from Jinshanling until we reach the General Tower at Gubeikou. Gubeikou is mostly "Wild Wall" so the hiking will be tougher than the beginning of our hike.

In 1933, Chinese army fought against Japanese invasion troops in Gubeikou. In the four-month-long battles, over 5,000 Japanese soldiers were killed while 9,000 Chinese soldiers died. It was amazing that ancient wall was still useful in the World War II. You can see that Gubeikou is not merely a relic but it remained as a battlefield in modern world. Today, there is still a military installation in Gubeikou and we'll take a side path along the Wall to by pass that restricted zone.

We will have a late lunch in a local restaurant after we complete today's hike. Tonight, we'll check into one of our approved local farmotel to sleep.



Day 10: Jiankou-Mutianyu-Beijing (B+L+SD, 10km/6 miles, 4-5 hours)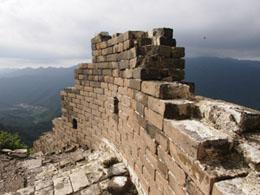 Our hiking will end on a high note as we will be visiting hikers' most favorite section of the Great Wall. . In order to hike on Jiankou, first we have to climb up a path for about 60 minutes to reach it. Our hike will today will take about 4 hours and will cover 10km/ 6 miles. The Jiankou section is known for its ruggedness and wild beauty, and you will be in awe of the marvelous views it affords. As soon as we reach Jiankou we will see a deserted watchtower that gives you a panoramic view of the entire valley. In the early morning the view is priceless with its morning fog. This section of the wall is not well known by tourists, although if you see a picture of the Great Wall from exotic traveling magazines, chances are it is from Jiankou. This is the pinnacle of exotic Great Wall scenery.

This part of the wall is often empty, so you will have some peace and serenity on your hike today. Another highlight of Jiankou is the enemy observation tower known as, "Ying Fei Dao Yang", so named because this watchtower was erected on the highest peak in the area, and eagles and hawks often perch on it. Although the majestic wall is slowly being conquered by small trees and brambles, but the view from the top is still stunning!

From Jiankou we will cross over onto Mutianyu, a section of the wall that has been largely restored. Although it has gotten a face-lift, it avoids the army of tourists that plague Badaling. Mutianyu offers some breathtaking views of the valley and wall below, and if you look to your right you'll see a large sign engraved in the side of the mountain encouraging you to "Cherish the teachings of Chairman Mao." Mutianyu has also become popular for visiting foreign leaders and celebrities (former U.S. President Clinton visited Mutianyu on one of his trips to China).

You can hike down to the parking lot, take a cable car, or take a toboggan ride (extra fee, highly recommended, and lots of fun!) down to meet our driver. Before we go back to Beijing, we'll have a Chinese lunch at a local restaurant.

Your stay will be in a 3-star hotel located in the heart of Beijing.


Day 11: Sightseeing of Beijing's Must-sees
You may choose one of our exciting city tours to any of Beijing's great sights and attractions. If you like you can visit the Forbidden City, Temple of Heaven, the Summer Palace, the three attractions that you shouldn't miss. If the hike has worn you out, you can take a cultural tour of old Beijing such as our daily tour of "T

he Half-day Beijing Hutong Tour

." It's your choice. This will give you an overview of Beijing folk culture and daily life. You'll sleep in Beijing for one more night.

That will end your unforgettable Great Wall and Beijing tour!



Day 12: Leave Beijing



We will drive you to the airport for your flight to your next destination, thus ending your tour with us. So long!