Great Wall One-day Sunset Hike on Crouching Tigers (Wohushan Mountain Hike)

TOUR 1S5:
Catch the unique sunset beauty on the Great Wall at
the precipitous Wohushan Pass
Popularity Ranking:




*Ranked by the quantity of signups of all 1-day hiking routes.
Our handicaps exist only in our minds. - Franklin Delano Roosevelt (1882-1945)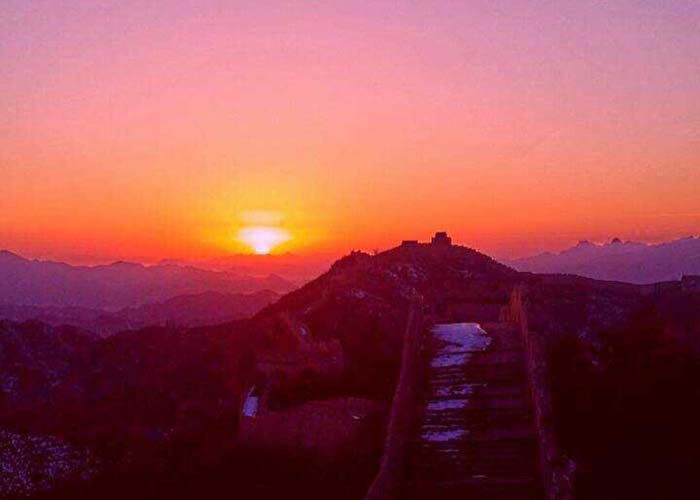 WELCOME TO THIS WEBPAGE!
Hello, and thank you for taking the time to visit our website! We know that making a choice about your China trip can be a very big decision, and that's why we want to make sure that you have as much information as possible at your disposal. No other tour operator will give you this much info, and we take it as a point of pride in making sure that our clients are the most informed before their departure. Unlike many Chinese sites, our pages are all in English, and if you find any issues or errors in anything you read, please do not hesitate to contact us. Once again, thank you for visiting Great Wall Adventure Club!
Highlights
1. Hike one of the highest sections of the Great Wall that guards Beijing.
2. A great opportunity to meet local people who have been living in the village since Ming Dynasty.
3. Completely unrestored wall and watchtowers of unqiue shapes
4. Pick-up and drop-off from your Beijing hotel is included!
5.

Lunch after the hike is provided with with country-style Chinese stir fry and rice (also vegan-friendly).

Please be advised that it is recommended that you are in good physical condition to complete this trek. Here is how one of our hikers described it:

While other companies bus you from section to section, Great Wall Adventure Club lets you personally experience the majesty of the Great Wall by allowing you to physically pass from one section to the next. In contrast to driving across, this lets you see the differences between the restored, maintained, section on one side and the radically different "wild wall" on the other.

Our Great Wall hiking is a private service. What this means is that you can hike on the Great Wall at any time at your convenience. If you would much

rather be part of a group for the experience for economic and social reasons

, we'll check to see if there are more signups for the same date as your own. We'll keep you updated whenever there are more. If you would like to keep your tour a private one, please let us know and we'll assign you a guide and driver.

Detailed Hiking Itinerary:
(6 kms/4 miles on the mountain, 3 hours of hiking)
Your guide will meet you at our hotel around 11 am, and by private car or minivan we will head to the Great Wall at Gubeikou Pass where Wohushan (Mountian of Crouching Tigers) are located on the left side.

Wohushan is located just opposite to Panlongshan where our SUNSET TOUR 1S2 (hiking in Gubeikou) runs. Down the ground, there village called River West populated with about five hundred households. That's the starting point for today's adventure.

The name of Wohu means "crouching tigers" from the shape of the mountain of a pair of tigers with one pushing up and one pushing down, as two giant intrepid guards of the capital city of Beijing. The Great Wall at Wohushan is also known for the parts of the Great Wall built in various dynasties from over a thousand years ago to five hundred.

Most parts of the Wall is so deteriorated that it would be impossible to walk upon it. The peak reaches as high as 665.22 meters. At that altitude, ancient warriors can command a fairly wide views of both in and outside the Great Wall, obtaining what the information of potential enemy threat that only modern telescopes can reach or satellite. The walking distance on Wohushan of Great Wall is roughly 4.8 km (3 mi) long to the west side of Panlongshan. The sister towers at Woshushan are the unique towers found on the entire Great Wall of China. The Wall here is also famous for round towers, one-sided towers, flat towers, knife-shaped towers and construction of other creative structures.


We'll work out of the River West Village, going through the goat path uphill for about 40 minutes until we reach the peak of the mountain where the Great Wall zigzags to the east and west. The ancient status and magnificent views of the Great Wall remain perfectly despite of age change for hundreds of years from Ming Dynasty. Untouched, nor restored, the Great Wall established on the top of the mountain creates a natural screen toward the northern outer area of this area where ancient enemies from Mongolians to Japanese launched the attacks. Visiting more than ten watchtowers of various shapes and condition, today's hikers will be amazed by the wisdom of the ancient defenders. The complete trekking takes another two hours to reach the peak, the "tigers."

Upon time to return to the village, we'll come across the fantastic views of sunset. You'll be treated a gourmet lunch of Chinese northern style in a farmer's family restaurant in the village before we return to your hotel or residence in Beijing tonight.



Vegetarian dishes are also prepared.



Note: Stuff you should bring with you:

* Tough hiking boots, sunscreen and sunglasses
* Backpack, and snacks or energy/protein supplements you want to have before lunch*
* Extra cash for driver/guide tips
* Don't forget your camera!