Your guide and driver will pick you up from any hotel in Beijing at about 7:30 am.
From your pick up we will drive directly to the Gubeikou Great Wall. The drive should take a little over 2.5 hours. The Gubeikou Great Wall occupies a strategically important location, which is difficult to access. Situated between Shanhaiguan Pass and Juyongguan Pass, and about 62 miles to Beijing, it is the bastion protecting the northern gateway to the capital. There are 14 beacon towers, 143 watchtowers, 16 strategic pass, three citadels and many other military constructions.
In 1933, Chinese army fought against Japanese invasion troops in Gubeikou. In the four-month-long battles, over 5,000 Japanese soldiers were killed while 9,000 Chinese soldiers died. It was amazing that ancient wall was still useful in the World War II. In other words, Gubeikou is not merely a relic but it remained as a battlefield in modern world. Today, there is still a military installation in Gubeikou and we'll take a side path along the Wall to by pass that restricted zone. At Gubeikou, there exists the Gubeikou Great Wall Anti-Japanese War Memorial.
Gubeikou is completely unrestored, covered with over 140 watchtowers, all differing in size and design. From the wall here you will be able to witness how the wall twists and winds along the steep mountain ranges. This is as dramatic a view on the Great Wall as you'll find. If the weather is clear, you will be able to see the shimmering blue lake of the Miyun Reservoir. There is a section on the wall that is part of a military base, so you will be able to walk and explore a quaint nearby local village to take a detour and re-enter the wall somewhere close to Jinshanling.
Much of the hiking that we will do on Jinshanling today is relatively easy, as the wall here is partially restored and the surface is smoother. Jinshanling has five main passes and 67 watchtowers. Every 100 meters (328 feet), there is an enemy tower each of which is about ten meters (33 feet) high. Featuring various structures and having various functions, those watchtowers are either one tiered or two-tiered. Among them, the most celebrated are the Big and Small Jinshan Watchtowers. The Wangjinglou Tower, the General Tower, the Black Tower and the Taochun Tower are also must-sees on the Jinshanling Great Wall.
For lunch, we'll take a brief walk down the wall to a local farmer's restaurant owned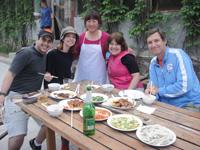 by Mr. Duan Jiujun. His family will make a delicious country-style meal for you and may invite you to tour his small photo gallery (he takes photographs of the Great Wall as a hobby) after your stomach becomes full. This restaurant is certified by Great Wall Adventure Club.
Following lunch, we'll make our way back onto the Great Wall in order to cross over into West Simatai. While the eastern portion of Simatai is closed due to government maintenance and repairs, the western section of the Simatai Great Wall is still open to hikers. The Simatai Great Wall is separated into eastern and western halves by a valley, with a rainbow-like chain bridge over the valley. The hills in the west are sloping gently, with 20 watchtowers remaining in good shape. The Simatai section of the Great Wall is one of the few sections to retain the original appearance of the Great Wall. Incorporating a variety of characteristics of other sections of the Great Wall, Simatai also displays some unique features of its own. It is often described with the following five words: perilous, dense, diverse, artful, and peculiar.
After about 2-2.5 hours of hiking in West Simatai, you will descend down the Great Wall, where you will be met by your driver. We'll then drive back to Beijing, and you will be dropped off back at your hotel in the early evening (approximately 8 pm).