Great Wall Shanhaiguan Pass
the first pass under heaven
Built in 1381 in the Ming Dynasty (1368-1644), Shanhaiguan is a town situated in the northeast of Qinhuangdao City, Hebei Province. It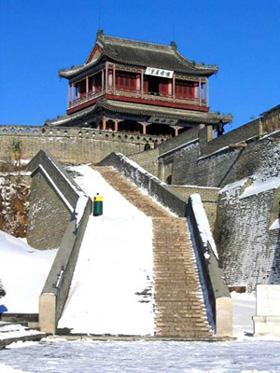 adjoins the Bohai Sea to the southeast and the Yanshan Mountain to the northwest. The city wall of Shanhaiguan is still well-preserved. While the Shanhai Pass of Great Wall is now the main entrance to the town, in the Ming Dynasty the area to the north of Shanhaiguan was not Chinese territory. Following the complex physical features of this area, the northern area was once part of the defensive system of the Great Wall.
Shanhaiguan Pass is located 15 km from Qinhuangdao (25-minute-drive away); it protects the strategic passage between the north and northeast China; it was renovated and consolidated several times because of its strategic importance. It is connected with the Great Wall which stretches onto the rolling Yanshan Mountains in the north and into the Bohai Sea in the south with fortresses and battlements that form a strong and powerful defense system. It was once considered the No.1 pass from the east end of the Great Wall during the time of the Ming Dynasty. In spite of the fact that archaeological work has proven that Tiger Mountain in Liaoning province is the real start of the Great Wall in the Ming Dynasty, Shanhaiguan Pass is still a popular national tourist attraction.
The brick wall of the Pass is 14 metres high, 7 metres wide, and 4 kilometres in circumference. The most imposing tower in the Shanhaiguan Pass is the east gate, on which is hanging a plaque, inscribed with the name of the fortress, "First Pass Under Heaven". On the north and south, there are another five gates with towers standing menacingly like five tigers guarding the Pass. From the second floor of the east gate, one can look down at the whole fortress and the entire landscape surrounding this strategic Pass.
Tourists always find the following 3 tourist attractions of interest: (1) Shanhaiguan Great Wall Museum in the fortress (which has some interesting pictures, relics and clothes depicting the life story of this snaking construction), (2) a temple in the vicinity dedicated to Meng Jiangnu, one of China's devoted heroines, and (3) the next spectacular section of the Great Wall meandering along the Jiaoshan Mountain ridges.
We are organizing the transportation to send you to this beautiful section of the Great Wall on daily basis. Each departure can be formed by 2-person-group, 3-person-group or 4-person-group.

Register your Shanhaiguan tour now.