Breaking News - Simatai only opens 10 watchtowers meaninglessly and is blocked from Jinshanling forever, so our famous 1A hike and 2A cannot resume!

It has been brought to our attention that some tour companies and travel books are claiming that the Simatai Great Wall is still open for hiking. However, in order to avoid any disappointment or wasted money and time, please be advised that THE SIMATAI GREAT WALL HAS BEEN PERMANENTLY CLOSED TO HIKERS, AND ANY ORGANIZATIONS CLAIMING OTHERWISE ARE DELIBERATELY MISLEADING YOU. We are posting this because we want you to know the whole truth, that way you can make an informed decision on your travel plans based on all of the available information. Thank you for your continued patience and understanding!
Simatai section of the Great Wall is closed for renovation from June 17, 2010. This is a very short notice from Miyun Government and Simatai Authority regarding the repair and renovation. Recently, from our internal source with the company who has been doing construction in Simatai, we were told the Simatai Section of the Great Wall will reopen in October 2014. However, we found from our inspection that Simatai will get closed from being accessible from Jinshanling. Our hiking cannot be resumed. And, opening only 10 watch tower is meaningless for a hike and you will NOT experience what Simatai should be experienced at all.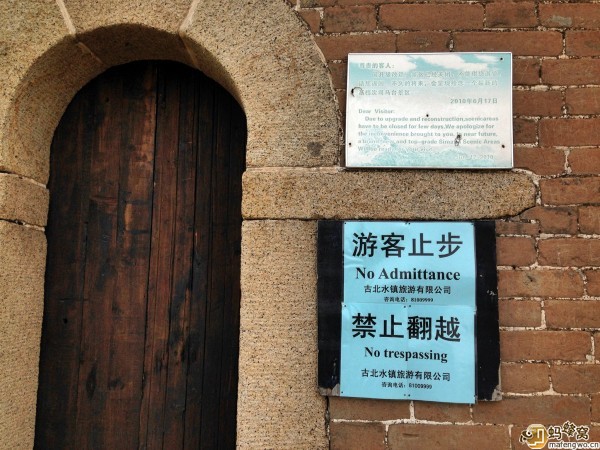 The watchtower that blocks you for access to Simatai by Gubei Watertown Travel Company, the one who takes Simatai as a hostage.

June 13, 2014 Update

Unfortunately, we are sad to report that the Simatai Section of the Great Wall will not be fully accessible from Jinshanling, from where many people have hiked. The re-development of Simatai as a "watertown" means that no one will be able to hike from Jinshanling to Simatai, and that visits to Jinsahnling and Simatai must be conducted separately. As of now, we are unsure of when the new Simatai will open, but when it does we will be leading tour and excursions there. And as always, you can still hike with us at Jinshanling and from the Gubeikou Great Wall to the Jinshanling Great Wall. We thank you for continued patience and understanding in dealing with the Simatai closure!

March 25, 2014 Update

We have some unfortunate news in regards to the Simatai Great Wall. It seems the developer in charge of renovating Simatai has instead purchased the Simatai property only to focus on building a Suzhou-style watertown called "Gubei Watertown". While building this watertown, the developer has neglected in doing much for Simatai, and as of now, 10 watchtowers of the Simatai Great Wall are open to the public. We asked the developer's spokesman about any future Simatai openings, and the spokesman replied that they had no idea about any future openings.



However, do not despair! We are still planning on leading special tours and hikes to Simatai and the "Gubei Watertown" to satisfy your Great Wall thirst. It will most likely be a day tour (morning tour of the watertown, and after lunch, a 90 minute hike through the 10 Simatai watchtowers open to the public). We are planning on launching this special tour in April. We thank you for continued patience and understanding in dealing with the Simatai closure!

March 1, 2014 Update

According to the latest whispers, Simatai will continue to be isolated from Jinshanling for the foreseeable future. The reason is that developers working on Simatai wish to turn it into a convention and commercial center with a "watertown"-style theme. To protect their investment the developers of the Simatai project continue to block access from Jinshanling, so that they will be the only ones able to charge for admission.

Some small and improperly licensed agents may try to sneak customers into Simatai from an unofficial "backdoor" at Jinshanling and claim that you are allowed to hike through. This is both incredibly risky and also illegal. If you are caught, you'll either be fined or reported to the police. Second, most try to sneak into Simatai at night. Once dark, this piece of Great Wall is incredibly dangerous to hike, and if you are hurt or injured there will be no one to help or assist you.

What this means for you is that you will be unable to cross over into Simatai from Jinshanling. In the future, when Siamatai is officially reopened (the opening date is still just a rumor at this point), we should be able to open a special route to visit Simatai only. However, we will still be running our modified Jinshanling and Gubeikou programs to make up for the loss of access to Siamatai, so you'll still get the same Great Wall bang for your buck. For more updates on our Simatai programs please continue to check back at this space. We thank you for your patience and understanding!

October 28, 2013 Update: According to our inside sources, the Simatai portion of the Great Wall is due to open on October 28. Yes, it was opened today. However, it will get shut down in a couple of days and reopen on May 1, 2014.

This means that once again we will have to wait until May 2014 to offer our most famous and popular Great Wall program, the Jinshanling-Simatai hike, as well as a whole assortment of Simatai-related Great Wall treks. We have also heard that the entrance ticket to Simatai will be 280RMB (about $45), while this price may seem high, we are still working to confirm if this is indeed the truth. Please look back to this space for more news and updates on the Simatai Great Wall reopening.

As you may well be aware, many government projects in China are secretive and information is not readily available to the public, leading us only to hypothesize based on the scraps and bits of information we have received. The Simatai project has been done to meet the interest of certain interest groups, and not to the greater public at large. The Simatai project was undertaken not for the improvement of visitors like yourself, but for a better atmosphere for conferences and conventions (which is why a 5-star hotel has been recently built near there). There has been no public announcement about the official re-opening date as of yet, nor do we know what the entrance price for the re-opened Simatai will be. However, once we learn of the official re-opening date, we will be sure to let you all know, and we'll get hiking and trekking tours to Simatai as soon as it is humanly possible. We thank you for your understanding and cooperation!

How we help you now

The Great Wall Adventure Club, the world's famous Great Wall hiking organization (learn more about the Club) has immediately inspected the situation and developed new paths to hike part of Simatai and walk toward Jinshanling section of the Great Wall.

TOUR 1AA: Hiking from Gubeikou to Jinshanling

The new hiking route has been changed to the hike from 2000-year-old section of the Great Wall at Gubeikou to Jinshanling, a UNESCO World Heritage Site. Please visit the 1AA itinerary here.

Please go to Great Wall hiking home page to learn more about our Great Wall hiking programs. We are confident we'll bring as much fun as you had expected to hike the Great Wall.

We bring you the exciting hiking tour from Simatai to Jinshanling
of the Great Wall.
But first, let's see who have successfully completed their hiking and become our Hall of Famers!

We are the experts at bringing you exciting Great Wall hiking tours, and the Great Wall at Simatai certainly fits the description. Read on to learn more about one of the most amazing sections of the entire Great Wall, and why it is such a fantastic hike.

If you can successfully complete the hike, you can become one of our hallowed Hall of Famers. Do you have it in you?

Why Visit Simatai?

The Simatai section of the Great Wall is one of the few sections to retain the original appearance of the Great Wall. Incorporating a variety of characteristics of other sections of the Great Wall, Simatai also displays some unique features of its own. It is often described with the following five words: perilous, dense, diverse, artful, and peculiar.

With densely dispersed watchtowers snaking along the mountain ridges, Simatai looks spectacular. In 1987, Simatai was acknowledged by UNESCO as one of its World Heritage Sites. When you visit the Simatai Great Wall, you will witness in person the magnificence and glory of this man-made masterpiece.




Simatai Features



Recommendation:
The Great Wall at Simatai retains its original appearance in the Ming Dynasty (1368 - 1644). With its fantastic scenery and precipitous topography, Simatai Great Wall is a remarkable place for sightseeing, hiking and exploration.

Dimensions:
Simatai Great Wall is 5.4 km long (3.4 miles) with all together 35 watchtowers. On the east part of Simatai, the elevation goes abruptly up from 295 meters (968 ft) to 986 meters (3235 ft), making a breathtaking scene.

Difficulty:
Simatai Great Wall was built along the steep mountain ridges, with Heavenly Ladder and Sky Bridge being the most thrilling parts. Heavenly Ladder is a steep and narrow (about 50cm/1.64ft at its narrowest point) wall that go up 85 degrees to the mountain peak, with cliffs on both sides. At its end is the Sky Bridge, which is not more than 100 meters (328 ft) long, but only 40 cm (1.3 ft) wide. When this part was being constructed, bricks were bundled on goats' back to the mountaintop.

Diversity:
Visitors can admire Simatai Great Wall by ropeway, pulley, or boat. Simatai Great Wall is separated into two parts by Simatai Reservoir, over which a chain bridge runs through east to west. Another popular way is hiking. A popular hike is to traverse from Jinshanling to Simatai, which takes about 4 hours.

Dense Watchtowers:
The average distance between two watchtowers is 100 – 200 meters (328 – 656 ft), with the nearest two only 44 meters (144 ft) from each other. This is very dense because the average distance is 500 meters (0.3 mile) for the Ming Dynasty Great Wall's watchtowers.

Trivia:
What is interesting along Simatai is that, visitors can find a section laid with bricks carrying inscriptions that recorded the date on which they were made, and the code number of the armies who made them.

History of the Simatai Great Wall:
Its construction started in the early Hongwu years (1368-1398) of the Ming Dynasty. Like most sections of the Ming Dynasty Great Wall often visited today, this section was also built under the supervision of General Qi Jiguang (1528 - 1588).

Nearby Attractions:
The Gubeikou and Jinshanling sections are only 20 minutes away. Jinshanling to Simatai is a popular hike.



Simatai Travel Essentials



Transport:
Simatai is located about 120 km (75 miles) northeast of Beijing (a 2 hour 30 minute journey from the city center). Great Wall Adventure Club uses high-quality air-conditioned private transport to take the hassle out of getting to the wall.

Walking Conditions:
The steps of the Great Wall at Simatai are rather steep and at some points very narrow. Hikers need to be in good physical condition to complete this hike. However, there are options such as pulleys or ropeways to avoid trek up to the wall.

What to Wear:
Dress for hiking and dress for the weather. Choose comfortable footwear with good grip and support for the feet. Layers of clothes that can be taken on and off allow for greater comfort and temperature control.

Wear/bring sun protection in the summer and dress for sub zero temperatures in the winter. It can feel much colder on the wall than down in the valleys because of altitude and exposure.

What to Bring:
Bring breathable waterproofs for protection from rain and wind. Umbrellas may be used here as the ascents and descents are not difficult, but may be inconvenient in strong winds. Bring snacks and water if you want to walk a long portion of the wall.


Tour to Simatai and Hike in Simatai

You can join our private tour to Simatai or a bus tour to Simatai, and even better, a hiking from Jinshanling to Simatai.


Join Our Great Wall hiking Today!