Other Frequently-asked Questions
1. How long does it take to go from downtown of Beijing to Jinshanling?

Normally, it takes about two to three hours from Beijing to Jinshanling by high way each way. If you take a private tour (your own car, driver and tour guide), it can be as fast as 1.5 hours to get to Jinshanling by toll-way. If you choose to go with a group (mini-bus, driver and guide), it takes longer as we'll have to pick up guests from various locations and may not take the toll way in order to reduce the transfer cost. Certainly, the less traffic we experience, the faster we go.
2. How many hours are for the hiking from Jinshanling to Simatai?

The distance from Jinshanling to Simatai is about 10 km. Most people take about four to five hours to hike from Jinshanling to Simatai.
3. What are included of your quotations and what are the difference between a private tour and group bus tour?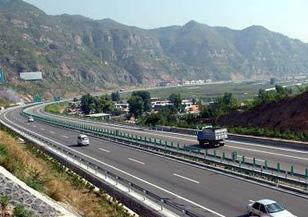 Private tour is a VIP service. You will have a dedicated car, a driver and a tour guide. It means you can decide when to get up in the morning as long as it is before 9 AM, you will have no one else to share your car or guide, and you have more time to talk to your guide while hiking. It also means you'll save half of the time spent on the road compared to bus tour, saving up to three hours round-trip, because we'll take the newly-completed but expensive Beijing-Chengde toll way (photo on the right). Our price includes all the entrance fees and high way tolls. However, it does not include lunch. No shopping is scheduled during the entire trip.

A Non-private bus tour will significantly reduce the cost while you sacrifice with privacy and time, but you win a lunch. You'll be spending about 1 hour in the city after you board because we are going to different hotels to pick up your partners. Also, to save more, we do not take the expensive toll way and that'll take longer to get to the Wall. Price includes all the entrance fees and a lunch. There will be a stop at a local gift shop but you are not required to buy anything if you don't need to.
4. What should we take to the Wall?

Please take your picnic lunch, two bottles of water, some snacks, sunscreen, sun-glasses, stick, pocket knife, first aid kit, lip balm and cap etc.
5. What is the weather like on the Wall?

Please check the weather report three days before your departure date and you will know. Usually the temperature on the mountain is lower than in Beijing.
6. Is it hard to hike on the Wall? Do we need a doctor or a rescue person to hike with?

The hiking is designed for the hiking lovers. The part of the wall we would trek along is the most magic part of Great Wall. The 10km's distance on the wall will take us about 4 hours to hike up and down (many steps) on the range of the mountain. It is not easy! Every participant must make sure your own health condition is good enough for the activities (especially those who have blood pressure or knee illness). However, there certainly need to hire a doctor or a rescue person to hike with.
Note:
1. There is not any toilet along the path on the Wall. There are the toilets at the bottom of Jinshanling and Simatai. Please prepare before hiking.
2. There are cable cars (tram or gondola) in both Jinshanling and Simatai Great Wall. There is a also slider at Simatai Great Wall. The guests are supposed to pay those as extras.

Register your tour online today!