Overnight in A
Watch Tower

3 WAYS TO SERVE YOU
PLATINUM PACKAGE


Private or Semi-private English Tour including private transfers, tickets, camping setup, and meals. Your guide will walk with you for every step from hotel pickup to drop-off and on the Great Wall!

GOLD PACKAGE

Private or Semi-private tour but with our local Chinese-speaking guide who can use translation apps. You'll have the professional transfer service with our driver and car and friendly assistance from local support team. Everything is the same as the Platinum Package except that you pay less.
SILVER PACKAGE

Group hiking at Jinshanling plus private camping and hike at Gubeikou. A perfect combination of taking the advantage of our daily group hike at Jinshanling and personal camping set up and the private hike from Gubeikou to Jinshanling the next day,. Take public bus to return to Beijing. A perfect way to save $$

PRICES for PLATINUM
# of Head
USD


each person

1
649
2
399
3
379
4-5
339
6-9
319
10+
279
WHAT'S INCLUDED IN PRICE
* Personal transfers from and to hotel
* Entry fees to the Great Wall
* Two lunches, one dinner and one breakfast (delivered to your watchtower)
* The privilege of camping on the Great Wall and exclusive access to the camping watch tower
* All necessary camping gears such as tents & bags
* Quality vehicle, professional driver and English-speaking tour guide
* Free membership card
* A credit of RMB50 when you reserve the next tour with us
Guaranteed no detours to
shops or markets, etc.
TRAVEL INSURANCE
If you currently don't have travel insurance then you will be required to purchase our PICC (People's Insurance Company of China) travel and accidental insurance.
The fee will be $7.99 per person, and will cover the duration of your hiking/camping/trekking in order to ensure that you are comprehensively protected if injured.

For more information about our travel insurance policy please see our insurance page.



QUALITY VEHICLES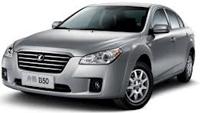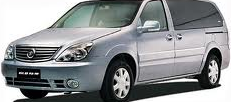 Gubeikou-Jinshanling-Second Valley (Simatai West) Hiking & Camping


Route 2AB : Two-day overnight camping tour to respect the constructors of the human legend

POPULARITY RANKING*:


*Ranked by the quantity of signups of all 2-day hiking routes.

We could never learn to be brave & patient, if there were only joys in the world. -Helen Keller

See this thrilling route on the map .


The outdoorsman: Stay overnight on the Great Wall of China

"When people come to the Great Wall of China, they want to explore the history and see why it was built. A day trip to the tourist sites won't achieve that, but a sleepover on one of the world's most storied ruins certainly will. The Great Wall Adventure Club organizes trips to sleep in a watchtower where soldiers were formerly garrisoned. When night falls, the only thing above is the stars, while the incredible land of the surrounding hills is absolutely silent ... (June 11, 2012)"

| | |
| --- | --- |
| | This program features sleeping on the Great Wall. |




Guaranteed camping in a watch tower!

A few agents claim they can do so but that's not true. What they usually mean is that they may take you to the foot of the Great Wall to camp on the ground or to sleep at a guesthouse. Not us. For each participant (even children), we must pay a hefty relic preserving fee to the Great Wall administration office. This fee allows for you to camp on the Great Wall, hence why the price for this program is higher than most. Great Wall Adventure Club (GWAC) is the only company approved by the Great Wall Administration Office to offer camping for international guests. This is what sets us apart from other operators.


Please keep in mind that during some sensitive political events, camping may be temporarily suspended because of increased police security around Beijing. We will do our best to keep you up-to-date on any changes or notices regarding this. Thank you for your understanding!

Highlights:


The Gubeikou-Jinshanling trek is an excellent hike for Great Wall enthusiasts, and you'll also get to trek on the largely unknown section of "Second Valley" (which is what the nearby peasant families call it), the west wing of Jinshanling that is strategically as important and ruggedly beautiful of any section of the Great Wall. At the "Second Valley" you'll also get to see some great examples on how the wall was formed and designed to keep out hostile armies.

Hike through the part of the Great Wall at Gubeikou that was effectively used as the battlefield in 1933 when Chinese army fought against Japanese invasion. In the four-month-long battles, over 5,000 Japanese soldiers were killed while 9,000 Chinese soldiers died. (First photo on the right)


On this hike you will get the best of the wild and dramatic unrestored "Wild Wall," making the hike much more interesting by challenging yourself, while also enjoying the silence and peace on the mountains. What's more, since this a 2-day hike, by the second day, the wall be largely uninhabited by anyone except for you, allowing you to have some quality time alone with the Great Wall, making for a much more intimate and memorable experience.

A meteor shower, one of the most awe-inspiring and incredible feats of nature, is best viewed from a point where there is little man-made light and interference. For those camping or trekking on the Great Wall at night, you just might be lucky enough to see one on your hike. One of the best possible vantage points to see a meteor shower while on the camping on the Great Wall is from Gubeikou or Jinshanling.




famous battlefield - Gubeikou Great Wall

Photos © Great Wall Adventure Club 2008-2018

Departures:

Our Great Wall hiking is a private service.

What this means is that you can hike on

the Great Wall at any time at your convenience.

If you would much

rather be part of a group for the experience for economic and social reasons

,

we'll check to see if there are more signups for

the same date as your own. We'll keep you

updated whenever there are more. If you would

like to keep your tour a private one, please let us know and we'll assign you a guide and driver.

All necessary camping gears such as tents, pads & bags are provided.

For those of you curious about Great Wall camping conditions, please be advised that camping on the Great Wall is very rugged and adventurous, and you should expect a relatively low comfort level from what you're normally used to.

Following dinner, we'll walk about 20-30 minutes to the camping site in the Great Wall watchtower. It is there we will set up the tent, sleeping bags, etc. Please be aware that this experience is significantly different from staying in a hostel/farmotel/hotel. The camping settlement is very basic, although we are constantly striving to improve this experience. Due to the high and heavy volume of camping equipment (tents, pads, sleeping bags, etc.) in use during your Great Wall hiking tour, we kindly ask that you give your guide a helping hand in getting your equipment up to the watchtower where you'll spend the night. We thank you for your cooperation and understanding!





Day-by-day Hiking and Sleeping Tour Itinerary
(B=breakfast, L=lunch, D=dinner)
Day 1 Hike: Beijing-Gubeikou-Jinshanling (L, D, 10 kms, 4-5 hours of hiking)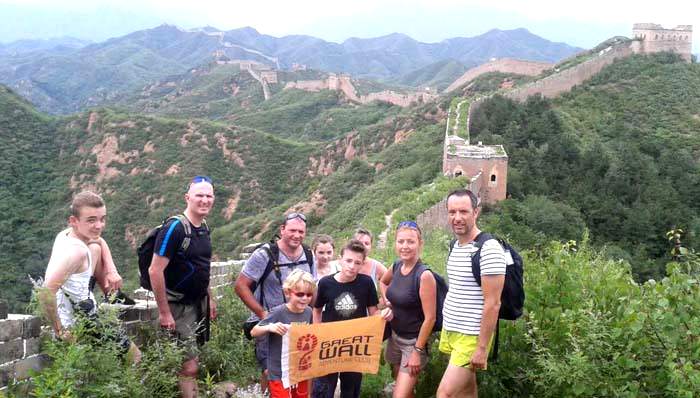 Your guide will meet you at your hotel between 7:30 - 9:30 am, and by private sedan or minivan we will head to the Great Wall at
Gubeikou
to start our hike. Gubeikou Great Wall occupies a strategically important location, which is difficult to access. Situated between
Shanhaiguan Pass
and
Juyongguan Pass
, and about 62 miles to Beijing, it is the bastion protecting the northern gateway to the capital. There are 14 beacon towers, 143 watchtowers, 16 strategic pass, three citadels and many other military constructions. Many of them are famous cultural relics, such as the Big Flower Beacon Tower of the Northern Qi Dynasty, Fairy Tower, General Tower, and the dominant Wangjing Tower.
In 1933, when Japanese forces invaded China, the Chinese army at Gubeikou fought hard to resist the enemy. it marked the beginning of China's eight-year-long war to fight against Japanese invasion in the World World II.
Much of the hiking that we will do on Jinshanling today is relatively easy, as much of the wall here is partially restored and the surface smooth. Jinshanling has five main passes and 67 watchtowers. Every 100 meters (328 feet), there is an enemy tower each of which is about ten meters (33 feet) high. Featuring various structures and having various functions, those watchtowers are either one tiered or two-tiered. Among them, the most celebrated are the Big and Small Jinshan Watchtowers. The Wangjinglou Tower, the General Tower, the Black Tower and the Taochun Tower are also must-sees on the Jinshanling Great Wall. Each tower has its legend. Legend has it that the stone bars used to build the Wangjinglou Tower were carried to the mountaintop by Er Lang Shen, the nephew of the Jade Emperor. The general tower was named to commemorate Wu Guihua, a heroine who sacrificed herself to resist northern invader's invasion in the Ming Dynasty. The Black Tower and the Taochun Tower were christened to commemorate two girls, Heigu and Taochun, who made great contributions to the construction of the Great Wall.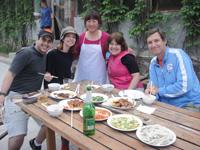 This afternoon, you'll watch the sunset while walking along the Wall. Then we'll take you to have a gorgeous Chinese countryside style dinner served by a local guesthouse owner and also the master chef. The chef used to work in large company's canteen for 28 years! He is going to serve you Kong Pao Chicken, Stewed beef and potato, Green Pepper and Pork, Fried Tofu in Spicy Sauce, Fried Egg Tomato, Sweet and Sour Chicken, and vegetables (great for vegetarians), and soup. What's more important is that all the vegetables he uses are planted in his own yard, so it is organic and fresh!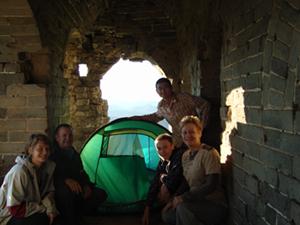 Then, before it gets dark, we'll go up to the mountain and
sleep overnight in a watch tower
. We'll prepare the necessary camping facilities such as sleeping bags so you don't have to bring anything but yourself. Here it is the sound sleeper's paradise - let the mountain valley and the Great Wall echo your snoring sound! We'll prepare the necessary camping facilities such as sleeping bags so you don't have to bring anything but yourself. If you prefer sleeping in a local hostel or a farmer's house, you certainly can without extra charge. However, in cold
winter
, we'll only overnight in a local hotel for safe.
Temperature on the Great Wall is usually 10 degree Celsius lower than it is on the ground.

Day 2 Hike: Jianshanling-Second Valley (the West Wing of Simatai) -Beijing (B, L, 8 kms, 3 hours of hiking)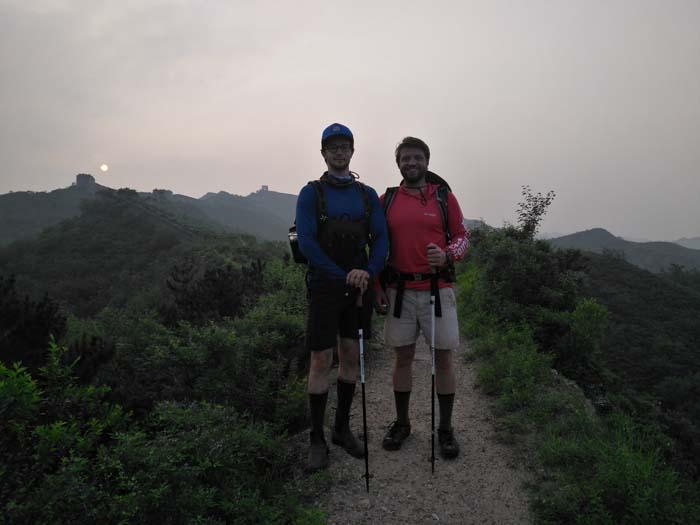 The first thing we'll do today is to watch the magnificent sunrise early in the morning. After a brief breakfast, we will resume our hike on Jinshanling's right wing, where we will hike until we reach Simatai West called Second Valley. As we head west the wall will start to gradually deteriorate, making the hike progressively more challenging, but also interesting to observe and compare.

The Jinshanling Great Wall has not been repaired since 1570. It is a remote and relatively isolated section of the Great Wall. As there are relatively even fewer tourists at Second Valley part of Jinshanling Great Wall, it is a good place to explore on foot. If you are looking for breathtaking views with a relatively peaceful walk, then the Second Valley of Jinshanling can't be better, so we hope that you remembered to bring your camera! The Second Valley features a complicated and well preserved fortification system at Jinshanling. The Second Valley Great Wall meanders through fantastic natural scenery and connects to the Gubeikou Great Wall to the west.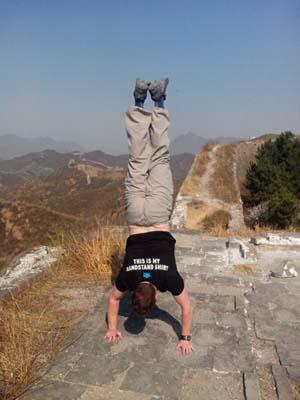 Simatai West, called the Second Valley, is the left wing of Simatai. It is also in a serious state of ruins and is thereby a perfect example of the true Great Wall, while also being extremely beautiful and rustic. The wall is 7.8 m high and 5 - 6 m thick at the bottom. On the top, the wall is about 4 meters wide with 2 meters high parapets on each side. On the side facing the enemy were 2 m high crenels called Duokou. On the upper part of the Duokou were large openings used to watch and shoot at attackers. On the lower part were small openings ('loopholes') through which defenders could also shoot while in greater safety from incoming fire.

In addition to the gorgeous scenery on your hike, you'll also get to see how the wall was designed for practical purposes, that being the defense against outer enemies and how the Great Wall was supposed to keep them out. There are 'obstacle-walls' built perpendicular to the parapets - a feature quite unique to the Second Valley part of Jinshanling Great Wall. These 'walls-within-walls' were used for defense against enemies who might have succeeded in scaling the outer wall. The steps of the Great Wall at Second Valley are rather steep and rocky with loose stones at times. It is important to choose comfortable footwear with a good grip and support for the feet.

After about 2-3 hours of hiking on Second Valley (West Simatai), we'll again meet up with our van and you'll be taken back to Beijing, where you will be dropped off at your hotel.


Stuff to bring on your trip:

* Tough hiking boots, sunscreen and sunglasses, and water
* Backpack, and snacks or energy/protein supplements you want to have before lunch
* Extra cash for drive/guide tips along with money for either cable car or toboggan ride
* Don't forget your camera!

We have up to 8 different routes for overnight hiking and camping on the Great Wall!



Read complete itinerary of Route 2X: Forbidden City + Sleep in the Watchtower (Camp!)




Read complete itinerary of Route 2AA: Gubeikou-Jinshanling-Jiankou-Mutianyu hike (Camp!)






Read complete itinerary of Route 2AB: Gubeikou-Jinshanling-Second Valley Hike & Camp (Camp!)





Read complete itinerary of Route 2B: Huanghuacheng-Jiankou-Mutianyu hike






Read complete itinerary of Route 2C: Chengde-Panjakou Reservoir-Xifengkou hike.



Read complete itinerary of Route 2D: Panjiakou Reservoir-Xifengkou hike.


Read complete itinerary of Route 2E: East Qing Tomb-Huangyaguan hike.



Read complete itinerary of Route 2F:
Laolongtou-Shanhaiguan-Sandaoguan-Jiaoshan-Jiumenkou-Huangtuying hike



QUICK LINKS TO:



1-day hike |

2-day hike |

3-day hike |

4-day hike |

5-day hike |

7-day hike |

9-day hike |

12-day hike |

Bus Tours