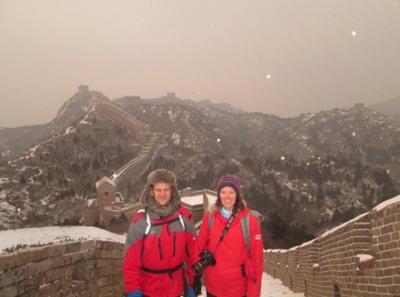 One of the questions that Great Wall hikers often ask us is: Is it possible to hike the Great Wall in winter or does it get too slippery and dangerous? Is there much chance of clear skies or can I expect fog and bad weather? While it is recommended that you hike in the spring, summer, or fall, it is still possible to hike or even camp on the Great Wall in the winter. A north China winter can become bone-chillingly cold, with swirling winds, low temperatures, and the occasional downfall of snow and/or ice. If you can brave these elements, you'll be treated to wonderful sunrises and sunsets, and the Great Wall in winter is a photographer's dream. For those hiking the Great Wall in the winter, here are some safety considerations to keep in mind:
Be prepared to back off if you do encounter ice as there are very steep sections and a fall would be too serious to contemplate.
Hiking with our professional guides is the best way to conquer the Great Wall in winter, particularly in snowy days.
Before embarking on your Great Wall hike, you should also have the proper supplies to cope with the winter weather. Recommended items include: camping stoves and gas canisters for portable cooking, chemical heat packs, thermal heat logs, heavy gloves and jackets and cap. There are numerous camping supply stores in Beijing, but Sanfo, a Chinese camping store chain, comes the most highly recommended (there is a location near Beijing University).
If camping overnight, spending the night on the wall or in a watchtower might be horribly uncomfortable, so you might want to find a village or hotel at the foot of the wall. For those hiking at Jiankou, there is numerous lodging available at Xizhazi village, and for those doing the popular Jinshanling-Gubeikou route, you might want to try the Jinshan Binguan hotel or the Gubeikou Emperor's Palace. Rooms go for about CNY 280.00 a night. For the more adventurous, you can also barter your way into staying with a farmer's family for the night, and the advantage of this is that these types of inns or often just underneath the wall, allowing you to easily get back up to watch the sunset or sunrise.

Back to the Great Wall hiking main page.
Visit our 2022 Beijing Winter Olympics Website