Leading Great Wall hiking tours on the unrestored Great Wall reviewed and certified by TripAdvisor.
To book an amazing experience, please browse here or visit our mobile site.
Traveler's Choice Certificates and of Excellence Awarded Consecutively.
MOST REQUESTED GREAT WALL TRIPS:
1-1day Great Wall Hikings
(1AA,

1AB,

1B,

1D,

1S1,

1S2,

1S3,

1S4,
1X,

0A,

0B
)

2-da

y Great Wall Hikings with Camping on the Great Wall

(2AA,

2AB,

2AD,

2AE,

2B,

2SS1,

2SS2,

2X1,

2X2)

3-da

y Great Wall Trekkings

(3A,

3AA,

3AB,

3X1,

3X2)

4-da

y Great Wall Trekking
s
(4B)

Great Wall Adventure Club is pleased to be the recipient of TripAdvisor's Certificate of Excellence for 2021, 2021 and 2016. This is in recognition of consistently positive TripAdvisor reviews for leading Great Wall hiking tours on the unrestored Great Wall. TripAdvisor, the world's most popular travel website, gives the Certificate of Excellence for businesses that demonstrate a commitment to excellence in the field of hospitality.
In order to receive the award, a business must have an overall rating of four or higher from TripAdvisor reviews. With over 210 TripAdvisor reviews for our Great Wall hiking tours, Great Wall Adventure Club has achieved an "Excellence" rating on 145 of our reviews. We are especially proud to receive this award, as we believe no Great Wall hiking company works harder and does more for their clients than we do. "We thank our guests for recommending us to their family, friends and acquaintances," said Terrence Ou, Great Wall Adventure Club founder and CEO. "We strive for perfection, so to hear how happy our guests are with their Great Wall hiking tours brings us a tremendous amount of satisfaction."
We at Great Wall Adventure Club believe that the positivity of the TripAdvisor reviews stems from our organization as a team working toward a single purpose, which is to bring the unrestored Great Wall to as many travelers as possible. We are also incredibly gratified by all the favorable reviews in the mainstream media we have received for our Great Wall tours. TripAdvisor's Certificate of Excellence is just another in the long line of major media outlets that have given our Great Wall hiking tours a positive review. The Wall Street Journal, NBC television, the TLC network, Fodor's, USA Today and The New York Times have all toured the unrestored Great Wall, and have published and broadcasted glowing reviews of our Great Wall hikes.
But don't just take the reviewers on TripAdvisor's word for it. We have tons more reviews on our testimonial page with happy and satisfied customers that took our Great Wall hiking tours. We are confident when we say that we are the authority on Great Wall hiking, as over 30,000 satisfied guests worldwide can't be wrong.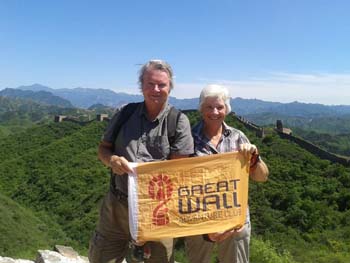 While it is an honor to be awarded TripAdvisor's Certificate of Excellence for 2021, 2021 and 2021, we aren't one to rest on our laurels. We are always looking for ways to improve the Great Wall hiking experience for our guests, and while the TripAdvisor reviews for our Great Wall hiking tours reflect this, we are already hard at work on achieving TripAdvisor's Certificate of Excellence for 2021. When you are able to hike the unrestored Great Wall with us, we are positive you'll be treated to a Great Wall adventure unlike any other!

Below is a recent post by Mr. George Raitt from Australia:

Our guide was Oliver Zhao and our travel advisor was Vivian Liu. They were both excellent to work with; pick up and delivery back to our hotel in Beijing all went smoothly.
The walk was challenging and the views amazing. We had great weather and needed our sunblock.


Meals provided in the local restaurants were excellent. Oliver really enjoys his food and chooses well. He is a cheery and talkative guide - just what you need on a vigorous hike. We have done lots of bushwalking in Australia and New Zealand and though we are both "seniors" now we were happy to rough it in places and handle steep sections - the Great Wall was different and wonderful.

MORE TESTIMONIALS

BY JEANNIE RALSTON, July 31, 2021
A two-day hike along a remote stretch of China? Great Wall affords endless views without the distraction of crowds.






The outdoorsman: Stay overnight on the Great Wall of China

When people come to the Great Wall of China, they want to explore the history and see why it was built. A day trip to the tourist sites won't achieve that, but a sleepover on one of the world's most storied ruins certainly will. The Great Wall Adventure Club organizes trips to sleep in a watchtower where soldiers were formerly garrisoned. When night falls, the only thing above is the stars, while the incredible land of the surrounding hills is absolutely silent ... (June 11, 2021)
Reviews Not Seen on TripAdvisor or New York Times
"I don't often do endorsements, but I am happy to recommend The Great Wall Adventure Club to any and all who are thinking of travelling to China. The company was thorough and professional from first contact until the hour I departed. They routinely went above and beyond the call of duty to make my trip smooth and unforgettable. Joe, my guide, was excellent! Fun, informative, always on time (early, in fact) and a clear communicator.
If you are browsing for a terrific, trustworthy tour company in China -- look no further. I loved my experience with The Great Wall Adventure Club!"
Scott Hanson

Here is a snail mail of Thank-You Letter from the Brewsters, guest family from USA


Another Thank-you letter from the Hunchak family from Canada.