See the Most Popular Attractions in China
In As Short As Three Days on A High-speed Bullet Train
Tour the Great Wall of China, the Forbidden City of Beijing,
and the Terra Cotta Warriors and Pandas of Xian with a visa waiver!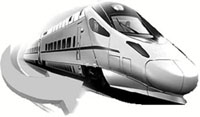 As China continues to rapidly grow and develop on the world stage, so does its burgeoning tourist industry. Since opening to the public in earnest in the late 1970s, China's tourism sector has grown by leaps and bounds, and is expected to be the world's top travel destination within 10 years. As China is a country endowed with countless wonders and containing a unique blend of cultures, it's easy to see why so many foreign visitors are wishing to experience the joy and magic that China has to offer. China has never been hotter as a destination. In fact, Tibet, the rooftop of the world and home to the world's tallest mountain in Mt. Everest, just surpassed 10 million visitors for the year of 2012. In a recent study by the China National Tourist Office (CNTO) among Americans who have traveled to Asia within the last two years, the top three most favored China attractions are the Great Wall, the Forbidden City in Beijing,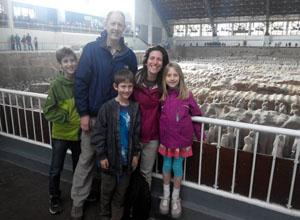 and the Terracotta Warriors in Xian. While the top two attractions are conveniently located in or near Beijing (making it easy for foreign visitors to experience them), the Terracotta Warriors lay westward in the city of Xian, China's ancient capital, a city that Westerners might have never heard of before. While it may be difficult for you to picture yourself visiting this seemingly remote outpost, Great Wall Adventure Club is here to help you make this dream a reality.
While you certainly know of our experience and ability in designing and leading Great Wall hikes and excursions, you may be unfamiliar with our extensive involvement in planning city tours and other sightseeing tours throughout China. Xian, for example is a specialty of ours, as we have a team of local guides and drivers with years of experience in bringing the wonders of this ancient capital to foreign visitors. In the past, the only practical way to reach Xian was either by flying or by a long and tedious train ride. But with China's new high-speed rail lines, reaching Xian, Beijing, Shanghai and the Terracotta Warriors has never been easier or more convenient! The table below is the train schedule from Beijing to Xian:
BEIJING-XIAN HIGH-SPEED BULLET TRAIN SCHEDULE
*The train authority updates this list often. Here is a reference only.
| | | | | | | | | | |
| --- | --- | --- | --- | --- | --- | --- | --- | --- | --- |
| Train # | From | Time | To | Time | Train # | From | Time | To | Time |
| G87 | Beijing W | 14:00 | Xian N | 18:40 | G88 | Xian N | 13:10 | Beijing W | 17:50 |
| G651 | Beijing W | 7:05 | Xian N | 12:48 | G652 | Xian N | 7:50 | Beijing W | 13:17 |
| G653 | Beijing W | 8:21 | Xian N | 14:11 | G654 | Xian N | 8:50 | Beijing W | 14:20 |
| G655 | Beijing W | 10:05 | Xian N | 15:43 | G656 | Xian N | 10:05 | Beijing W | 15:35 |
| G657 | Beijing W | 11:06 | Xian N | 16:47 | G658 | Xian N | 10:40 | Beijing W | 16:26 |
| G659 | Beijing W | 12:08 | Xian N | 17:35 | G660 | Xian N | 11:35 | Beijing W | 17:12 |
| G661 | Beijing W | 14:43 | Xian N | 20:41 | G662 | Xian N | 14:40 | Beijing W | 20:33 |
| G663 | Beijing W | 16:00 | Xian N | 21:52 | G664 | Xian N | 16:03 | Beijing W | 21:38 |
| G665 | Beijing W | 16:53 | Xian N | 2:44 | G666 | Xian N | 17:07 | Beijing W | 22:50 |
| G667 | Beijing W | 17:38 | Xian N | 23:05 | G670 | Xian N | 17:55 | Beijing W | 23:20 |
As you can see, this approximately six-hour journey can be made at just about any time of day, making it highly convenient for you during your China trip. The train price is around RMB515, which is usually half the price a flight would be. By taking the train, there's no hassle to rush to the airport and no interference from the weather or any of the other countless things that can delay a flight. So, if you're short on time but long for excitement, you could easily see two of the three most popular attractions in China in just two days. Here is a sample itinerary:
Day 1: Take a morning flight (7 am or 8 am) to Xian and arrive in Xian in two hours. Visit Big Goose Pagoda, Huaqing Hotsprings, and Muslim Quarters. Enjoy Xi'an's special dumpling dinner and watch the magnificent Tang Dynasty Music and Dance Show. Stay overnight in Xian.
Day 2: Half day tour in the morning to the famous Terracotta Warriors. In the afternoon, take a bullet train # G666 or #G668 back to Beijing.
If you are here on a business trip and want to cram as much as possible into your stay, we can work with that too. Here is a sample itinerary for those with a tighter schedule:
Same Day Tour between Beijing and Xian:
Take the flight at 7 am and arrive in Xian at 9 am. Tour the Terracotta Warriors in the afternoon. Train #G670 at 17:55 back to Beijing (or take a later fight back to Beijing)
Two Express Tours to Xian
Learn details of the above two express tours to visit Terracotta Army (and pandas in a wild animal breeding center with an extended stay), please visit the 1-day and 2-day Xi'an Express Tour packages.
In addition to being cheaper and convenient, China's new line of high-speed bullet trains are more comfortable than the normal class of train, and are extremely reliable. We can take care of it all for you-purchasing the train tickets, providing accommodation, etc. With these new trains, seeing the most popular attractions in China can take as short as 3 days. You can visit the Great Wall and Forbidden City on Day 1 or 2, and take a trip to and from Xian on Days 2 or 3. Another great new innovation for China's travel industry is the new 72-hour visa-free stay in Beijing and Shanghai for Western travelers. This means that for those flying to either Beijing or Shanghai, you can stay in China for up to 3 days without a tourist visa of any kind. While you would have to stay within the city, you could still visit the Great Wall, the Forbidden City, the Summer Palace, the Bund, or a host of other amazing sights these cities hold. And while booking your Great Wall visit you can also use us to tour the rest of the city, along with accommodation and anything else you might need. For those that have a tight window to visit China, this would be a great time saver for you, while also giving you valuable peace of mind.
Even if you have the luxury of time, Great Wall Adventure Club can take you to the distant corners of China, and everywhere in between. Trekking to the Mt. Everest Base Camp, riding camels in the Gobi Desert, scaling Mt. Huashan, watching pandas in Chengdu, exploring the minority World Heritage old town of Lijiang in Yunnan, we can take you there. Your short time in China is valuable, so why not make the most of it by using one reliable and experienced travel agency rather than using two or three? After all, Great Wall Adventure Club is your one-stop shop for everything China-related!