The Beijing subway station is the best way to get around Beijing as it is cheap, reliable and you do not have to be stuck in traffic all the time. Currently it offers nine lines spread around Beijing and to outer suburbs.
The construction of Beijing subway begun on July 1, 1965 and the first subway line was put into service on October 1, 1969. Thus, Beijing Subway has enabled Beijing city to be the first city in China with subway transportation. December 24, 2007 was a memorable day in Beijing urbanization history. This was the day when Beijing Subway Line 1 and Line 13 shorten the interval of subway during peak period. As a result, the passenger traffic had reached more than three million passengers within that day. On the March 6, 2008, Beijing Subway hit another new height with daily passenger traffic over 4.3 millions
With the 2008 Beijing Olympics, it extended their subway station allowing for easy access to the airport and to the Olympic park. The airport express line will stop at all three terminals allowing another method to get in town from the Airport.
We recommend taking the subway whenever possible for your Beijing tours as it is cheap, only costing 2RMB for a fixed cost most inner part of the city and you do not have to worry about the rush hour or traffic accidents you would otherwise experience on ground transportation.
Traveling through the city of Beijing with the locals makes it a much closer experience to understanding the culture as well!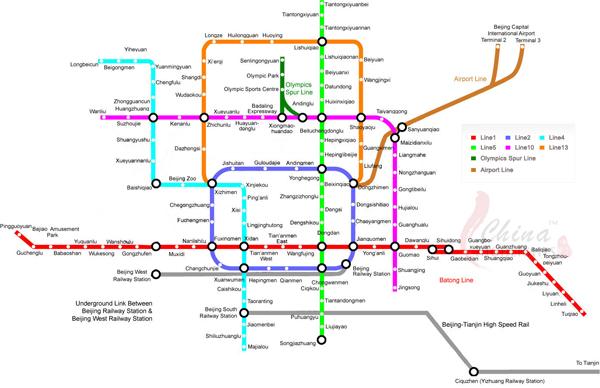 Click to enlarge this Beijing Subway Map.
Check our Beijing Bus Tour Programs. You can tour Beijing with our group bus tour programs for various routes.
Learn more about Beijing private and non-private tours.