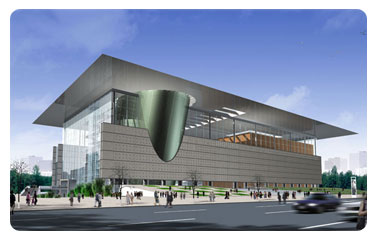 The Capital Museum, opened in May 2006, makes the most of its well-designed, modernist building to display the history and culture of Beijing in a refreshingly contemporary style.
The refurbished and relocated Capital Museum is now China's second largest, dwarfed only by the National Museum (which is being reconstructed and closed until 2010). With its striking modern architecture and impressive variety of exhibits, the museum has staked its claim as the best museum in Beijing. Well-captioned displays are offset with informative introductions that, thankfully, do not assume everyone is an experts on Chinese history and culture.
The museum, with five floors above ground and two underground, combines classical and modern aesthetic concepts. The huge roof has traditional upturned eaves; the grey stone screen wall follows the style of traditional Beijing architecture. The slanting, protruding wall of the elliptical bronze hall signifies the bringing to light of ancient artifacts.
The museum has a rich collection of objects from various periods of China's history, most them unearthed in the Beijing region. The core exhibitions of the Museum center on the history, culture and construction of the ancient capital. Another highlight of the Museum is the imaginatively designed exhibition on the folk customs of old Beijing, showing how life was lived in the capital in the late Qing dynasty and early Republican period. The Museum's collection of ancient bronzes is particularly strong, and forms the focus of a separate exhibition on bronze arts in the Yan region (Yan was an ancient name for the Beijing area). The Capital Museum also has a lively program of temporary and visiting exhibitions, which are an important addition to the cultural life of the capital.
Regular exhibitions include "Ancient Capital Beijing -- History, Culture and Urban Construction". This display illustrates the splendor and glory of the gradually-formed and constantly-evolving culture of the city.
Exhibitions of fine artistic collections include ancient chinaware, ancient bronze art, calligraphy, paintings, jade ware, ancient Buddha statues and scientific instruments. Seven Fine Arts collections and "Old Stories of Beijing -- Exhibition of Old Beijing Folk Customs" add further insights, and reach out to include Beijing's contemporary culture.
To see all the exhibitions in the new museum would require a visit of at least four or five hours.
.
Check our Beijing Bus Tour Programs. You can tour Beijing with our group bus tour programs for various routes.
Learn more about Beijing private and non-private tours.