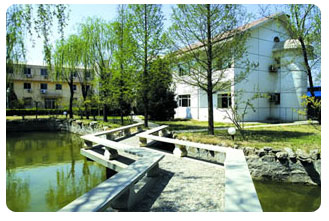 Winter in Beijing is cold and freezing. At free weekends, bring your family, invite several friends and take along your lovers to hot springs and enjoy the above-water joy, making your winter in Beijing as warm as the hot springs!
Beijing Longxi Hotspring Resort ?
Beijing Longxi Hotspring Resort is a five-star holiday hotel. The greatest advantage of Longxi is its one-stop service from spa, dining to accommodation and entertainment; the most important feature is its well-known high quality.
8,700-sq.m Hot Spring World is a highlight of Longxi. There are 35 interior and exterior pools, including 16 medicine pools, 10 Skin Whitening & Skin Care pools, 2 ice water pools, 2 old-well hot spring pools, 4 hot spring pools and 1 children-paddling pool. The whole hot spring world is covered in a huge glass curtain wall, with various tropical plants spreading all over it, delivering a graceful and cozy environment for you.
Many people love the not-too-hot and soft tea therapy, medicine therapy and milk therapy here. When you lie down in the pools, pores can comfortably breathe and you can feel relaxed from head to foot. After the spa, all your skin will be smooth and your body will feel comfortable as well. In addition, the waiters/waitresses here can considerately help guests fetch towels, making people feel quite good.
Salt bed is also one of the specialties here. With sterilization, skin cleaning, moisturizing, whitening and crease-resisting functions, as well as certain supplementary treatment functions to weight loosing, blood pressure reducing, arthralgia and rheumatism treatment and anti-aging, salt bed is quite popular.
Dining: Variety of dishes is a big characteristic of dining in Longxi. With a Moslem style restaurant, a typically American-style Western restaurant and Southeast Asian delicacy, you are as if having a holiday at the real Sunshine Coast.
Accommodation: The environment here is very graceful: 280 suites and villas, Haijing (Sea-view) Rooms from which you can overlook the beautiful scenes of the Water World and Cuijing (Greenery-view) Rooms from which you can overlook the golf greeneries with good vision.
Entertainment: Golf, swimming, recreation, archery, billiards, table shuffle board, table tennis, singing and many other entertainment programs are available for your selection.

Price: RMB 289/person Hot spring, swimming and medicine bathing
Add: 8 Shunjing Lu, Pangge Town, Daxing District, Beijing
Jiuhua Spa & Resort
It is one of the most well-known hot springs in Beijing. The hot spring stays around 40 centigrade and the water is clear and limpid, with many microelements inside, staying in which has the functions of beautifying and health strengthening. The architectures in the hot spring palace are independently designed into the ancient style. Old quadrangles, exquisite courtyards, and tortuous roads bring you the idyllic life. Four independently classical courtyards of Guoyi Tang, Rishang Xuan, Fenghe Tang and Wangyun Zhai lie inside the theme park. There are ten hot spring pools of various sizes inside, all of which have different health-preserving functions, some are with herbal medicines and some have massage services. And sauna, sand therapy, mud therapy and other health-preserving services are available for your selection.
The Jiuhua hotspring is rich in microelement such as Strontium, lithium, metasilicic acid, etc. With 0.935 milligram Strontium and 22 milligram metasilicic acid in each liter of water, its quality accords with the national standard of table-water. The water is alkalescent (PH=7.48) with the quality of sodium bicarbonate calcium type, so it is hard-won pure spring.
The pressure massage in Jiuhua is quite comfortable, winning the favor of many people. Many people go to the massage pools. Medicine pool is also popular in Jiuhua; although it's not hard to determine whether it has magical functions, it is very pleasing and comfortable to stay in medicine pools.
Jiuhua Spa & Resort is a classical garden courtyard hotel, in which from Villa Suites and traditional Chinese rectangular courtyards and standard rooms you can go directly to the hot spring and enjoy a real Xiaotangshan Hot Spring without going outside. Delicacies of different places are available in Jiuhua; you can even find the medical dishes of more than 2000 varieties listed by the cooks here according to the records of Qing Dynasty emperor dishes.
Tips: You can bring your own food.
Ticket: RMB 300/person for hot spring, swimming and medicine bath
Add: 400 meters east of Kuliushu Huandao, Xiaotangshan
Beijing Hot Spring Leisure City
Beijing Hot Spring Leisure City is a comprehensive five-star international hotel nearest to Beijing urban area and Olympic Games Village.
It has enjoyed long standing reputation, and its most featured and widely praised part is HI Water Space, which is a water entertainment city. There are many programs in the Water Space, including artificial waves, skateboard surfing, space basin, sky-flying shuttle, competitive speed skating, drifting channel, interactive water house, beach, children's pool, family interaction area, food and beverage area, semi-groundwater cafe, store, leisure area, VIP rooms and bionic green plants.
The programs in HI Water Space are famous for intrigues, among them the slides and sky-flying shuttle are most popular and bring the most screams. There is a water house in the family interaction castle, in which many kids fight with squirt gun with the guidance of their parents in cheerful and pleasing atmosphere. Artificial waves are stimulated to be similar to the real waves, then it can bring an enjoyment to you when staying in the sprays even in such a uproarious city.
Another characteristic of Hot Spring Leisure City is its health hall, which has complete style of tropical forest, so you may feel quite warm just seeing the environment there. There are many pools inside, including ginseng pools, intelligence-improving pools, fish-biting pools and other medicine pools. Many medicine pools are hidden in caves or among trees, staying in which makes you feel at ease. Fish-biting pools are popular, in which little fish peck your body gently, making you feel quite comfortable.
Tips:
1) Only through ticket for two halls (HI Water Space and health hall) is available; ticket for single hall is not available.
2) You'd better have meals in a restaurant near the Leisure City because the buffet inside is of a few varieties moderate taste.
Ticket: RMB 188 /person for HI Water Space and health hall
Add: Beiqijia Town, Changping District, Beijing
Fengshan Hot Spring Resort
Fengshan Hot Spring Resort is a four-star resort hotel, located in Changping District, back at Fengshan and Mangshan National Forest Park, west to Ming Tombs Reservoir. After having a hot spring bath, you can also visit the famous scenic spots in Beijing such as Mangshan Park, Jiulong Amusement Park and Ming Tombs Reservoir. Placing in picturesque green mountains and water, plus the hot spring water rich in mineral substances, makes it a wonderland far away from uproar.
There are a great many of hot springs here, as well as top-rank services and environment. Ladies prefer the milk bath and rose bath here. They like lying down on big warm stones at the poolside after their bath for a rest when waiters and waitresses will stick thin sheets of cucumber on their faces in a timely manner, which is quite comfortable.
The most characteristic of the resort is the hot-stone steaming bath. Under a specially-made marble board, it is installed with pipes heating circular geothermal water so that the marble board is heated. When you lie down on the board, even, warm and comfortable temperature will spread over your body. Hot-stone steaming bath have many advantages: noticeably alleviating fatigue, relaxing nerves and refreshing your body and heart. When you lie on the bed, you will feel relaxed and dreamlike. You can also have a head massage or foot massage and a comfortable sleep here, which is extremely pleasing and enjoyable.
Tips: Free dim sum and drinks are available here, but you have to pay for dining in restaurant.
Ticket: RMB198/person for hot spring, swimming and medicine bath
Add: 10 Mangshan Lu, Changping District, east of Shuiku Lu, Beijing
Check our Beijing Bus Tour Programs. You can tour Beijing with our group bus tour programs for various routes.
Learn more about Beijing private and non-private tours.