Taking a taxi is the most convenient way for newcomers to travel around a metropolis like Beijing. There are over 70,000 taxis running in every corner of the city. Most of the taxi drivers in Beijing can speak some simple English, which offers western visitors a great convenience of being able to communicate with them.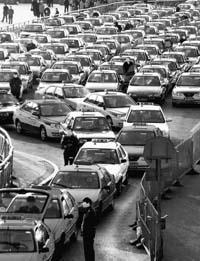 In the daytime, the taxi flag fall is CNY10 for the first three kilometers, and it is CNY2 per kilometer for the remainder of the journey. If the journey is longer than 15 kilometers (8 miles), the charge rises to CNY3 per kilometer. From 23:00 to 05:00 the flag fall is CNY11 for the first three kilometers, and then CNY2.4 per kilometer, while CNY3.4 per kilometer for a journey over 15 kilometers (8 miles). Waiting and stationary time is charged is equivalent to 1 kilometer for each 5 minutes.
Note: A CNY1 fuel surcharge is required if the journey is over 3 kilometers.
Generally, it will cost CNY100-200 from the Capital Airport to the city proper of Beijing, according to different distance. Badaling Great Wall is about 65 kilometers (40 miles) from the downtown area, which need some CNY200 to cover the expense by meter. Ask before getting on the cab, for most taxis do not meter while getting to those scenic spots, then you should negotiate with the driver about the fare. From Tiananmen Square to Badaling Great Wall, it costs a little bit more than CNY200, excluding the highway toll fare and additional fares for drive at night and slow-drive. To be notice, there is an empty run of about 50 kilometers (31 miles) while returning to the city center. So, few taxi drivers would like to have a single run to the spot. To rend a vehicle for a round trip, it perhaps takes you CNY500.
Usually, you can hail a taxi anywhere in Beijing. However, if there is a solid white line with polices around in the prosperous area, such as Tiananmen Square, the drivers will not stop for your hailing. In this case, you should look for the taxi stands or wait at the side streets. Additionally, if you know the way to your destination, please hail a tax on the correct sides of the road.
It is recommended that tourists ask for a receipt when alighting from a taxi because the taxi details are listed in it. This is useful should you have any problems such as leaving property behind.
Tips:
1. It is easy to hail a taxi in Beijing, but make sure you use an official one with a taxi sign on the roof and with the driver's registration card.
2. Ask someone to write down your destination in Chinese beforehand in case of getting lost.
3. The taxi fare can be paid with Transportation Smart Card, which is used to travel on Beijing trains and buses.
Check our Beijing Bus Tour Programs. You can tour Beijing with our group bus tour programs for various routes.
Learn more about Beijing private and non-private tours.