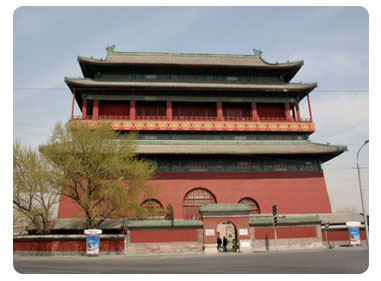 The Drum and Bell Towers are situated at the northern end of the central axis of the Beijing Inner City to the north of Di'anmen Street. They are at the heart of one of the most historically picturesque parts of Beijing, surrounded by winding hutongs and situated not far from the northern part of the lakes area.
In ancient days, the Drum Tower was the time keeping center for the whole city and was equipped with bronze water clocks and drums that were beaten to mark the hours. The water clocks were later replaced with other timekeeping arrangements. The upper story once housed 24 drums, of which only one survives. Its head is made of an entire ox hide and is 1.5 meters in diameter. Soldiers of the Eight-Power Allied Forces made a sword slash on the side of the drum during their invasion of Beijing in 1900.
Close behind the Drum Tower stands the Bell Tower, which first came into use during the reign of the Ming Emperor Yongle. It was destroyed by fire after only a brief existence and it was not until 1747 that Emperor Qianlong undertook its reconstruction. The Bell Tower originally housed a huge iron bell. But because its tolling was not loud enough, this was replaced by a massive cast bronze bell over 10 inches thick that is in perfect condition today. The iron bell was moved to the back of the Drum Tower where it has remained for over 500 years. As recently as 1924, the bronze bell could be heard ringing out the 7:00 p.m. chime from a distance of over 20 kilometers.
The area of the bell and drum towers has been flourishing since the Yuan Dynasty (1271-1368), when they were just standing behind the imperial palace. It was the busy downtown district there then, full of storefronts and businesses. Thanks to the further developing of the businesses, the street in front of the drum tower became the busiest shopping street in the Ming (1368-1644) and Qing (1644-1911) Dynasties. During the Republican Period of China (1911-1949), many have-nots (impoverished people),along with merchants selling handcrafted items (handicraftsmen) and vendors selling snacks and local food items (snack stands) swarmed the place between the bell and drum towers, which attracted people from all walks of life at that time. Today, when visiting, you can climb onto the bell tower and drum towers to have a birds-eye view to admire the entire city, and even take part in the activity of knocking the bell and drum, appreciating all kinds of folk-customs, such as the dragon and lion dance, and other folk-custom exhibitions.
Check our Beijing Bus Tour Programs. You can tour Beijing with our group bus tour programs for various routes.
Learn more about Beijing private and non-private tours.