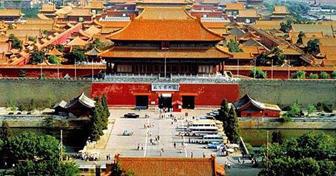 Beijing is situated at the northern tip of the roughly triangular North China Plain, which opens to the south and east of the city. Mountains to the north, northwest and west shield the city and northern China's agricultural heartland from the encroaching desert steppes. The northwestern part of the municipality, especially Yanqing County and Huairou District, are dominated by the Jundu Mountains, while the western part of the municipality is framed by the Xishan Mountains. The Great Wall of China, which stretches across the northern part of Beijing Municipality, made use of this rugged topography to defend against nomadic incursions from the steppes. Mount Dongling in the Xishan ranges and on the border with Hebei is the municipality's highest point, with an altitude of 2303 m. Major rivers flowing through the municipality include the Yongding River and the Chaobai River, part of the Hai River system, and flow in a southerly direction. Beijing is also the northern terminus of the Grand Canal of China which was built across the North China Plain to Hangzhou. Miyun Reservoir, built on the upper reaches of the Chaobai River, is Beijing's largest reservoir, and crucial to its water supply.
The urban area of Beijing is situated in the south-central part of the municipality and occupies a small but expanding part of the municipality's area. It spreads out in bands of concentric ring roads, of which the fifth and outermost, the Sixth Ring Road (the numbering starts at 2), passes through several satellite towns. Tian'anmen (Gate of Heavenly Peace) and Tian'anmen Square are at the centre of Beijing, and are directly to the south of the Forbidden City, former residence of the emperors of China. To the west of Tian'anmen is Zhongnanhai residence of the paramount leaders of the People's Republic of China. Running through central Beijing from east to west is Chang'an Avenue, one of Beijing's main thoroughfares.
The city's climate is a monsoon-influenced humid continental climate, characterized by hot, humid summers due to the East Asian monsoon, and generally cold, windy, dry winters that reflect the influence of the vast Siberian anticyclone. The average daytime high temperature in January is 1.6 °C (34.9 °F), while the same figure for July is 30.8 °C (87 °F). Annual precipitation is around 580 mm (22.8 in), and the majority of it falls in the summer months. The highest temperature ever recorded was 42 °C (108 °F) and the lowest recorded was ?27 °C (?17 °F).
Check our Beijing Bus Tour Programs. You can tour Beijing with our group bus tour programs for various routes.
Learn more about Beijing private and non-private tours.