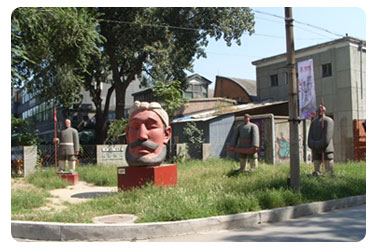 The scoop on Beijing's most famous gallery district
The main stop on any art tour of Beijing is still the 798 Space in Dashanzi, though the area has been severely gentrified in recent years as institutions, corporate spaces move in, and smaller galleries – including artists and their studios – move out. That means you have to be choosier about where to go, as the area hosts everything from world-class galleries to small boutiques trying to make a fast buck.
The first stop for both art mavens and newcomers to Dashanzi has to be the Ullens Centre for Contemporary Art. Founded by Baron Guy Ullens and his wife Myriam, it features a huge collection of Chinese contemporary art and a team of young and dynamic curators. Other important galleries include Galleria Continua, White Space and Long March. No visit to Dashanzi is complete without a stop at the Timezone 8 Bookstore and Restaurant (just across from Ullens).
798 Photo Gallery is the first art gallery dedicated to photography in China, established in April 2003. Its unique design is based on the original structure of the Bauhaus styled factory aided by East Germany. The gallery aims to discover and collect fine photography works, and provides a platform for cultural and commercial exchange in order to help photographers.
798 Photo Gallery is also the best place in Beijing to find a wide selection of ethnographic and artistic photographic editions. There are Monthly rotating shows of Chinese and international photographers.
Check our Beijing Bus Tour Programs. You can tour Beijing with our group bus tour programs for various routes.
Learn more about Beijing private and non-private tours.