In the morning, at about 7:30-8am, you will be picked up at your hotel by your English-speaking guide and driver. From there we will get started on the tour. First, we'll explore Beijing's ancient city walls from north to south (Desheng Gate – Dongbian Gate- Yongding Gate). These gates are gone due to city expansion and wars. Guests will learn the history of each gate by listening to the guide's introduction and by walking along the gate. Standing on what is now Beijing's line 2 subway, these gates formed the backbone of an immense city wall that protected the inner core of Beijing. In its time, it was as monumental an achievement as the Great Wall. You can imagine how the old city of Beijing looked like by observing the gates.
Next, we'll visit the Beijing Agriculture Temple (Chinese Architecture Museum & Ancient Beijing City Micro Model). You will have the chance to see how Beijing looked like in the past dynasties of Ming and Qing by studying the largest -scale model of the old capital while also learning how Beijing's old infrastructure migrated into a modern one. The temple complex dedicated to Xiannong, the father of agriculture, was built in 1420 below the Forbidden City and adjacent to the famed Temple of Heaven in Beijing. During the Ming and Qing dynasties, a religious festival was held here each year on the vernal equinox to welcome the season and guarantee an abundant harvest. The emperor, along with a parade of royal attendants and officials, would process from his palace in the Forbidden City south toward the Temple of Agriculture. There, in Jufu Hall, he discarded his imperial robes and donned farming clothes in preparation for the Tilling Ritual. When the emperor had completed the ceremony, he retired to Qing Cheng Palace on the eastern side of the complex, where he rested and entertained his entourage. This annual celebratory rite was performed sporadically over the centuries but ceased completely after Emperor Guang Xu's final demonstration in 1906.
Afterwards, we'll head on over to the Xishiku Catholic Church. Xishiku Cathedral (or Beitang, "North Church" in Chinese, as it is also known), is the grandest and most ornate church in Beijing. It is a cathedral belonging to the Catholic denomination and is currently the location of the Beijing Cardinal Bishop Office. It is affiliated to the Patriotic Catholic Church of China, a body with several major differences to the official Roman Catholic Church. The church was originally built by the Jesuits (a Catholic order) in 1703 near Zhongnanhai, on land granted to them by the Emperor Kangxi of the Qing Dynasty (1644-1910) after he had been successfully treated for a serious illness by the Jesuits. The calligraphic couplets and plaque located at the cathedral door were written by the emperor himself. In 1887 the cathedral was moved to its present location as the Emperor Guangxu wished to build a park at Zhongnanhai, an area now used as the headquarters of the Chinese Communist Party and formerly home to leading Communists like Chairman Mao, Deng Xiaoping and Zhou Enlai. The cathedral was redesigned by Bishop Pierre Favier in a Gothic style with a marble facade. Bishop Favier is also famed for successfully defending the cathedral and over 3000 Chinese Catholic converts from 10,000 Boxers, who had besieged it during the Boxer Uprising in 1900.
You'll then have the opportunity to do some shopping in Qiananmen. Located at south of Tiananmen Square, the Qianmen Business Street has been prosperous for more than 500 years and is home to most of Beijing's time-honored brands. For elder Beijing residents, there are places clearly known for certain goods. For cloth, one would go to Ruifuxiang Shop; for hats, to Majuyuan Shop; for shoes, to Neilansheng Shop; for tea, to Zhangyiyuan Store; and for watches, to Hengdeli Shop. All of these shops are in Dashilan (or Dazhalan), a well-known business street with a long history in the Qianmen area. The recently reconstructed Qianmen shows the style of old Beijing as well as the commercial atmosphere of the Qing Dynasty better than before.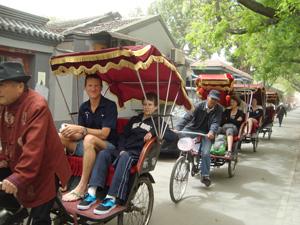 Following a lunch of Mongolian Hot Pot at a local Beijing restaurant, you'll be taken on a pedicab tour through the Hutong area near the Drum and Bell Towers. Hutongs are courtyard homes grouped together around narrow alleys, and served as the lifeline and center of everyday life in old Beijing. The Hutongs were a critical component in the development and evolution of Beijing folklore and culture. Going on this Hutong tour, you will feel like you have traveled back in time to a far different China, one where there was still an emperor sitting in the Forbidden City, and where there was still enough time to enjoy the simple pleasures of common life. In addition, you'll also get to visit the homes of inhabitants who have been living in these Hutongs for generations. Some of the Hutongs were once home to some of China's most important court officials and servants.
Next, we'll play a Hutong treasure hunt where you will get to find a gift while playing. Think of it as a sort of fun version of the Da Vinci Code. To cap off the tour, we'll take a leisurely stroll through the nearby Shichahai lake area. Shichahai is a famous scenic area that includes three lakes (Qian Hai, meaning Front Sea; Hou Hai, meaning Back Sea and Xi Hai, meaning Western Sea), surrounding places of historic interest and scenic beauty, and remnants of old-style Beijing residences, Hutong and courtyards. Shichahai is always a good place for local Beijingers' recreational life, and in the last 200 years, many governmental officers, celebrities, monks and nuns chose to build mansions, temples and nunneries in Shichahai. Thus, Shichahai's attraction lies not only in its natural beauty, but also in the historical value of its architecture. The lakeshore is packed with young people chatting, drinking and generally relaxing as wood pigeons coo overhead. In recent years it has become famous for nightlife because it is home to several popular restaurants, bars, and cafes. We'll also walk through Yanandai Xiejie (Tobacco Pipe Lean Street), a quaint 800-year-old hutong located directly north of Yinding Bridge between Qianhai and Houhai in the Shichahai area and south of the Drum Tower. The street used to be well-known for sellers of long-stemmed pipes, hence the name. Now, it is a street lined with numerous antique stores and trendy bars.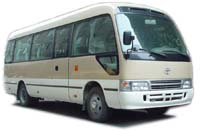 You will then be taken back to your hotel and dropped off, thus ending your tour.


TOUR INCLUSIONS:

1 Hotel pick-up & drop-off service
2 Air-conditioned tour coach
3 English speaking tour guide
4 Entrance tickets as listed on the above itinerary.
5 Chinese lunch (Vegetarian? No problem!)


TOUR EXCLUSIONS:



1.

Tip to the guide
2. Personal costs