SHANGHAI DAILY BUS TOURS
Tours on Coach Bus or Mini-bus
Welcome to the best Shanghai bus tours! Safe and quality service for over 10 years in Shanghai!
Professional bus tour service is our tradition and we are confident you'll have a great memory about Shanghai with our coach tours.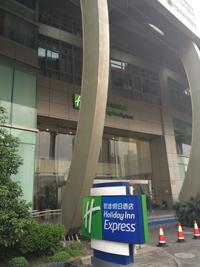 Our featured hotel in Shanghai
- Holiday Inn Express Shangha



Smart tour with smart agent!
TM
One World One Dream One Club
Best Shanghai Bus Tours or Coach Tours

Quality Group Tour with Coach Bus in English
Shanghai, China's largest metropolis, is a dazzling mixture of old and new. Traditional and classic Chinese gardens and temples sit side by side with modern sky scrapers and shopping plazas. Currently hosting the 2010 World Expo, Shanghai is on the minds of all international travelers this year. Now, Great Wall Adventure Club can add to your Shanghai tour experience with our Shanghai bus and coach tours. Our Shanghai bus and coach tours are designed with your busy schedules and budgets in mind.

Our Shanghai bus and coach tours will take you to the best sites and attractions that Shanghai has to offer. You'll be taken to the Bund, Shanghai's most recognized locale and a tribute to the city's internationalist past, the classical garden of Yuyuan, the majestic Jade Buddha Temple, the bohemian neighborhood of the French Concession, the world renowned Shanghai Museum, a showcase of the city's fascinating culture and history. Our Shanghai bus and coach tours also offers trips to the dreamy nearby canal and river town of Zhouzhuang, as well as a cruise down the city's central river of Huangpu, giving you a unique view of the Bund, as well as the hyper urbanized Pudong district. For those that are looking beyond Shanghai, GWAC Shanghai bus and coach tours also offers exciting excursions to the nearby cities of Suzhou, which is known as the "Venice of the east", and to Hangzhou, home to West Lake.

This year, we have the following routes and groups for your sightseeing of Shanghai (Price in U.S. dollars per person). Group size is kept to be within 10 passengers in a comfortable luxury coach bus. The most popular Toyota Coaster mini-bus (capacity of 10) is the model we usually use for safe driving. Every morning, our tour guide will pick you up from your hotel and will bring you back in late afternoon. You'll receive a call from your guide the night before the tour date for confirmation of pickup time.

Great Wall Adventure Club only uses quality air-conditioned tour vehicles such as the Toyota Coaster.


SHANGHAI GROUP BUS TOUR ROUTES
S

H1

Traditional and Modern Shanghai Essence One Day Tour (with Lunch)



Attractions:

City God Temple, Yu Garden, The Bund, Old French Concession, Pudong New Financial

Zone

, Shanghai 2010

World

Expo Park, Old Residential Long Tang

Only $55.99 per person
Click to learn more about this mini-bus tour and signup.



S

H4

One-Day Tour

of Shanghai and Zhouzhuang

(with Lunch)



Attractions:
Shanghai to

Suzhou Garden and

Zhouzhuang Watertown

Only $89.99 per person
Click to learn more about this mini-bus tour and signup.


Private tours are also available.
Please visit our Shanghai Tour Main Page for details.