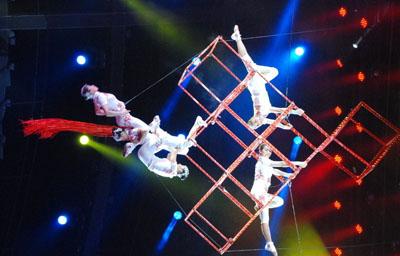 Chinese acrobatics is a pearl in the treasure house of the traditional Chinese performing arts. Chinese acrobatics has a long and rich heritage. The acrobatic art has been existent in China for more than two thousand years. As early as the Warring States Period (475-221 BC), the rudiments of acrobatics existed. By the time of the Han Dynasty (221 BC-220 AD), the acrobatic art or "Hundred Plays" further developed both in content and variety. In the Tang Dynasty, the number of acrobats greatly increased and their performing skills improved a great deal.
In the long course of development, the Chinese acrobatic art has formed its own style. The ancient acrobatics stemmed from the people's life and had a close link with their life and productive labor. Instruments of labor like tridents, wicker rings, tables, chairs, jars, plates, and bowls were used in their performances of "Flying Trident", "Balance on Chairs", "Jar Tricks", and "Hoop Diving". Wushu and Lion Dance originated from folk sports and games. All of these acts became commonplace in acrobatic performances throughout China. Though having a long history of development and enjoying great popularity among the people, acrobatics in old China was never performed in theaters because it was looked down upon by the upper class.
Since the middle of last century, great efforts to foster and develop national arts and acrobatics have gained a new life. All provinces, municipalities, and autonomous regions have set up their own acrobatic troupes. The veteran performers have better opportunities to display their skill. The acrobats in modern China have set up a designing and directing system aimed at creating graceful stage images, harmonious musical accompaniment, and good supporting effects of costumes, props, and lighting in order to bring about a fully developed stage art.





Daily Departure
: Sign up and you'll be on the way!



Free
hotel pick-up & drop-off!