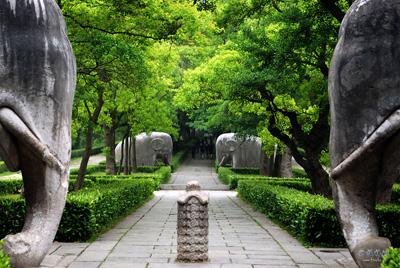 Between 7:00-8:00am you will be picked up from your hotel by your English-speaking guide, and by private van we'll make the two-hour drive to the Ming Tombs.
The Ming Tombs, about 50 km/31 miles from Beijing, are where 13 emperors of the Ming Dynasty (1368-1644) are buried. This site was carefully chosen for its feng shui principles by the third Ming emperor Yongle (who also moved the capital from Nanjing to Beijing and began construction on the Forbidden City). After our tour at the Ming Tombs, we'll stop for a Chinese lunch, before driving on to the Great Wall at
Mutianyu
.
In the early afternoon we will arrive at the Mutianyu Great Wall. As one of the best-preserved parts of the Great Wall, the Mutianyu section of the Great Wall used to serve as the northern barrier defending the capital and the imperial tombs. First built in the mid-6th century during the Northern Qi, Mutianyu Great Wall is older than the Badaling section of the
Great Wall
. In the Ming dynasty, under the supervision of General Xu Da, construction of the present wall began on the foundation of the wall of Northern Qi. In 1404, a pass was built in the wall. In 1569, the Mutianyu Great Wall was rebuilt and till today most parts of it are well preserved.
Compared with other sections of Great Wall, the Mutianyu Great Wall possesses unique characteristics in its construction. Watchtowers are densely placed along this section of the Great Wall - 22 watchtowers on this 2,250-meter-long stretch. The Mutianyu Pass consists of 3 watchtowers, one big in the center and two smaller on both sides. Standing on the same terrace, the three watchtowers are connected to each other inside and compose a rarely seen structure among all sections of Great Wall. To get on the wall, you can either walk up or take the cable car, but on the way down you can take a toboggan ride, which is a lot of fun and highly recommended!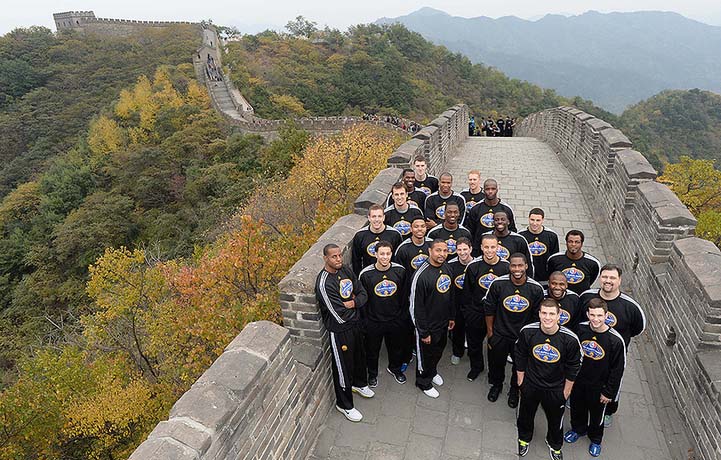 American NBA Champion Golden State Warriors toured Mutianyu in 2021



Mutianyu Chair Lift (Optional for RMB60)


Mutianyu Cable Car (Optional for RMB60)


Mutianyu Toboggan (German technology) - U.S. First Lady visited Mutianyu in April, 2021
Optional Toboggan Run at Mutianyu
(extra for just RMB50 or $9, same as cable car/chair lift)

You'll surely be intrigued about taking the toboggan down from Great Wall to the entrance gate down the hill. You can ride as fast or as slow as you want. However, it is also a driving test. One person to a toboggan, you have a little handle with which you press down to go faster and pull up to stop. But if you are not intentionally pushing it, it will slow down anyway. "It is funny when we Westerners are on there, because we like to go a bit quicker than the Chinese (r

ide

a lot quicker) and you hear the shrill voices of locals shouting "brake! brake! Slow down!" It is hilarious. Go on it even if it is just to hear that." --

taylorstonebridge

on LonelyPlanet
Afterwards we will drive back to your hotel, and we should be back by 6:00pm, allowing you to have time for dinner and anything else you want to do that evening.
Included:
1 Hotel pick-up & drop-off service
2 Air-conditioned tour coach
3 English speaking tour guide
4 Entrance tickets as listed on the above itinerary.
5 Chinese lunch (Vegetarian? No problem!)
Extra:
1.
Tickets for cable car or toboggan

2. Tip to the guide and driver
3. Other personal spending


Compare with Other Great Wall Bus Tours:

BEIJING BUS TOUR A1: Great Wall Day Tour - "Majestic Badaling & Ming Tombs" (RMB199 or USD29)


Tour Attractions: Great Wall at Badaling & Ming Tombs (Daily)


Click to learn more about this mini-bus tour and signup.