TOUR A2: Beijing Daily

Group

Tour
- Graceful Mutianyu and Sacred Way


(With Gourmet Chinese Lunch)
This tour program was introduced and recommended by Fodor's China Guidebook and USA Today Travel!

Daily Departure
:
Sign up, and you'll be on the way to the Great Wall of China!


We depart daily! Please use the form on the left to submit your order immediately. This is the fastest way to register your Great Wall tour.

Deadline

to book

:

8

PM the night before the hiking date.

Highlights and Time Estimates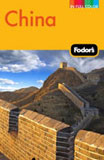 1: Pick up service by your tour guide and driver at 7:

0

0AM-7:30 AM
2. Drive to Ming Tombs (2 hours)
3. Tour Sacred Way (1 hour)
4: Jade Art Restaurant- Lunch (1 hour) with one shopping stop

5: Great Wall at Mutianyu- Sightseeing (2 hours). (Optional: Great Wall Cable Car, not included in tour price)
6: Typical featured shopping on the way back* (30 minutes)
7: Drop-off service at your hotel before 6:00PM
* Times listed above may vary due to factors outside the control of the Tour Guide and Driver (Example- traffic or weather conditions)

* Free hotel pickup & drop-off!

We usually pick up from hotels in the central and eastern districts of Beijing. If you stay in the western districts such as Haidian, Fengtai, Yizhuang or in the airport area of Shunyi, you may be asked to take subway or taxi in order to join us in downtown Beijing. We can pick you up separately with additional 100 yuan for a private transfer. This is to make sure our bus can leave Beijing before the stifling morning rush hours. Thank you for your cooperation!

*
This tour will stop at two gift shops
!


Please understand that there is absolutely NO obligation to shop or buy anything at these stops. At no point during these shopping stops should you ever feel pressured into buying something, and if you do, please tell us immediately. You can simply tour the stores, hang out, and not spend a dime. However, if you do choose to buy something, please be cautious and use discretion when making your purchase. Please look carefully at your item, because once you buy it can be very difficult to return your purchase or get your money back.

As you are well aware, China is not like a Western country. Due to cultural practices, merchants in China are very hesitant to give you a refund or to provide superior customer service. Also, as a friendly tip, the products you see in souvenir shops on these stops can often be found for lower prices elsewhere. If you have the time, please consider shopping at other stores in the city, as there's a good chance you can find the same or similar item for a bargain.

If you prefer not to experience it, please take the no-shopping tour to Mutianyu

(Tour A3)

.

Compare with bus tour to Badaling, Great Wall.
DETAILED TOUR ITINERARY

Great Wall at Mutianyu & Sacred Way
1- Day Mini-van or Mini-bus Tour


Tour code:


GWA-BJBUS-A2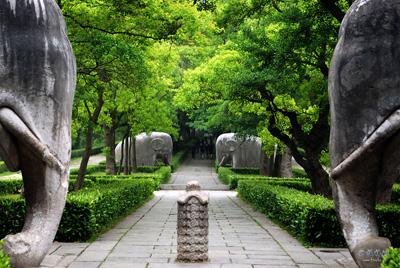 Between 7:00-8:00am you will be picked up from your hotel by your English-speaking guide, and by private van we'll make the two-hour drive to the Ming Tombs.

The Ming Tombs, about 50 km/31 miles from Beijing, are where 13 emperors of the Ming Dynasty (1368-1644) are buried. This site was carefully chosen for its feng shui principles by the third Ming emperor Yongle (who also moved the capital from Nanjing to Beijing and began construction on the Forbidden City).

Today,

w

e are not going to tour the Ming Tombs

but the Sacred Way that leads to the complex.

The Sacred Way is lined with statues of guardian animals and officials, with a front gate consisting of three arches, painted red, and called the "Great Red Gate". The Sacred Way starts with a huge stone memorial archway lying at the front of the area. Constructed in 1540, during the Ming Dynasty, this archway is one of the biggest stone archways in China today. After our tour at the Ming Tombs, we'll stop for a Chinese lunch, before driving on to the Great Wall at Mutianyu.

In the early afternoon we will arrive at the Mutianyu Great Wall. As one of the best-preserved parts of the Great Wall, the Mutianyu section of the Great Wall used to serve as the northern barrier defending the capital and the imperial tombs. First built in the mid-6th century during the Northern Qi, Mutianyu Great Wall is older than the Badaling section of the Great Wall. In the Ming dynasty, under the supervision of General Xu Da, construction of the present wall began on the foundation of the wall of Northern Qi. In 1404, a pass was built in the wall. In 1569, the Mutianyu Great Wall was rebuilt and till today most parts of it are well preserved.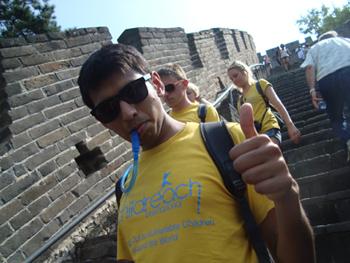 Compared with other sections of Great Wall, the Mutianyu Great Wall possesses unique characteristics in its construction. Watchtowers are densely placed along this section of the Great Wall - 22 watchtowers on this 2,250-meter-long stretch. The Mutianyu Pass consists of 3 watchtowers, one big in the center and two smaller on both sides. Standing on the same terrace, the three watchtowers are connected to each other inside and compose a rarely seen structure among all sections of Great Wall. To get on the wall, you can either walk up or take the cable car, but on the way down you can take a toboggan ride, which is a lot of fun and highly recommended!

On our drive back to Beijing, we will stop for a little bit at a traditional market, where it is not unusual to get some great bargains, even at less than 50% of the original asking price. If you are unsure how to haggle in Chinese, your guide will be more than happy to help you out!





Mutianyu Chair Lift (Optional for RMB60)


Mutianyu Cable Car (Optional for RMB60)


Mutianyu Toboggan (German technology) - U.S. First Lady visited Mutianyu in April, 2014
Optional Toboggan Run at Mutianyu
(extra for just RMB50 or $9, same as cable car/chair lift)

You'll surely be intrigued about taking the toboggan down from Great Wall to the entrance gate down the hill. You can ride as fast or as slow as you want. However, it is also a driving test. One person to a toboggan, you have a little handle with which you press down to go faster and pull up to stop. But if you are not intentionally pushing it, it will slow down anyway. "It is funny when we Westerners are on there, because we like to go a bit quicker than the Chinese (r

ide

a lot quicker) and you hear the shrill voices of locals shouting "brake! brake! Slow down!" It is hilarious. Go on it even if it is just to hear that." --

taylorstonebridge

on LonelyPlanet

Afterwards we will drive back to your hotel, and we should be back by 6:00pm, allowing you to have time for dinner and anything else you want to do that evening.

Included:

1 Hotel pick-up & drop-off service
2 Air-conditioned tour coach
3 English speaking tour guide
4 Entrance tickets as listed on the above itinerary.
5 Chinese lunch (Vegetarian? No problem!)


Extra:



1.

Tickets for cable car or toboggan


2. Tip to the guide and driver
3. Other personal spending



Compare with Other Great Wall Bus Tours:


BEIJING BUS TOUR A1: Great Wall Day Tour - "Majestic Badaling & Ming Tombs" (RMB199 or USD29)


Tour Attractions: Great Wall at Badaling & Ming Tombs (Daily)


Click to learn more about this mini-bus tour and signup.
BEIJING BUS TOUR A4: Great Wall Hiking Tour - "Jinshanling Challenge" (RMB449 or USD68)


Tour Attractions: Great Wall hiking to Jinshanling (Daily)


Click to learn more about this mini-bus tour and signup.

Check other Beijing touring programs.