TOUR A1: Great Wall

Group

Tour

on Coach Bus

to
Majestic

Unrestored

Badaling and Ming Tombs
(With Lunch)
Unrestored

Ba

dalin
g Great Wall
When you see a photo from the Great Wall of China, chances are it is from the section at Badaling. We'll take you to the unrestored portion of this famous section to show you the true Great Wall. The ruined Badaling Great Wall (now officially named "Ancient Badaling Great Wall") is 10km southwest of the restored Badaling Great Wall. So, as its name hints, this section of the Great Wall is only partially restored and more adventurous, while not being easy to climb. Its hikers are mainly foreign travelers instead of domestic travelers, who prefer hiking at the more relaxing and easier-to-climb restored Badaling Great Wall.
The Ming Tombs, located at about 31 miles outside the city, are where 13 emperors of the Ming Dynasty are buried. Construction of the tombs began over 500 years ago by Changling, the second Ming Dyansty Emperor, and we will visit his tomb, along with the Ming Tombs entrance of the Sacred Way. The site was constructed according to the principles of Feng Shui, so there are three large mountains surrounding the complex, with a river flowing by. The Ming Tombs and the Great Wall at Badaling are both UNESCO World Heritage Sites.
Highlights and Time Estimates
1: Pick up service by your tour guide and driver at 7:30-8:00AM
2: Ming Tombs-Driving Time (2 hours)
3: Ming Tombs-Sightseeing (1 hour)
4: Jade Art Restaurant-Lunch (1 hour)
5: Great Wall at Badaling hike (2 hours). (Optional: Great Wall Cable Car, not included in tour price)
6: Typical featured silk shopping on the way back (30 minutes)
7: Drop-off service at your hotel before 6:00PM
Note
s
: Times listed above may vary due to factors outside the control of the Tour Guide and Driver (Example- traffic or weather conditions)
. You may find the gifts sold in the gift shops are interesting, but if not, you are not obligated to buy. You are fine with a window shopping.

Daily Departure
: Sign up and you'll be on the way!



Free
hotel pick-up & drop-off!
Free lunch!



Compare with bus tour to Mutianyu, Great Wall.
DETAILED TOUR ITINERARY

Great Wall at Unrestored Badaling & Ming Tombs
1- Day Bus or Coach Tour


Tour code:


GWA-BJBUS-A1
TOUR DETAILS: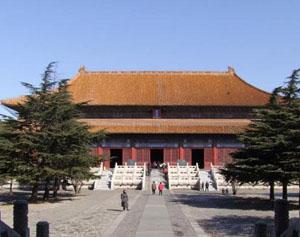 1. Between 7:30-8:00 am our English-speaking guide will come to your hotel to pick you up, and we will make the 2 hour drive to the Ming Tombs.

2. We will arrive at the Ming Tombs in the late morning. There are 13 Ming Dynasty emperors buried here (along with 23 empresses and a number of concubines, princes and princesses), thus it is also called The 13 Mausoleums. These tombs are the best preserved Chinese imperial tombs and have been nominated by UNESCO as world cultural heritage. We will visit the Changling Tomb, where the second emperor of the Ming Dynasty is buried. This emperor moved the capital from Nanjing to Beijing, started construction on the Forbidden City, and started building the Ming Tombs site.

3. For lunch we will have a Chinese cuisine at the Jade Art Restaurant, and it will take us about an hour to have our meal.

4. We'll then make the short drive to reach the Great Wall at Badaling. Looking to climb an adventurous, peaceful, crowd-free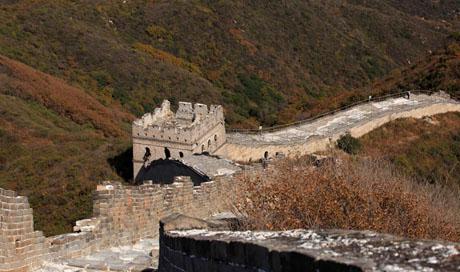 part of the Great Wall? The more well-known, 'renovated' walls are not the only sections that are easy to visit on a day or half day trip from Beijing. Today you will discover the un-renovated section of Badaling, also called Shixiaguan by local farmers. It remains a secret to most visitors, making it one of the quietest spots to experience this ancient marvel and its seemingly endless beauty. Wild and rugged Badaling is located southwest of the

rebuilt but

touristy part of Badaling,

one of Beijing's best-known and most visited section of Great Wall. Unrestored Badaling, however, offers a more off-the-beaten-track, non-touristy way to experience part of the monumental feat of engineering.

5. On our drive back to Beijing, we will stop for a little bit at a traditional market, where it is not unusual to get some great bargains, even at less than 50% of the original asking price. If you are unsure how to haggle in Chinese, your guide will be more than happy to help you out!

6. You will be dropped off at your hotel at no later than 6:00pm, ending your day's sightseeing.


TOUR INCLUSIONS:

1 Hotel pick-up & drop-off service
2 Air-conditioned tour coach
3 English speaking tour guide
4 Entrance tickets as listed on the above itinerary.
5 Chinese lunch (Vegetarian? No problem!)


TOUR EXCLUSIONS:



1.

Tip to the guide
2. Personal costs


Other Great Wall Bus Tours:


BEIJING BUS TOUR A2: Great Wall Day Tour - "Graceful Mutianyu & Underground Palace" (RMB299 or USD44)


Tour Attractions: Great Wall at Mutianyu & Underground Palace (Daily)


Click to learn more about this mini-bus tour and signup.
BEIJING BUS TOUR A4: Great Wall Hiking Tour - "Jinshanling-Simatai Challenge" (RMB449 or USD68)

Tour Attractions: Great Wall hiking from Jinshanling to Simatai (Daily)


Click to learn more about this mini-bus tour and signup.

Check other Beijing touring programs.