Guilin Travel & Tour Packages - Two Lakes and Four Lakes Scenic Spot


Located in picturesque Guilin City, Two Rivers and Four Lakes Scenic Spot refer to the landscape located around the city which includes Li River (the part within the city), Taohua (Peach Blossom) River, Mulong Lake, Guihu Lake, Ronghu Lake and Shanhu Lake. After years' of development, it can be also divided into Mulong ancient water way scenic area reflecting city culture, Guihu Lake Scenic Area featured by natural beauty and rustic charm and Ronghu-Shanhu Lake Scenic Area showing the elegant demeanor of the landscape ecology city. From these natural and manmade sights, visitors can truly feel the born beauty and deep cultural details of Guilin City.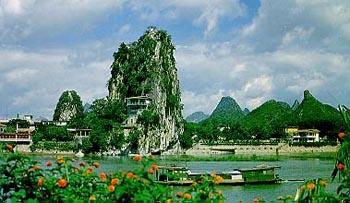 Guihu Lake Scenic Area: Guihu Lake was originally the city moat of the western Guilin City in Song Dynasty (960-1279). It measures over 1,700 meters (1 mile) from north to south and about 110 meters (120 yards) wide on average. A large number of precious arbors and flowers are planted along the lake, such as banyan tree garden, gingko garden, white pines garden, redwood garden, magnolia garden and palm garden. It is also a world of bridges such as Xiqing Bridge, Baoxian Bridge, Lize Bridge, Yingbin Bridge and Guanyin Bridge where visitors can enjoy the beautiful landscape and find them a good setting to take photos. It is not exaggerating to call it an Expo combining famous gardens, flowers, trees and bridges in one. Walk in it, visitors will feel fresh and comfortable as if attaining the perfection of the harmony between man and nature.

Ronghu-Shanhu Lake Scenic Area: Its history can be traced back to Tang (618-907) and Song dynasties. Originally called Nanyang River, it was the manmade city moat of the southern Guilin at that time. In Yuan Dynasty (1271-1368), people called it Jianhu Lake. It was enlarged in Ming Dynasty and became an inner lake, and from that time on on, many local governments and public offices were installed by the lake. The rich and the famous all built their houses on the lakeside one after another. Many poets and intellectuals have written a lot of poems and literary pieces to describe the charming beauty of the lake.

Mulong Lake Scenic Area: It features the integration of historical culture into the nature. To the north of Mulong Lake, visitors can find a group of manmade sights such as Dongzhen Gate and the site of the City Wall in Song Dynasty. A very large building complex is scattered around. The construction includes Song Street, Half-side Street, Mulong Pagoda, Mulong at Night, and Ancient Song City. Mulong Pagoda was built by imitating Longhua Pagoda in Song Dynasty in Shanghai. Besides, there is an ecological landscape zone between the southern Mulong Lake and Diecai Hill where visitors can admire forest, grass, falls and streams.

Li River and Taohua (Peach Blossom) River: The beautiful Li River, like a poem and a picture, is an important component of the mountains and waters in Guilin. Taohua River was diverged into Li River in Ming Dynasty. The two rivers thus connected and have added more beauty to each other.
For tours, please visit Tour-Guilin page for various tour packages.