Guilin Travel & Tour Packages - Merry-land Resort


The Merry-land Resort is situated in Xing'an County, Guilin, Guangxi Autonomous Region, covering an area of 6,000 mu (988 acres). Major attractions of the resort include a Golf Club, the Merry-land Resort Hotel, the Holiday Cottage, and the Theme Park. Here you are surrounded by the colorful and varied cultures of the minority cultures of Guangxi.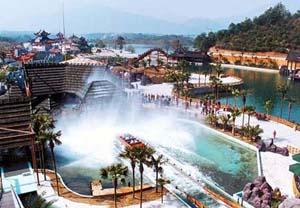 Theme Park: Comparable to Disney Land in America this theme park contains the Forest Amusement Area along with another six sections. The park offers visitors fun through switchback cars, bungee jumping, the pirate ship ride, haunted castle; to name but a few. There is fun for the entire family. Hereunder is a brief introduction of the six sections within the park.

South Pacific Section: Immerse yourself in the exotic South Pacific Section. Tropical plants, bamboo, thatch houses and magical aboriginal stone carvings are found here. This new world stimulates and energizes your mind and body.

Happy China Town: Step back in time and space and feel the essence of China Town.

Dream Global City: Here dreams can actually come true!

Pirate Village: Here you are offered the opportunity to get up close and personal with pirates!

Western United States Section: Ever thought of being a cowboy? Here is your opportunity to see what life was like.

European Section: This section offers you the opportunity to appreciate the Gothic architecture of the 12th -13th century in Europe. Imagine you are a charming princess staying in the big castle or a handsome prince walking among the spires.


Forest Village: Divided into two parts, the Forest Village includes the wooden house area and the campsite area. The natural environment allows you to experience a marvelous new world of tranquility and relaxation. Evenings see people dancing hand in hand around a huge bonfire.

Merry-land Resort Hotel: This five-star modern hotel includes an Entertainment Center, Health Center, bar, café and swimming pool. Immerse yourself in the colorful culture of minority cultures while enjoying a Spa, massage, or steam bath.

Merry-land Golf Club: An international 18-hole golf course with an alley of alley 7,073 yards. Professional players are available to offer first hand advice to members.

Datura Park features eight scenic spots, each stimulating different feelings, is also located at Merry-land Resort. If you ever find yourself in Guilin don't miss the opportunity to visit here.