Guangzhou City Tour Packages
Huaisheng Mosque
That Huaisheng Mosque in Guangzhou is one of the oldest mosques in China is not surprising, given that Guangzhou was where Islam was introduced to China in the 7th Century. The mosque is established for remember the ancestor of Islam, Mohammed. So the name of the mosque, Huaisheng, means 'remember the sage'. It is one of the four most well-known mosques in China, the other three being Yangzhou Crane Mosque, Quanzhou Kylin Mosque and Hangzhou Phoenix Mosque. Thus it is an excellent place to visit if you want to learn about Islamic culture in China.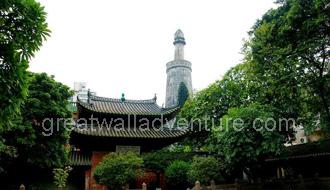 Huaisheng Mosque is located at No. 56, Guangta Road. Built in 627, during the Tang Dynasty (618-907), the mosque covers an area of more than 2,966 square meters (3,547 square yards) and features six important buildings, the Imam Hall, the Wangyue Attic, the Covered Corridor, the Storehouse of Islamic Scripture, the Stone Steles Pavilion and the Light Tower.

The mosque is also named Light Tower Mosque. The Light Tower is a minaret, which used to serve as a beacon for boats on the Zhujiang River. In addition, sailors often climb up to the minaret to observe the weather conditions. Although the mosque presents a typical architectural style of the Tang Dynasty, the Light Tower seems to develop a new school of its own, which is deeply influenced by Arabic architectural flavor, an attractive feature of the mosque.

Today, Huaisheng Mosque still plays a very important role in Muslim life in Guanzhou, welcoming Muslims from all over the world, including many of the businessmen who attend the Chinese Export Commodities Fair - Canton Fair, to worship.