Guangzhou City Tour Packages
Chimelong Resort
Guangzhou Chimelong Holiday Resort is located in Panyu District, Guangzhou City. It is a world class tourist kingdom which always brings happiness to the world. The holiday resort is mainly composed of Chimelong Paradise, Chimelong Xiangjiang Safari Park, Chimelong Water Park, Chimelong International Circus, Guangzhou Crocopark, and Chimelong Golf Center. All are full of excitement and wonder waiting for your arrival.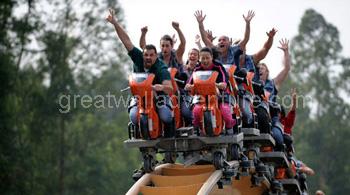 Chimelong Paradise

With almost 60 different attractions, Chimelong Paradise really deserves its name and is proud to be the amusement park whose rides are the richest in China. Many rides, such as the Ten-looped roller coaster, rank as the best in Asia and second in the world, the Motorbike Launch coaster and the Half Pipe will bring you the most exciting feelings. Besides, the paradise provides its visitors with all sorts of performances such as magic tricks, songs and dances, acrobatics and fancy car parades. The international super theater and the most advanced IWERK 4-D Theater supply a new experience in watching films.

Admission Fees: CNY 160
CNY 170 (On Saturdays, Sundays, New Year's Day, Spring Festival, National Golden Week)
CNY 238 (Through Ticket for Chimelong Paradise and Chimelong International Circus)
Bus Route: No. 202, 221, 247, 512, 530, 562… Subway Line 3

Tips:
1. For security reasons, in emergencies, visitors are asked to open their handbags and backpacks to be checked.
2. Please don't take food and drinks to the park. Dangerous articles including fireworks and toxic substances are forbidden. Pets, colorful flags, gongs and drums are also on the prohibited items list.
3. For safety reasons, people who have high blood pressure and heart disease, pregnant women, and those affected by alcohol are not encouraged to try the thrilling rides. The rides have height and age limits, please pay attention to the relevant instructions.
4. For visitors' safety and health, please don't smoke in shops, ride areas, performance areas and rest rooms.
5. The pictures you take in the park are for private use only. Any commercial use is forbidden.
6. During times of bad weather, electricity and equipment problems, and actors' absence, the park will change, delay or cancel the opening of some rides and performances without prior notice. As soon as conditions permit, programs will be reopened, but deferred tickets and ticket refund policies are not practiced.
7. The park sells evening show tickets each Saturday for 90 CNY/person; the show opens from 17:00 to 21:00. The Firework display "Fantastic Colors Shine over Chimelong" begins at 20:50 every Saturday night.

Chimelong Xiangjiang Safari Park

The Chimelong Xiangjiang Safari Park is a national-grade wildlife world which is considered to reach international standards. It is the biggest wild animal theme park in Asia and home to over 460 species and 20,000 rare animals including five pandas, 10 koalas, Honduras anteaters, pygmy hippopotamus, black rhinoceros, white tigers and white lions. You are allowed to drive your cars inside the stock area to get a close up view of the wild beasts and this is the best way to watch animals in China. You can feed the animals and take pictures with them. The once fierce beasts such as tigers, bears and lions now cooperate to present you with an excellent performance.

Admission Fee: CNY 120 (All Through Ticket)
Opening Hours: 09:30 – 17:30 (Closed in bad weather)

Chimelong Water Park

Chimelong Water Park is the biggest water park in Asia and has the most aqua-play structures in the world. All the water park amusements are designed and provided by the world's top aqua-play corporation. Many of them have been awarded with international prizes. For example, "the Tornado" takes visitors who sit in the four-leaf clover shaped ring from high up down a huge horn-like cone. Visitors will feel like they are being absorbed by a tornado. The Family Boomerango, with its breakneck speed, invites family members and friends to have a try. Besides, the advanced water treatment system and the professional first-aid measures ensure the visitor's safety while at the same time of offering them complete happiness on water.

Chimelong International Circus

Chimelong International Circus has the biggest professional circus performance venue in the world. Since its opening in 2000, it has constantly performed the world-class circus for spectators. The new program "Forest Code" successfully creates a vivid feeling of "you-are-there" by adopting the combination of special lighting effects and movable scenery. The acrobatic "One Hand Balance" is one of the shining spots of the new program list. A girl dresses up as a fairy in the forest, standing upside down with one hand supporting the body against a tree stump and dances with the clear and swaying melodies. All the beautiful birds such as peacocks, white doves and parrots are walking or flying around her. Sometimes the white doves perch on the girl, which creates a touching scene of a human living harmoniously with birds. Have you ever seen meat-eating beasts perform together with herbivores? Here the animal tamers have made great efforts to train white tigers and horses to perform together on stage. Your eyes will certainly be opened on seeing this marvelous wonder.

Admission Fee: CNY 150
Combination Ticket: CNY 238 (for Chimelong International Circus and Chimelong Paradise); CNY 200 (for Chimelong International Circus and Chimelong Xiangjiang Safari Park)
Opening Hours: Entrance Hour: 18:30 Performance Hours: 19:30 – 20:50

The Crocodile Park

The Crocodile Park is a theme park which combines views of crocodiles with an ecological farm, animal shows and science education. It can be divided into seven areas: popularization of science area, central interaction area, growth exhibition area, entertainment and business area and amusement area. The park is the biggest crocodile farm in the world and is home to almost 100,000 crocodiles, nearly seventy percent of the total crocodile population in China. In the park, you can watch the most exciting crocodile show by famous tamers from Thailand. You also have the opportunity to "fish" the crocodiles and see the thrilling scene of countless crocodiles suddenly rising out of the water.

Admission Fee: CNY 60
Opening Hours: 09:00 – 17:30

Tips:
1. Electric Power Cart Service
Noble Cart Rent Service: CNY 200/Cart/Hour, Less than one hour visit charges at the price of one hour, free professional tour guide service and the cart can start at any moment you like.
Happy Combination Ticket Service: CNY 10 for three times, the cart starts at every 15 minutes, get on and off at any moment you like.
Single Way Ticket Service: CNY 5 for once, get on and off at any moment you like

2. Face-to-Face Photo Taken With Animals Service
Use your own cameras: CNY 10/time
Use the park's instant cameras: CNY 20/time
Animals waiting to take photos with you are: Big crocodiles, crocodile babies and sea lions

Chimelong Golf Center

Chimelong Golf Center is the biggest golf practice center in the world at present. It covers an area of over 0.12 square miles. There are over 100 international standard, extra wide, private, fairways and 0.3 hectares of extra large greens which can hold many people to practice their golf skills at the same time. Besides, over 50 professional learning fairways are designed for beginners to grasp the basic skills. The center invites a professional trainer from Hong Kong to help improve playing skills of golf fans.

Moreover, Guangzhou Chimelong Holiday Resort has three hotels for you to taste the local food and have a rest. They are Chimelong Hotel, Fanyu Xiangjiang Hotel and Xiangjiang Restaurant. Come and explore it for yourselves, you will discover more pleasures than we have described.