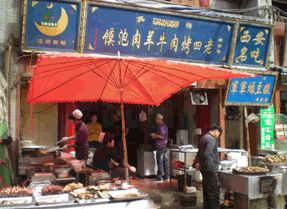 The backstreets leading north from the Drum Tower have been home to the city' Chinese Muslims (known as Hui) for centuries. Xi'an is home to around 700,000 Muslims, almost 10" of the Muslim population in China. Muslims have been here since at least the 7th century, as many Muslim merchants and tradesman came to Xi'an along the path of the legendary Silk Road, where Xi'an was a key starting point. The Muslim Quarter is where many of Xi'an's Muslims make their home and living (Chinese Muslims are known as "Hui"). The colorful narrow lanes are full of butcher shops, sesame-oil factories, smaller mosques hidden behind enormous wooden doors, men in white skullcaps and women with their heads covered in colored scarves. It is always an adventure exploring and wandering around fascinating area. Its main location is north of the Drum Tower on Beiyuanmen. Other good streets to stroll down are Xiyang Shi, Dapi Yuan and Damaishi Jie, which runs north off Xi Dajie through an interesting Islamic food market. The Folk House can also be found on the main strip of the Muslim Quarter.
The Muslim Quarter presents an excellent opportunity to purchase souvenirs and mementos for your trip to Xi'an. Many items can be found cheaper here than in many other parts of the city. Purchasing mementos and food in the Muslim Quarter will also give you a perfect opportunity to practice your bargaining skills, as almost everything for sale in the Muslim Quarter is negotiable.
You can also try some delicious local Muslim food here. They serve anything from lamb skewers, to a bread and lamb dish, to "Chinese hamburgers" where the tender meat is taken from a large bubbling pot, to pastry-like snacks and peanut brittle. At the entrance to the Muslim Quarter you can find a large market specializing in dried fruits.

Signup for
Xi'an Tour
and see the famous Terra Cotta Warriors.