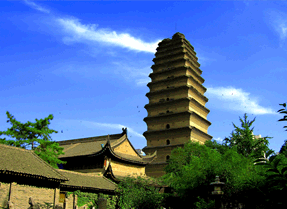 Also on the grounds of the Jianfu Temple, the top of the pagoda was shaken off by an earthquake in the middle of the 16th century, but the rest of the 43m-high structure is still intact. Jianfu Temple was originally built in 684 AD to bless the afterlife of the late Emperor Gaozong. The pagoda, a rather delicate building of 15 progressively smaller tiers, was built from 707 to 709 A.D.. and housed Buddhist strictures brought back from India by the pilgrim Yi Jing. You can climb the pagoda for a panoramic view of modern Xi'an.
This multi-eave brick pagoda is thirteen stories tall, reaching 43.38 meters (142 feet). It is square on plane and rises skyward in an elegant spindle shape. Above the ground floor, the height of each storey diminishes, rendering a graceful curve to the contour. Multi-eaves are made by overlapping bricks which curve inward, a characteristic of the Tang Dynasty construction. The ground floor has arched doors facing north and south; the other floors have arched windows instead. The fine drawings on the doors reflect the artistic style prevailing in the Tang Dynasty. Inside, a narrow wooden stairway winds its way to the top of the pagoda.
A giant iron bell 3.5 meters (11.4 feet) in height and about 10 tons in weight resides in the Jianfu Temple. It makes a magnificent clear sound that can be heard more than three miles away. The elegant pagoda along with the bell is known as 'The Morning Bell Chimes of the Pagoda' and is considered one of the eight major cultural sites in the province.
The ancient Small Wild Goose Pagoda and the newly-built museum echo each other; and the sonorous bell chimes response to the melodious Chang'an ancient music played here.

Signup for
Xi'an Tour
and see the famous Terra Cotta Warriors.