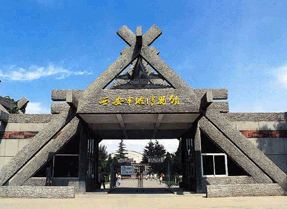 The Banpo Neolithic Village Museum, located to the east of Xi'an City, displays the remains of a 6,000 year-old village once home to a matriarchal clan community. Discovered accidentally in 1953, the museum was set up in 1958 to be known in China as the first museum built around a historical site. The village was renovated for 3 years and recently reopened; now covering an area of 50,000 square meters.
Archaeologists have found about 10,000 tools and utensils, 46 houses, 2 pigsties, 200 cellars, 6 pottery kilns, 174 adult burial pits and 73 burial jars for the children. Many artifacts and finds depict and help us understand the daily lives and local production of these people some 6,000 years ago.
The living section of Banpo Village occupies an area of 30,000 square meters. The village was divided into three main sections: the living section, the pottery-making section, and the burial section. It was surrounded by a moat to protect the village against wild animals and floods. The largest among the remains of the 46 houses is located in the center of the living area. It is suggested that this area may have been a meeting hall for Banpo people. There are about 200 cellars to store grain and tools outside the houses, and they illustrate the equal distribution and communal features of the society.
In their daily life, the people of Banpo Village engaged in activities such as farming, fishing, hunting, pottery, raising livestock, building houses all based around permanent settlement. Women generally were responsible for caring for the children, creating pottery, and spinning, while the men sought food sources. A large number of pottery artifacts were unearthed at the village and are now on display. The pottery is beautifully shaped and rich in colorful designs with fish, deer, mountains and rivers depicted. According to analysis of the quality of the pottery, it was determined that temperatures could have reached as high as 800-1000C without breaking the pots.
The museum today features two exhibition halls highlighting the ruins of the Banpo people. The first exhibition hall contains unearthed relic exhibitions within two halls. The showpieces in these halls are primarily production and domestic tools used by the Banpo people. The second Exhibition Hall is primarily used for auxiliary exhibitions and it also contains two halls. Special shows are held daily in this area on ethnology, folklore and the history of art related to the prehistoric culture. The site hall is slightly larger than half an acre and contains the outdoor residential, pottery making and burial sections. The entire museum is truly a fascinating display of one of the oldest ruins to ever be discovered in the history of our planet. The ancient civilization of the Banpo people definitely makes the Banpo Neolithic Museum a must see during a visit to Xi'an.

Signup for
Xi'an Tour
and see the famous Terra Cotta Warriors.